Portrait of Progress and Promise: Spring issue of Stetson University Magazine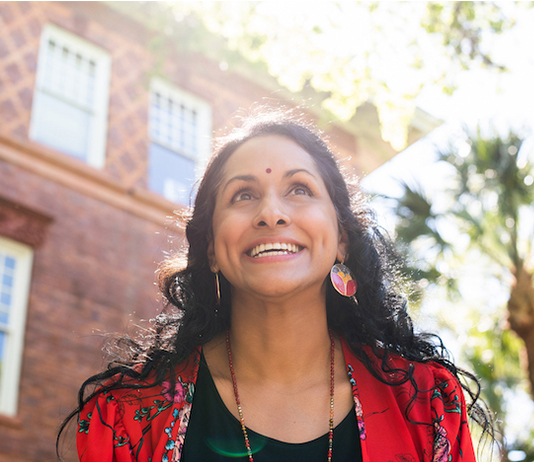 Editor's note: The full length of this article will appear in the Spring 2021 issue of Stetson University Magazine, now available online and heading to mailboxes later this week.
It's been said that our experiences, especially during childhood, shape who we are as human beings. If that's true, it is most certainly the case with Rajni Shankar-Brown, PhD.
Shankar-Brown is a professor at Stetson, as well as the Jessie Ball duPont Endowed Chair of Social Justice Education in the College of Arts and Sciences. Also, and perhaps even most notably, she is internationally known as a scholar in social justice and educational leadership who has made education, equity, poverty and homelessness her life's work.
As such, in a time of difficult pandemic darkness, she has been an enduring light. It just didn't happen easily for her.
Born to Indian parents who immigrated to the United States, Shankar- Brown was raised with her older brother and younger sister in a small town in Northern Virginia, where they were exposed to racist and xenophobic attitudes toward foreign cultures. The result: She became aware of social inequalities and prejudice at an early age.
Also, Shankar-Brown spent parts of her childhood in southern India in Madras, now called Chennai, a city in the state of Tamil Nadu. The city was renamed Chennai in 1996 to break free from the centuries-old legacy stamped by British colonists. There, her mother took young Rajni and her older brother to help take care of their ailing grandmother who had cancer, and to offer support to other family members also struggling. That trying, emotional experience was similarly transformative.
Further, as a middle-school student in the States, Shankar-Brown was chosen as a youth ambassador and spent time in Japan — where she witnessed the same troubling issues and social divides.
Those early global experiences and exposures left indelible marks.
In particular, Shankar-Brown remembers her time in India during childhood being full of "rich traditions, cultural treasures, beautiful languages, bursting flavors, colorful markets, a symphony of sounds and a mesmerizing mosaic of the arts." Yet, she also remembers the "extreme poverty" seen firsthand.
"Children were sleeping all over the sides of the streets, many without access to clean water, facing severe starvation and begging for food," she recalled in January via Zoom. "It clutched and tore open my heart. And as a fellow child, being the same height, looking directly into their eyes and thinking this 'could easily be me' was a moment of shared humanity that taught me we're all connected, quite literally made of stardust. As Archbishop Desmond Tutu noted, 'My humanity is bound up in yours, for we can only be human together.' These experiences shaped me and my internal compass. My aching and longing for beloved community grew, as a child; and this aching and longing continues to pulsate, guiding my journey."
While navigating different countries and cultures, she and her family experienced painful racism, classism and religious discrimi­nation. As a child, she couldn't classify those incidents, but she knew they weren't right. In one instance, when she was in elementary school, the family home was vandalized, with racist remarks left as incomprehensible remind­ers for such a young girl.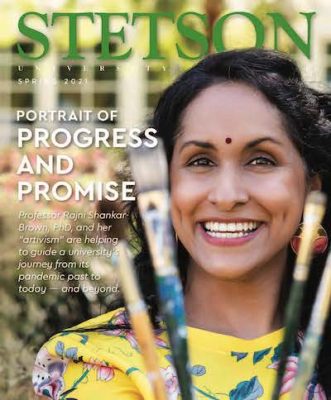 "You ask yourself, in pain and in vain, why someone would do this to your family," said Shankar-Brown, who now has two children of her own, a son and a daughter who she describes as "my right and left ventricles, the beating of my heart."
"Fear sets in when you live in a world that treats you in these vicious ways and you see these terrible fractures, but thankfully my parents wouldn't let that destroy them or devour their, our, spirit."