Stetson Law holds on-campus vaccination event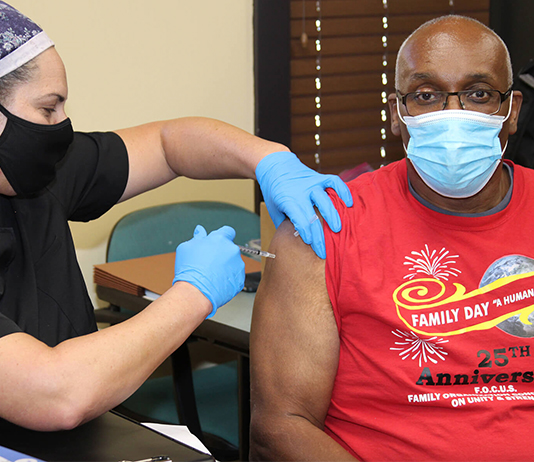 Stetson University College of Law provided on-campus COVID-19 vaccinations to students, faculty and staff for the first time on Thursday, April 29.
While many staff and faculty members had already received vaccines at locations throughout the community as Florida continued to expand eligibility and availability, students quickly filled most of the on-campus appointments.
Law student Courtney Valtman said having the vaccine available on campus made it convenient and saved her the time of having to research other alternative options. She described the shot as a "quick pinch" and worth it for the peace of mind.
"It's a great way to get people feeling safe about coming back on campus next semester," she said.
Stetson University and the College of Law have been working on such efforts for 13 months, since the arrival of the novel coronavirus. The College of Law coordinated with the Pinellas County Department of Health and Inspire Diagnostics to make 102 doses of the Pfizer vaccine available to members of the Stetson Law community. The required second dose will be distributed on May 20.
"Our goal is to facilitate vaccination options for members of our community," said Theresa Pulley-Radwan, transitional business administrator, professor of law, and co-chair of the Safer Campus Task Force. "Vaccinations will be one measure helping us to return to more in-person interactions over the next academic year."
Officials opened appointments to immediate family members of students, faculty and staff to ensure all doses were utilized, a move many praised. Sharon Bilsborough, an administrator in the Academic Success and Bar Preparation Services department, was already fully vaccinated herself but made sure to nab appointments for her husband and son. She said seeing the vaccine being administered on campus might help ease fears for those who are hesitant – or remind those who have been too busy at the end of the semester to make time for it.
Information about new local vaccine options can be found on Safer Stetson's COVID-19 Vaccination website. Also on that site is a form and instructions for reporting your vaccination status.
"We encourage everyone to report if they have been vaccinated," Pulley-Radwan said. "Knowing campus-wide vaccination numbers will help in planning for future semesters."
Stetson University's COVID-19 vaccine statement:
At this time, COVID-19 vaccines are not mandatory for our population. Vaccine availability is still a nationwide concern, and the vaccines are authorized through FDA emergency use only. We will continue to review guidance from agencies like the Centers for Disease Control and Prevention, the American College Health Association and the Florida Department of Health on this important matter to help in our future decisions on mandating vaccines for different groups, such as our residential population. Currently, COVID-19 vaccinations are highly recommended for all Stetson University and Stetson University College of Law community members.
-Media contact: Ashley McKnight-Taylor
[email protected] | 727-430-1580