Shot in the Arm for Health: Stetson hosts on-campus vaccinations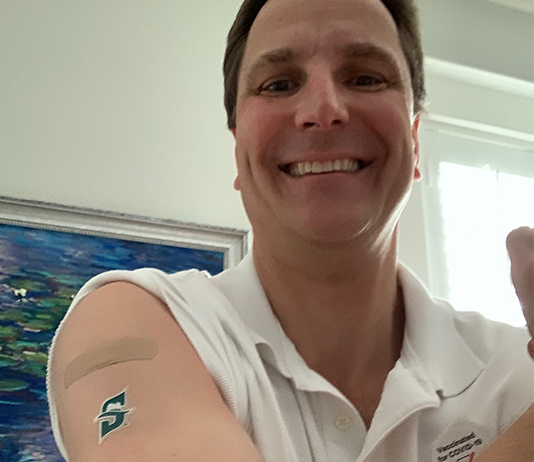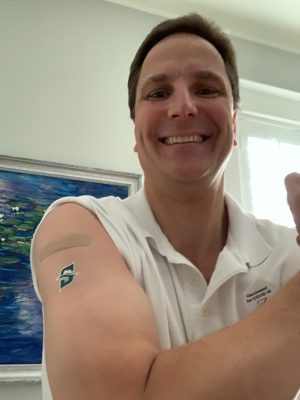 There was palpable emotion evident in the Hollis Center gymnasium-turned-health care facility on Wednesday, April 7. For sure, a bit of tension was in the air, but mostly there was excitement, as Stetson provided on-campus COVID-19 vaccinations to students, faculty and staff for the first time.
The university, working with the Volusia County Department of Health, distributed 517 doses of the Moderna COVID-19 (mRNA-1273) vaccine to members of the Stetson community. All except 30 available doses were dispensed, with demand necessitating a waiting list, which will be used for those 30. Stetson also will distribute the required second dose later.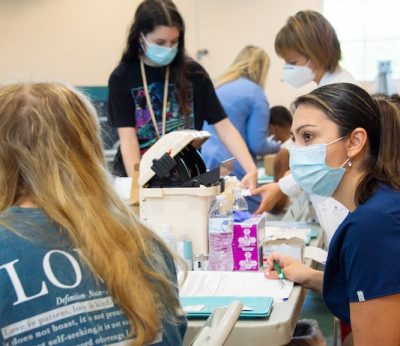 "I think this is great for the Stetson community," said Johana Burgos, director of Stetson Health Service, as she watched the vaccinations happen. "I think we are headed in the right direction in recovering from COVID-19. This is in addition to the mitigation that we already had in place, like testing, social distancing, facial coverings and all the policies."
The university had been working on such efforts for 13 months, since the arrival of the novel coronavirus. Yet, for Burgos and other key Stetson personnel, there wasn't so much a sense of happiness and relief as there was resolve to continue the lengthy battle.
Said Lynn Schoenberg, dean of students, "This is a very exciting day, yes, but we still have a road ahead. We definitely still have Hatters that we need to get vaccinated."
For students, meanwhile, relief was mixed with satisfaction.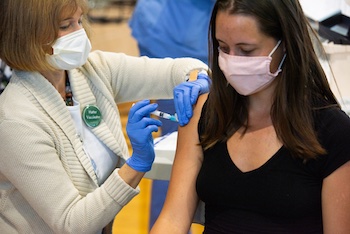 "I've had [COVID-19] before, and it was really uncomfortable. I don't want to have it again," commented Madison Chain, a sophomore majoring in political science.
Chain's parents, who live in Cincinnati, and her grandparents only recently were able to be vaccinated. So, Chain jumped at the chance to join them. "I feel like it's our responsibility [as younger people]," she added. 
Dylan Heid, a junior music education major, spends at least two hours weekly teaching at nearby DeLand High School. That made his decision to get vaccinated easy. "In some ways, I'm around more people than your average student. That was my motivation for getting the vaccine as soon as I could," noted Heid, adding that "the sooner everyone in the School of Music can get vaccinated, the better, because we haven't been able to have concerts or anything in the last year." 
After some initial reservation, Waverly Mayo, a sophomore psychology major, was "gung-ho" to get vaccinated. "Once I realized that this was the best thing out here to do, my next thing was, 'When can I get the vaccine?'" said Mayo. "I think it is important for me to get the vaccine to make sure that I don't get COVID and the people around me don't get COVID."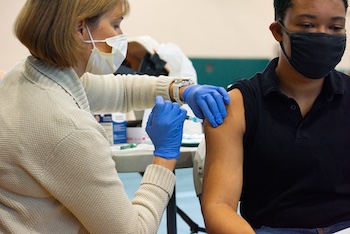 Ditto for the sentiment of Dale Peterson '19, an MBA student and university staffer whose undergraduate degree was in business systems and analytics. "There's always just a little bit of nervousness when you're getting something that hasn't been proven for an extended period of time. But it seemed like the benefits far outweighed the worry and concerns," he said. 
Peterson, the university's enrollment operations manager, added applause. "I think Stetson has done an incredible job of balancing providing a good learning atmosphere while mitigating the risk of COVID-19 by all of the precautions put into place," he commented. "They're really done a good job of making sure that all the students are safe."
And that job continues. On April 5, also as part of the concerted vaccination campaign, Stetson began busing students to appropriate vaccinations sites and locations, including the FEMA site at the West Valencia College campus in Orlando. Information about new local vaccine options can be found on Safer Stetson's COVID-19 Vaccination webpage.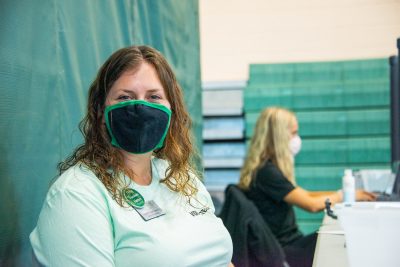 Currently, Stetson's Safer Campus Task Force strongly encourages COVID-19 vaccines "to protect yourself, your family and the community." While COVID-19 vaccinations are highly recommended for all Stetson community members, they are not mandatory across the university. 
Nonetheless, the university's message is clear.
"Our goal is to help facilitate vaccination programs for those members of the community most in need," Schoenberg said, "and help as many of our students get vaccinated as possible before the end of the semester."
-Michael Candelaria