Students organize vigil to honor George Floyd, advocate for change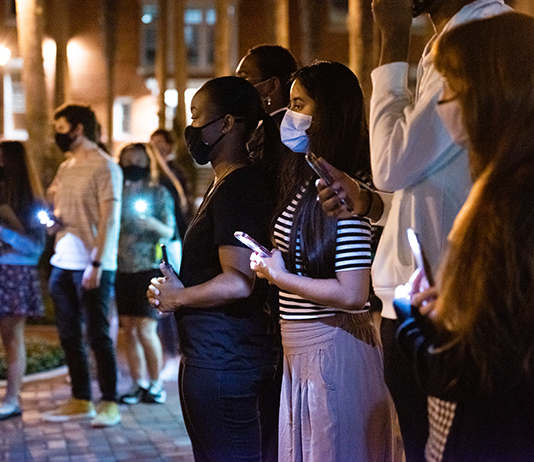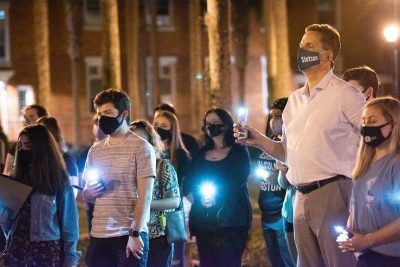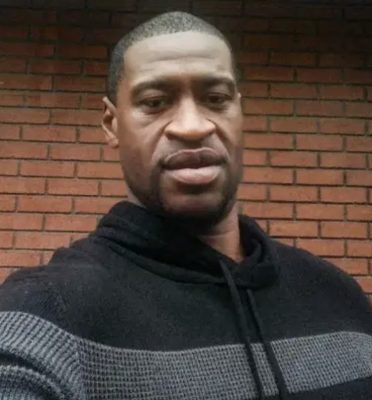 Shining cellphone flashlights, the Stetson community gathered for a vigil Wednesday night to honor the life of George Floyd and proclaim that the murder conviction of a former Minneapolis police officer is only the first step toward change.
Stetson students organized the Vigil 4 Floyd in Palm Court following the guilty verdicts for ex-officer Derek Chauvin, who was shown on a bystander video kneeling on Floyd's neck for nine minutes.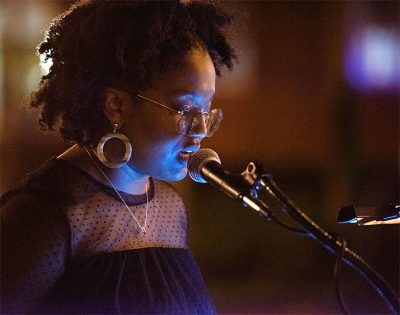 Tahira L. Perry, chair of the Multicultural Student Council, encouraged the small crowd at the vigil to shine their cellphone flashlights "to signify and highlight the power and bravery of the bystanders who captured his final breaths and advocated for social justice on behalf of Mr. Floyd and his family. …"
"George Floyd was a father," she continued. "George Floyd was a son. George Floyd was a brother. George Floyd was a friend. George Floyd changed the world."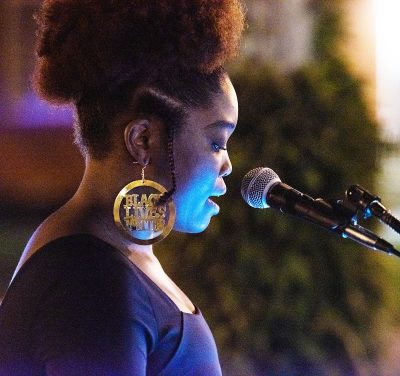 Black Student Association President Melissa Ndiaye read Stetson's Equity and Inclusion Statement. Amanda Castoire, coordinator of Diversity & Inclusion, read the mission statement of the Black Lives Matter movement. And Joanne Harris-Duff, director of Diversity and Inclusion, read an original spoken word by David Gray.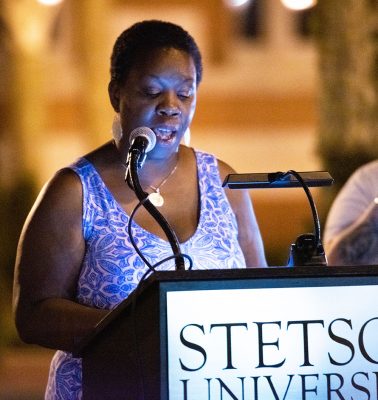 Afterward, people were invited to the podium to offer their reflections. Students, faculty and staff talked about the need for change and shared personal stories of encountering racism.
"I appreciate the different communities standing with the Black community in these troubling times, especially when we feel like our lives just are on the back burner compared to other people's," said D. Huey, a first-year student from Winter Garden. "When we unify this way, I know that we can get a lot done. So, thank you for standing with us."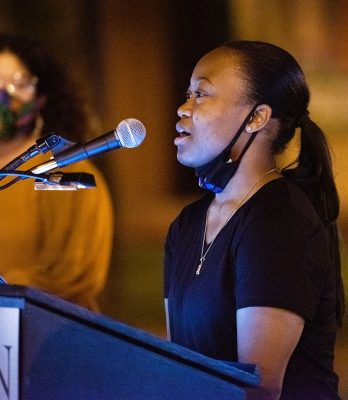 Added first-year student Antonio Perez from South Florida, "It's hard coming from an area, predominantly black, where everybody knows everybody, a tight-knit community, coming up here to DeLand, a predominantly white area. It's weird walking downtown and getting stares from the locals, being looked at funny, just for the color of my skin.
"And being here at Stetson, surrounded by a community of people who are here standing in solidarity for Black Lives Matter and other ethnic groups and organizations is a really beautiful thing. It's a really heartwarming thing," he said.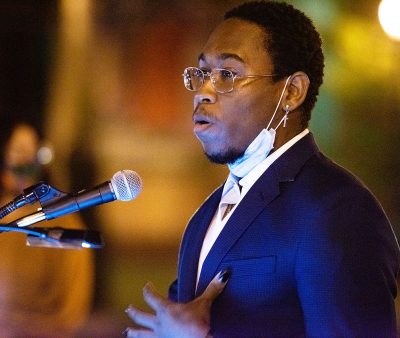 Assistant Professor of Sociology Sharmaine Jackson, PhD, questioned whether justice was served in the Floyd case, when so much injustice remains in society.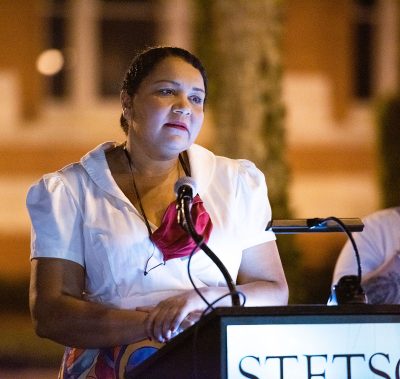 "It is good that the wheels of justice turned the way they were supposed to. Yet, we should not have been in that position to begin with," she said. "I celebrate the fact that justice was served, but this journey has just only begun."
Associate Professor of Chemistry Harry Price, PhD, encouraged students to get involved and act to change society, becoming civil rights leaders, defense attorneys or active in the ACLU.
"You're here tonight because you want to be the change," he said. "In your heart, if you feel the sickness, the darkness, act on that. Vote, use your voices for constructive change. Yours is the generation that can end this scourge."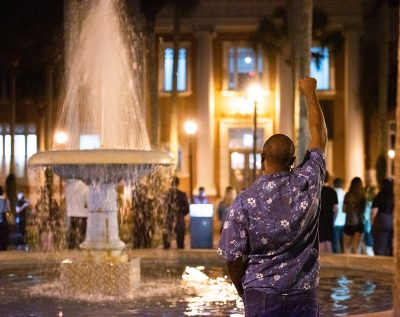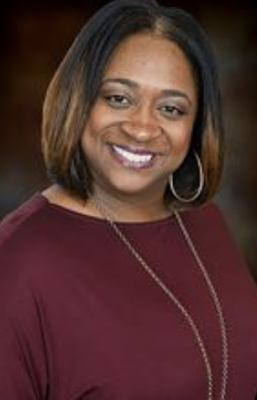 Bonisha Townsend-Porter, director of Student Development and Campus Vibrancy, hadn't planned to speak, but said she wanted to help others understand what it's like to live everyday as a Black person in this country.
"I can't walk down the street peacefully or go to the store without fearing that something might happen to me because I'm black," she said. "My mother is afraid for me to leave the house or for my brothers to leave the home or be too far away, because I'm black. …
"And think if it were you, and if that was your everyday existence, if you had to say these things, 'because I'm black' and no other reason," she said.
University chaplain, Pastor Demetris Pressley, told those gathered that the fight for justice and accountability will not end with the verdict.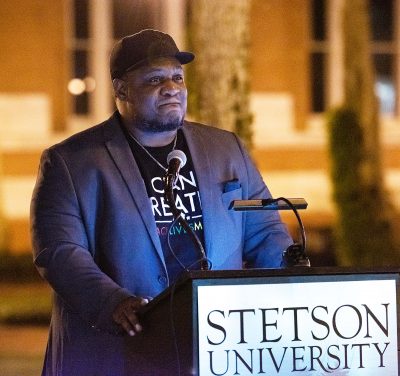 "As a nation, we've seen some terrible things happen in a world that seems to choose when and when not to speak up," he said. "… Silence is also a form of agreement. And so, we cannot be silenced anymore. As a nation, we must commit to being one nation under God with liberty and justice for all."
After the vigil, BSA President Melissa Ndiaye said when she heard the verdict Tuesday, she was in "a state of shock." She never expected Chauvin to be convicted of all charges: second-degree murder, third-degree murder and second-degree manslaughter. The verdict has inspired her to continue working for change.
Even before the verdict, the BSA was working with President Christopher F. Roellke, PhD, as he organizes the university to address the issues identified by BSA and from the 2020 Campus Climate Report.
"That verdict alone just made us even more motivated to bring change here at Stetson," she said.
The Vigil 4 Floyd was sponsored by the Multicultural Student Council, the Office of Diversity and Inclusion, Religious and Spiritual Life, and the Center for Community Engagement. It took place immediately following the MSC's annual banquet in the Rinker Welcome Center.
-Cory Lancaster