Cilantro to Self-Discovery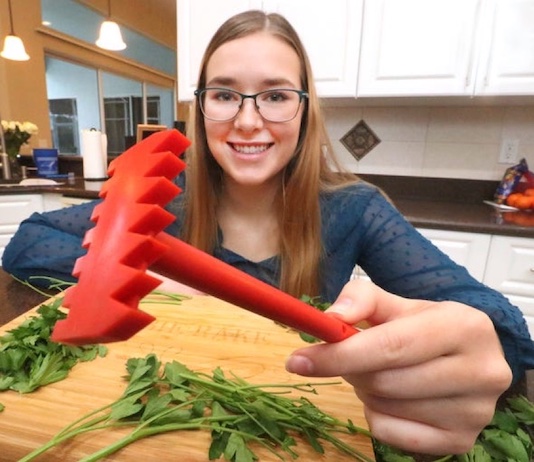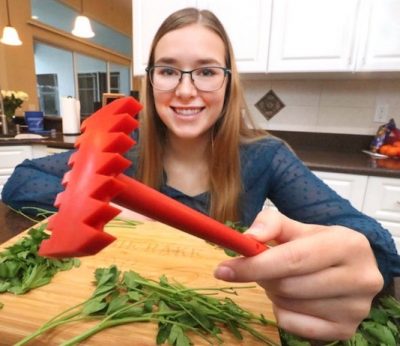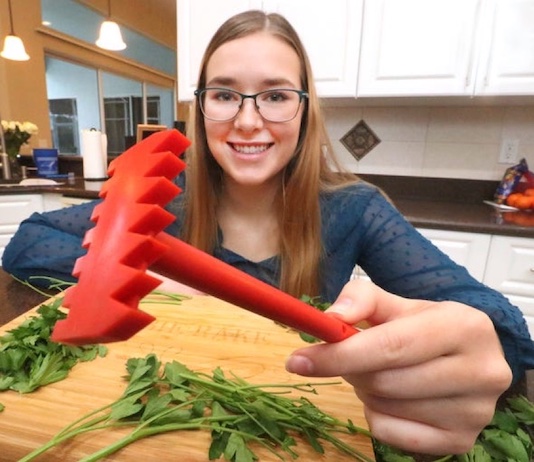 Editor's note: This article appears in the Spring 2021 issue of Stetson University Magazine, now available online and in print (mailed to alumni and others).
Sophomore Kendall Buck (pictured) comes from a foodie family. Her father was a chef for 14 years. So, family members bonded and enjoyed time in the kitchen making their own pasta, sauces and other delicious foods. 
Fun was had by all — until it was time to strip the leaves off the herbs. 
"We would make bets on who would have to pick the cilantro, which nobody wanted to do because it was the most annoying and time-consuming job in the kitchen," said Buck, who came to Stetson from Gilbert, Arizona. "It got to the point where we tried to make deals with each other about washing the dishes instead of peeling herbs, because we knew how tedious it was." 
The family looked for tools that could make the job easier, but none of them were efficient. Then, Buck had an idea: Make something that worked like a rake. And before you knew it, she came up with an early design for her product, which, pandemic notwithstanding, ultimately became the Herbtastic. 
Now the rest of the story.
THE ENTREPRENEURIAL JOURNEY BEGINS 
When Buck entered Stetson's School of Business Administration as a first-year stu­dent, one of her professors, Joshua Truitt, PhD, asked her what she wanted to do. When she said she wanted to be an inventor and open businesses, Truitt asked why she wasn't working on it at Stetson. His response sur­prised her. 
"It never occurred to me that I could be doing this while I was in college," Buck said. "The fact that Stetson encourages student entrepreneurship is amazing and opened up a lot of doors for me."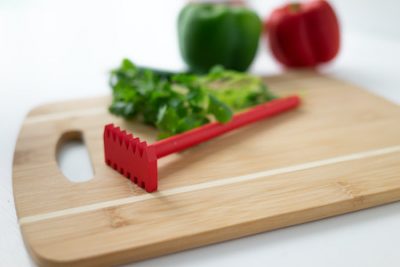 When she gained access to a 3D printer in the duPont-Ball Library's Innovation Lab on campus, she started creating prototypes — it took about 30 iterations to get it right. The final product: a red, double-sided cooking utensil that successfully strips leaves of cilantro, rosemary, dill, basil and more off their stems. She finalized the design at the end of her first year with the assistance of Tony Ganus, the Innovation Lab manager. 
Then came more questions, particularly one last year from her academic adviser, Lou Paris, MBA, assistant professor of practice and management. 
"On a whim, he asked me if I had any great business ideas," Buck recalled. "I told  him about a prototype I printed in the lab. So, he asked me to participate in a business-idea pitch competition that Stetson was hosting that evening." 
Paris, also director of Stetson's Joseph C. Prince Entrepreneurship Program, helped Buck outline her pitch, and he actually brought cilantro to the competition so she could demonstrate her invention. Buck won the competition. Shortly thereafter, she had a seat in the Launching Your Venture class for students in the Prince Entrepreneurship Leaders Program.
"I remember telling her we had a pitch competition that night, and she was taken aback, telling me, 'But I'm just a freshman,'" Paris said. "I told her I would sit with her for an hour and help prepare her for the pitch, and if she was comfortable after that hour, she should do it. When she won the competi­tion, it was obvious she was a great fit for the Leaders Program." 
TAKING ADVANTAGE OF RESOURCES
According to Buck, one of the "incredible resources" she has been able to access at Stetson is the Joseph C. Prince Entrepreneurship Program, which focuses on creative problem-solving and fostering an entrepreneurial mindset for students. The program is designed to provide guidance and support for those who are serious about launching their own scalable business either while at Stetson or after graduation. It also showcases Stetson students at various competitions.
Recent standouts include Bryson Pritchard '21, who developed the Dyad Syringe, and Deja Robinson '22 with her YuubiHire social media startup business.
"The Entrepreneurship Program and Professor Paris have helped me learn every­thing I've needed to know, not only about pitching the product, but also about patents, market validation and selling the product, which can be very overwhelming," said Buck. "I can't say enough good things about the program and what it has done to me."
In spring 2020, Buck made another pitch with her product, then called the Herbie Rake, this time at the Collegiate Entrepreneurs Organization Southeast Entrepreneurship Conference in Chattanooga, Tennessee, reaching the finals of the three-round competition.
"From the first pitch competi­tion until now, I've refined the pitch so much I know exactly what to say. The most beneficial aspects of the program are the resources and connections it has. From patent attorneys to manufacturing and marketing resources, having access to all of these things has allowed me to move forward and, so far, be successful."

Kendall Buck '23, talking about Stetson's Joseph C. Prince Entrepreneurship Program
In December 2020, she launched a Kickstarter campaign with a $2,000 goal. By month's end, she had raised $4,779 from 131 financial backers. For the uninitiated, Kickstarter, based in New York, maintains a global crowdfunding platform. The compa­ny's stated mission is to "help bring creative projects to life."
In addition to Kickstarter, Buck made the Herbtastic available for purchase via her own website and sold more than 230 units. The product already is on Amazon, and eventu­ally Buck would like to see the Herbtastic on the shelves of prominent retailers, such as Walmart, Target and Bed, Bath & Beyond.
As a side note, that story of success was preceded by sadness. When Buck was a junior in high school, her father died suddenly at age 47. Having "definitely pushed me to be outgoing and take risks," Gordon Buck never saw the results. Kendall credits her mother, Tabitha Buck, for inspiring her with the final design.
Paris doesn't doubt Buck's determination and potential.
"Kendall had a spark in her eye," said Paris. "She was very articulate and animated, and most importantly she had a deep desire to do it. You never know what you're going to get as you start developing these ideas. Students can understandably get frustrated and fizzle out on it, but Kendall never did."
Buck doesn't plan on stopping. While acknowledging that she's "only a sopho­more," she intends to get the Herbtastic up and running so she can focus on developing another kitchen product. At the same time, she concedes the entrepreneurial journey is a step-by-step process during which she has learned and sharpened skills through trial and error.
Her words: "From the first pitch competi­tion until now, I've refined the pitch so much I know exactly what to say. The most beneficial aspects of the program are the resources and connections it has. From patent attorneys to manufacturing and marketing resources, having access to all of these things has allowed me to move forward and, so far, be successful."
Paris, for his role, feels privileged. He arrived at Stetson as an entrepreneur, launching three startup businesses and securing more than $450,000 in capital funding. And he continues to innovate. Meanwhile, he's also helping students do the same.
"Seeing Kendall do what she's doing right now is thrilling," he said. "I've launched products before, and the traction Kendall is getting for her product is a lot more than some of the products I've sold."
In addition, Paris believes there are "a lot more Kendalls out there" on campus who simply need to be encouraged.
"I would tell them to sit with me and give me 15 minutes of their time, so I can hear their idea and advise what the first step should be," Paris explained. "The hardest part is getting them on the right path with a bit of confidence to be successful. Nothing will happen if you don't take that first step."
You don't need to tell Buck. She is living proof.
"My No. 1 recommendation to other students is to take the first step and get the ball rolling on an idea," Buck said. "People see the risk and think it's going to be hard, which is understandable. I didn't know what I was doing at first, but … I was able to accomplish a great deal in a short amount of time."
-Jack Roth
GUIDING INFLUENCES
While pursuing his bachelor's degree at Daytona State College, California native Thomas Oltorik '18 MBA was fishing in a tournament in South Carolina when one of his fishing poles started losing its rod guides. One guide failed, followed by more guides giving out.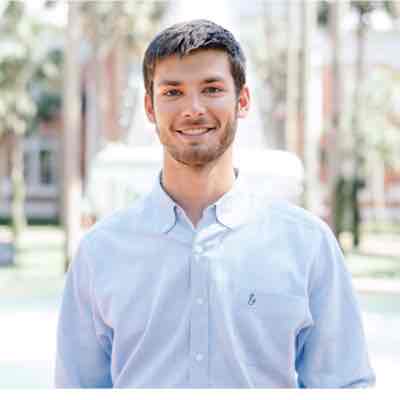 Apparently, direct sunlight, moisture and exposure to the outdoor elements compromise the integrity of rod guides over time, and losing rod guides adversely affects the performance of the rod and its castability. As a result, Oltorik was forced to use a subpar rod to finish the tournament. 
In the end, though, he won. 
After receiving his degree at Daytona State in 2016, Oltorik enrolled in the MBA program at Stetson, where he utilized a 3D printer in the duPont-Ball Library's Innovation Lab and developed his own invention: the Quick Clip Rod Guide. The "Quick Clip" enables anglers to quickly replace a broken fishing rod guide, eliminating what is generally a timely and costly repair.
Encouraged to join Stetson's entrepreneurship team, Oltorik presented his idea at collegiate pitch competitions across the country. In April 2018, at the Cairns Foundation Innovation Challenge, he won the top prize of $10,000 (while another Stetson student, Jilissa Zoltko, won $5,000). The Cairns Challenge gives students enrolled in higher education in Volusia County (where Stetson is) an opportunity to present an entrepreneurial project idea to a panel of judges.
Oltorik then started Outdoor Innovative Solutions LLC, where he has since been busy completing the steps to bring his product to market.
Production has begun, with plans to place the product in Bass Pro Shops.
Oltorik has a few words for would-be entrepreneurs fishing for success: "Thoughts of fear and doubt will be there, but at the end of the day, when you think about what you're doing, you have to believe in it so much that everyone else will as well."
-Jack Roth
DID YOU KNOW?
2021 Spring Semester / Enrollment by Class Level
First Year: 14%
Sophomore: 16%
Junior: 17%
Senior: 22%
Graduate: 9%
Law: 22%