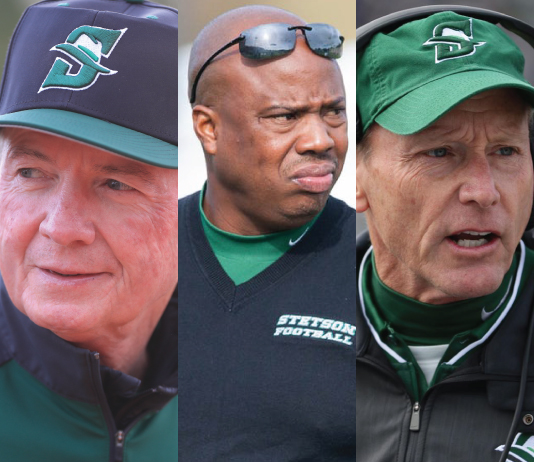 In case you missed it, within a week in late May/early June, legendary Hatters softball coach Frank Griffin retired, and longtime football coach Roger Hughes, PhD, left the coaching ranks. Meanwhile, a former assistant coach, Brian Young, replaced Hughes.
Griffin departs following a 25-year career at Stetson, during which he compiled a record of 761 wins and 552 losses and literally built the softball program.
Hughes was named head coach in 2011 to revive Hatter Football. In 2018, he was named Pioneer Football League Coach of the Year after turning a 2-9 season the previous year into an 8-2 record.
Young becomes Stetson's 10th head football coach and returns to the program after a one-year absence. He was originally hired in late 2012, just as the Hatters were resuming college football.
'Been a Lot of Fun'
Griffin's tenure at Stetson began rather quietly.
"My wife and I decided to move to New Smyrna Beach in 1989 after seven years of coaching at Winthrop University in South Carolina," recalled Griffin. "We love the beach lifestyle, but after dabbling in some other things for a few years, I realized something was missing in my professional life. My wife, Marla, who also real­ized this, called the coaching staff at Stetson and told them I wanted to coach. Every day I'm thankful she did that."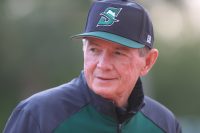 Griffin coached the Hatters on a volunteer basis for a year and became head coach in 1997. Back then, the softball team played its home games at Sperling Sports Complex, approximately 5 miles from campus. Griffin, though, sought to build a world-class program and knew the team needed its own field on campus, along with a first-class training facility.
And he succeeded.
In 2002, Griffin led the Hatters to a 45-win season, a program high-water mark that was matched in 2004 and 2006. In 2007, the Hatters won 44 games and celebrated an ASUN Championship and the program's first-ever berth in the NCAA Tournament. Stetson's second ASUN Championship under Griffin came in 2014. All totaled, he led the Hatters to 20 appearances in the ASUN Softball tournament, two regular season titles, two conference tournament championships and the program's first two appearances in the NCAA Tournament.
He was inducted into the Stetson Athletics Hall of Fame in 2014. Also, he posted 225 victories in seven seasons at Winthrop University, his alma mater, from 1983 to 1989.
Additionally, Griffin led the fundraising efforts for the construction of the program's home stadium, Patricia Wilson Field — a seven-time National Field of the Year winner that opened in 2003. Those efforts even involved shoveling dirt. Often, the coaching staff would be on the field before sunrise, with tools in hand, but Griffin wouldn't leave until sunset.
"I will miss teaching and learning," Griffin said. "I was able to teach my players a lot of things, and I was able to learn a lot from them. It's been a lot of fun."
'Devoted to Helping Young People'
Leading the football program back from a 57-year hiatus, Hughes worked tirelessly to build from the ground up. Academics were a hallmark under Hughes and, eventually, so was winning football games.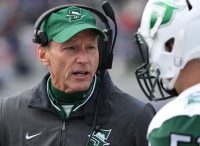 The Hatters' 8-2 season in 2018 was their first winning season since the 1951 team, when the team went 8-1-2 (including a Tangerine Bowl victory over Arkansas State). In 2019, the Hatters followed with a 7-4 record, giving them back-to-back winning seasons for the first time since 1950-1951.
In 2018, the Hatters completely rewrote the school's offensive record book, setting new highs for team passing yards and touchdowns, completion percentage, pass efficiency, average yards per pass, average yards per completion, passing yards per game, total offense, total touchdowns and more. In 2019, the Hatters used a powerful ground attack to pile up almost 2,500 rushing yards in 11 games while averaging 32 points per game.
Hughes came to Stetson after 10 seasons as head coach at Princeton, where he won the 2006 Ivy League championship and was the only coach in the history of Ivy League football to improve his team's win total by two games in three consecutive seasons. During his own college days, Hughes played football (tight end) and golf at Doane College, graduating in 1982.
As a coach, Hughes also displayed great leadership.
"His greatest contribution isn't just a winning team, but his leadership and deep understanding of teaching and learning," commented Stetson President Christopher F. Roellke, PhD. "He is known for his mentorship, for focusing on personal growth among student-athletes and for instilling values in his players. He will be an incredible president, and I know we all wish him the best."
"My life," said Hughes, "has been devoted to helping young people become leaders and the best version of themselves — instilling habits and values that will make them successful for their entire life. The opportunity to extend that to the Doane community is compelling."
'I Can't Wait'
By contrast, Young's story at Stetson is far from written, even though he isn't a newcomer. He served as defensive coordinator for eight years before spending last year as a member of the football staff at Georgia Southern University, his alma mater. He played defensive back there and in 1997 earned a Bachelor of Science degree in B.S. in parks and recreation administration.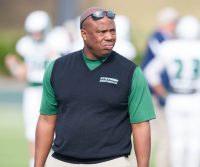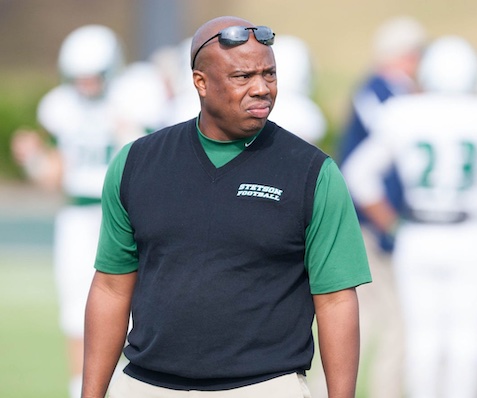 In his first tenure on campus, his defensive units were known for their attacking style of play, especially in pass defense, where the Hatters ranked first or second in the Pioneer Football League six times. Also, the Hatters were regularly ranked among the top teams in the PFL in sacks and turnovers forced. Aside from his defensive duties as coordinator and defensive backs coach, he worked with the Hatters' special teams and served as the staff liaison to pro scouts and to postseason all-star games.
Further, Young had a direct hand in the development of the Hatters' four-time All-American Donald Payne, who has gone on to a successful career in the National Football League.
Young first arrived at Stetson from Cornell University, where he served as defensive backs coach for two seasons. He has enjoyed a long and distinguished career as a coach at multiple levels, including time in the NFL when he worked with the Buffalo Bills as a training camp assistant.
Prior to his coaching career, he spent the 2000 and 2001 seasons playing arena football, first for the Bismarck Blaze and then for the Duluth Lumberjacks.
Almost immediately, Young was viewed as the right person for the job, said Alicia Queally, deputy director of Athletics, who led the national search. Queally described Young as the "right coach at the right time."
"It became apparent throughout the search how much Brian was, and is, admired by the current team, former student-athletes and members of the Stetson community," she said. "His name kept emerging as someone who could lead our program with passion and grit. Brian has the proven ability to recruit student-athletes who are able to thrive in Stetson's challenging academic environment, while also becoming leaders on the football field and in the community."
Young is thankful for the opportunity.
"First and foremost," he said, "I want to thank Jeff, Alicia and the entire committee for giving me the opportunity to participate in the process to identify the next head coach at Stetson University. The opportunity to spend time with President Christopher Roellke, as well as Faculty Athletics Representative Dr. Mike Bitter, was awesome.
"I also want to make sure to thank Roger Hughes and former president Wendy Libby for giving me a chance to be a part of this university and this special community and be a part of starting the Stetson football program from the ground up. I can't wait to have an opportunity to meet with the players so I can share with them the vision I have for how we are going to be successful on and off the field. We are going to continue to be a program the DeLand community can be proud of."