The Stetson Lawyers Alumni Association presents awards to 7 individuals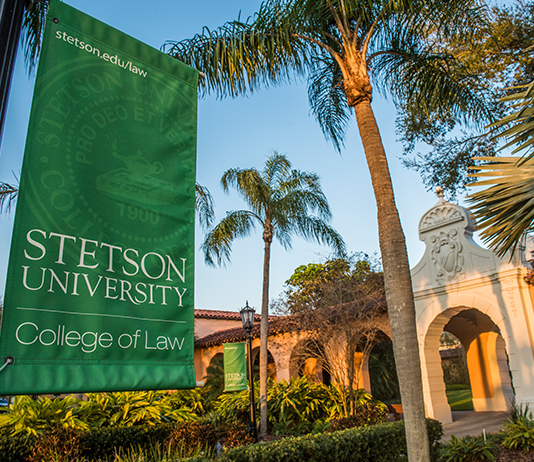 The Stetson Lawyers Alumni Association (SLAA) presented awards this month to seven individuals who have made a positive impact in the community and supported Stetson University College of Law.
SLAA has honored alumni accomplishments with awards for more than 25 years. The ceremony typically takes place at the Stetson Law Alumni Reception at the Florida Bar Convention but was virtual again this year on June 10 because of the pandemic. The 2021 award recipients are the Hon. Pamela A.M. Campbell, Donald Smith, Jeffery A. Smith, Clinton Paris, Dr. Paul Levine and Mrs. Susan Levine, and Kevin Iurato.
Ben Willard Award 
The Hon. Pamela "Pam" A.M. Campbell, J.D. '89, is this year's recipient of the Ben Willard Award, which recognizes alumni who expend extra effort to prevail for the benefit of the citizens of Florida. The award also recognizes an individual whose humanitarian achievements have brought distinction to themselves and the College of Law.
Judge Campbell practiced law in St. Petersburg for 17 years prior to her appointment to the bench. She was "AV" rated by Martindale Hubbell for high ethical standards. The emphasis of her law practice was health care law, probate and guardianship law, with several high-profile cases.  Prior to becoming an attorney, she had 14 years of experience in the legislative arena working in an administrative role in the Florida House of Representatives, United States Senate, and later as a political consultant with a national governmental affairs firm.
Campbell was appointed to serve as a Circuit Court Judge in 2006 by Gov. Jeb Bush.  She has served in the Felony Criminal Division, Family Division, Civil Division and most recently began in the Probate Division in St. Petersburg, and has presided over more than 40 criminal jury trials and 90 civil jury trials.
She is an active member of First United Methodist Church of St. Petersburg, former chair of Operation PAR, and former vice chair of the Florida Board of Medicine.  For her service to the community, she has received the American Board of Trial Advocates, Florida Jurist of the Year 2018; American Board of Trial Advocates, Tampa Bay Chapter, recognized for commitment to civility and professionalism (2018); William Castagna Award for Judicial Excellence by Masterson Inn (2015); St. Petersburg Bar Judicial Appreciation Award (2014); Heroes Among Us Award by the St. Petersburg Bar Foundation (2006); Richard T. Earle, Jr. Professionalism Award by Masterson Inn of Court (2003); and the Professionalism Award presented by the St. Petersburg Bar Association (2003).
"This is quite an honor to be selected, and I really appreciate it," Campbell said during the June 10 Zoom ceremony.
She took the opportunity to highlight the legacy of Ben Willard, who was a Stetson alumnus who served in World War I, two terms in the Florida Legislature, and more than 28 years as a Criminal Court judge in Dade County. He was known for being protective of Stetson lawyers who came before him, and Campbell said she values continuing that tradition, working with more than 100 Stetson Law interns during her tenure.
"I love being connected to Stetson in that way!"
Distinguished Alumnus Award 
The Distinguished Alumnus Award is given to alumni who are recognized as being outstanding in their chosen profession, as well as for service to humanity that has brought honor to themselves and the College of Law. This year's recipient is Donald "Don" Smith, J.D. '78.
Mr. Smith is a partner with the Law Firm of Smith, Tozian, Daniel and Davis, P.A.  In addition to his illustrious career as a litigator, he has served as a board member of the Boys & Girls Club for most of his professional career.  Recently, in partnership with the local Club and the Pinellas Community Foundation, he established The Don Smith Scholarship in Honor of Brian Smith at the College of Law.  The scholarship will be awarded to either a club member or someone who has volunteered or worked for the Club and who plans to attend the College of Law.  The scholarship is being endowed at the $50,000 level.
"This award is really about all of the people that have helped me along this road," Smith said, as well as the "club kids" at the Boys & Girls Club.
Smith said in his years working with them, he has found them to be of great character – all they need is a little assistance. He counts himself fortunate to play a small part in that and appreciates the collaboration of the organizations involved in bring this scholarship to fruition, as well as the support of his wife and son.
Paul M. May Meritorious Service Award
Jeffery A. Smith, J.D. '73, received this year's Paul M. May Meritorious Service Award for showing continued support for the College of Law through the contribution of both time and gifts.
In addition to Mr. Smith's legal career as a State Attorney and his private criminal law practice, he and his wife Tricia have been exceptionally generous in their giving to the College of Law.  The couple have pledged $500,000 in support of the Advocacy Center and established the Jeffery A. and Patricia F. Smith Scholarship Endowment.  He has indicated that he is committed to contributing $1 million in support of his scholarship.
"I am most flattered and honored by receiving this award," Smith said, adding that next to his family, Stetson was the most important thing that happened to him in his life. He would not be where he is or achieved what he has today if not for his Stetson education. It was a scholarship that made that education possible, so he feels an obligation to give back.
Outstanding Alumni Representative Award
The Outstanding Alumni Representative Award is designed to recognize dedication and service to the Stetson Lawyers Alumni Association through involvement in local alumni activities. Clinton "Clint" Paris, J.D./M.B.A. '00, is this year's recipient.
Prior to launching the Law Office of Clinton Paris, P.A., Mr. Paris practiced law in the Tampa law offices of Annis, Mitchell, Cockey, Edwards and Roehn, P.A.; Squire, Sanders & Dempsey, LLP; Gray Robinson, P.A.; and served as an Assistant City Attorney for the City of Tampa. While in law school, he was a member of Stetson's nationally ranked Moot Court Board, the Black Law Student Association, interned with the Hon. Mary S. Scriven, U.S. District Court for the Middle District of Florida, and received Stetson's William F. Blews Award for Pro Bono Service.
Paris earned a master's degree in Business from Stetson University, and a Bachelor of Science degree in Finance from the University of South Florida. Prior to becoming a lawyer, he was a claims specialist with State Farm Insurance where he handled property, automobile casualty, and bodily injury claims.
He has been nominated for his lead role in establishing and securing donations to fund the Professor Dorothea Beane Scholarship and for his work planning the inaugural Black Law Student Alumni Reunion.
"I came to Stetson full of dreams and ambitions, and Stetson gave me the opportunity to pursue such endeavors," he said, adding he wants to give other lawyers those same opportunities.
"I look forward to continuing my work with Stetson."
Distinguished Service Award
Dr. Paul Levine and Mrs. Susan Levine received this year's Distinguished Service Award, which is presented to non-alumni of the College of Law in recognition of their significant, meritorious, and continuing contributions to support the College of Law.
Dr. and Mrs. Levine established the Marc L. Levine Award in 2009 and have funded it annually since then. The award was established to honor their son's (Marc) accomplishments while at Stetson and to honor graduating J.D. students who, like their son, demonstrated significant growth as a person and professional during their time at the COL and who emerged as a respected campus leader.
While they were unable to attend the ceremony, in their statement they thanked Stetson for nurturing their son's leadership skills and helping him become a respected member of the legal community.
President's Award 
The President's Award is presented to the outgoing president of the SLAA in recognition of their term of service. Kevin Iurato, J.D. '00, was a dedicated leader during a tumultuous year.
"It was an honor and pleasure to serve as president of the SLAA," Iurato said.
He handed the reigns to incoming SLAA president, Mitch Schermer, J.D.'15.
Additionally, alumni who have been members of the Florida Bar for 50 years were recognized for their dedication and service during the ceremony.
Media contact: Ashley McKnight-Taylor
[email protected] | 727-430-1580