'A Big, Big Deal': Breaking ground on the Cici & Hyatt Brown Hall for Health & Innovation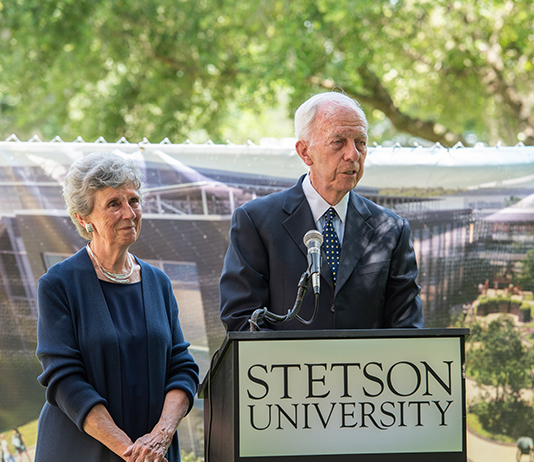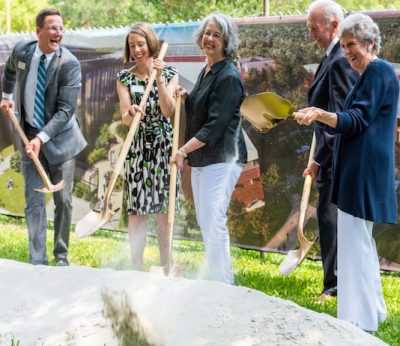 The plans had been neatly outlined for some time. Nonetheless, the excitement was palpable while the festive pomp and circumstance of the event was undeniable.
On Friday, June 11, ceremonial shovels dug into dirt, marking the official start of construction on Stetson's Cici & Hyatt Brown Hall for Health & Innovation.
The two-story, 40,000-square-foot building — the result of Stetson's largest-ever single charitable gift — will create a science complex for students studying the health sciences, environmental sciences and other fields. The spaces and experiences will allow ideas, learning and interests to converge and evolve into discoveries and innovative pedagogy.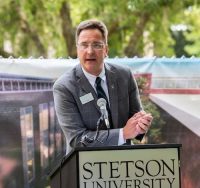 The building, to be completed for the Fall 2022 semester, will connect to the Sage Hall Science Center through internal glass walkways. As part of the construction activity, Sage Hall is being renovated.
Stetson President Christopher F. Roellke, PhD, led the cheers at the groundbreaking.
"After more than three years since Cici and Hyatt Brown made their generous gift to this project, we are thrilled — and I mean thrilled — to gather today to officially commence the construction of the new Cici & Hyatt Brown Hall for Health & Innovation at Stetson University!" he exclaimed.
Roellke made that statement at the site of the construction on campus. He spoke to an audience that included enthusiastic Stetson students, faculty, staff, administrators and members of the university's Board of Trustees, along with representatives from Volusia County government and the firms performing the construction work.
At the podium, Elizabeth Skomp, PhD, dean of the College of Arts and Sciences, followed with words of thanks regarding the generosity and vision of the Browns, as well as the promise of tomorrow for students.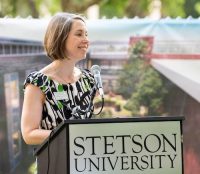 "The Hall for Health and Innovation will be a site of engagement and opportunity," Skomp said, adding that the deliberant nature of planning "allowed us to imagine and determine how bringing a suite of programs together under one roof would create opportunities for interdisciplinary inquiry for both undergraduate and graduate students, and would also foster important community connection."
"Taken together," Skomp continued, "Brown Hall and a renovated Sage Hall will create a powerful science-focused complex that comprises unique spaces to promote experiential learning, plenty of collaborative spaces for students, enhanced faculty grant-seeking potential, and expanded resources for students in the areas of pre-health and health-professions advising."
To capture the moment, student Gianna Meoli '22, majoring in health sciences with minors in public health and English, quoted famed American musician Lionel Hampton: "Gratitude is when memory is stored in the heart, not in the mind. As we express gratitude, we must never forget that highest appreciation is not to utter the words, but to live by them."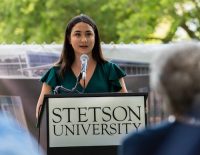 By virtue of great generosity, Meoli said, Brown Hall will be a place where "students can learn and grow for generations to come … and immerse themselves within diverse and interactive learning environments that can take their studies and research to the next level."
President Emerita Wendy B. Libby, PhD, recalled the day she and Provost Noel Painter, PhD, first visited the Browns to discuss possible new giving opportunities. She remembered the date: Sept. 29, 2017.
There were four proposals. The Browns indicated a willingness to "do something," but at a later time. That day came the following spring. As good fortune for Stetson would have it, Cici Brown, a trustee, chaired a facilities committee meeting and heard about plans for a new science center that would cost $18 million. The original cost was believed to be $15 million.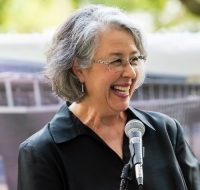 Ultimately, the Browns agreed to $18 million, announced on April 9, 2018.
"I had never met a donor who gave more than I asked for, except Hyatt and Cici Brown," Libby said at the groundbreaking, smiling broadly.
Then it was time for ceremonial photos — with shovels and more smiles from the leading principals who made Brown Hall happen.
Afterward, Cici Brown (Honorary) '07, shared brief thoughts. In characteristic style, she thanked others for making the effort to attend the ceremony.
"It's been a long time coming," she said about the new building, "and it's going to happen. And we've had the best team to put this together."
Hyatt Brown (Honorary)'92, in his own distinctively thoughtful and lighthearted manner, insisted the dollars weren't a gift, but instead an investment to Stetson, where he has served as a trustee since 1981.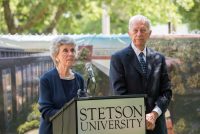 "[Cici and I] don't make contributions. We make investments," he said, pointing to the eventual returns of "better education for those who are coming in the future."
"The nice thing about Stetson is that it is, and it is going to be even more, successful in the future," Hyatt continued. "So, the people who are products of this educational institution are going to be proud that they went to Stetson."
Roellke closed the ceremony by calling the day "very momentous in Stetson University's history." He referenced the university's rich past, and he looked ahead.
"The Cici & Hyatt Brown Hall for Health & Innovation is a big, big deal," Roellke concluded. "It is a big deal for Stetson. It is a big deal for DeLand. It is a big deal for Volusia County. It is a big deal for the state of Florida. And, of course, it is a huge deal for our students and our faculty who are going to occupy this first-rate facility to solve some of our most pressing challenges."
-Michael Candelaria
Editor's note: All photos are by Stetson University/Ciara Ocasio.