Convocation Keynote Speaker Ashley Rutherford '12: 'Never Went on This Path to Do What I've Done'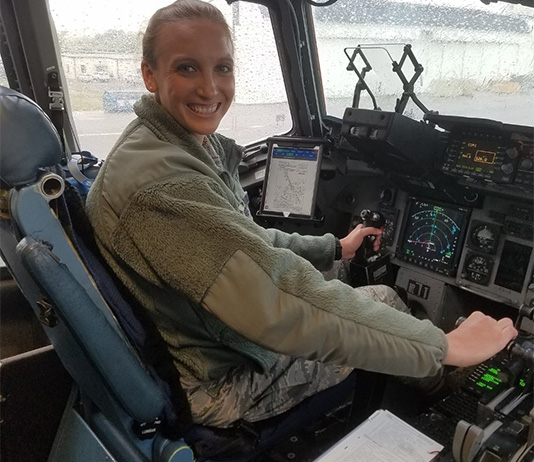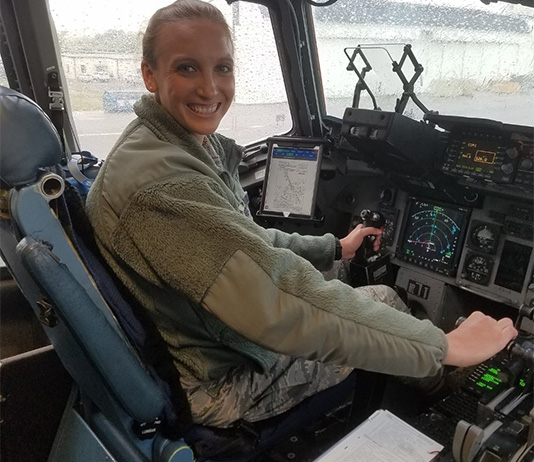 Capt. Ashley Rutherford certainly has journeyed a long way in a relatively short time.
Rutherford serves as a public health consultant, theater epidemiology team member and the Public Health Officer Course director for the U.S. Air Force School of Aerospace Medicine (USAFSAM), 711th Human Performance Wing, Air Force Research Laboratory, Wright-Patterson Air Force Base, Ohio.
USAFSAM is the premier institute for education and worldwide operational consultation in aerospace and operational medicine. Also, it manages a $20 million aerospace and operational medicine research portfolio.
Rutherford's role, indeed, is pretty impressive, and the health work of her organization is expansive.
And just imagine this: Less than a decade ago, Rutherford graduated from Stetson, Class of 2012.
Her time on campus and during the years that followed will be the topic of her keynote address for Stetson Convocation 2021, Aug. 18, 5-6 p.m.
Convocation, to be held virtually, signifies the formal opening of the 2021-2022 academic year. All students, faculty and staff are asked to participate. (For more information about the 2021 Convocation, go here.)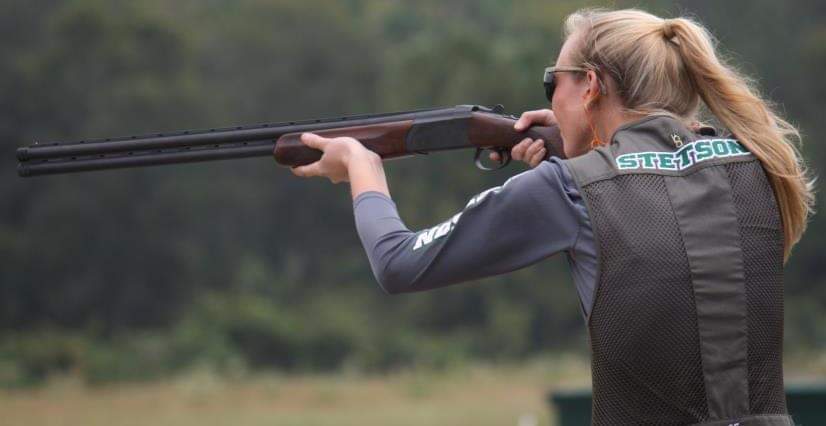 As Rutherford's story goes, born in Savannah, Georgia, she always wanted to be a doctor. She attended Stetson to study health sciences and pre-med, also playing on the indoor and beach volleyball teams, becoming a member of the clay-target shooting club, and enjoying Greek life.
Later, a master's degree and a doctorate in philosophy – health care research and management afforded the opportunity to work at the University of South Carolina's Cancer Prevention and Control Program. Then, unexpectedly, a subsequent job search led her to the Air Force.
"I kept seeing Air Force research positions pop up," she remembers. "If you would have told me in my Stetson days that I would've wound up in the Air Force, I would have laughed."
Rutherford comes from a long line of patriots, dating back to the Revolutionary War, with her grandfather, uncles and father serving more recently during the World Wars, Korea and Vietnam eras. Friends and family were shocked to learn of her intent to commission, but eventually warmed up to her decision to serve as the first female in her family.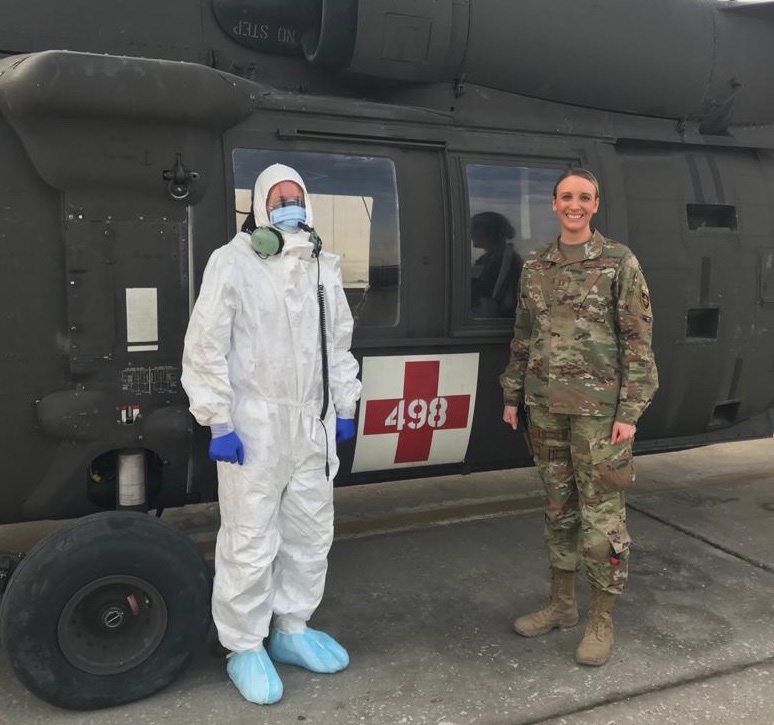 In spring 2017, following the completion of her doctoral studies in health care research from the University of Central Florida, Rutherford was commissioned into the Air Force's Biomedical Science Corps. And her real ascension began.
During her career, she has been a public health flight commander in South Carolina, assisting on improvements for the Air Mobility Command's Transport Isolation System platform. Also, she's been a public health and medical intelligence officer in Afghanistan. She has deployed twice, once in support of overseas contingency missions and once stateside for humanitarian operations.
Then COVID-19 arrived. Rutherford was in Afghanistan at the time. Calm deployment turned chaotic. "Bad things happen, and you have to make the best of it," she describes. "I grew as a person, got a little tougher. You also realize what you take for granted in the United States."
At the end of June 2020, she returned to the States and joined the USAFSAM team, where she analyzed 40,000 COVID cases and protected the health of 9.5 million Department of Defense beneficiaries, among many other duties. In addition, she was an investigator for the congressionally mandated fighter-pilot cancer study, which examined exposures over 35 years for 412,000 officers, encompassing nine cancer types. Further, as a Surgeon General representative, she deployed supporting COVID-19 vaccination missions for eight Federal Emergency Management Agency sites, which immunized 2.4 million civilians in less than 3 months.
Currently, Rutherford is conducting COVID-19 research involving the analysis of vaccinated vs. unvaccinated service members, including factors such as breakthrough cases, symptom severity and immunity. She also lectures in USAFSAM's Public Health Apprentice, Public Health Officer, Operational Entomology, Contingency Preventive Medicine, Residency in Aerospace Medicine and Epidemiology courses.
Rutherford would like to combine her epidemiology research and medical intelligence backgrounds into future assignments at the Defense Intelligence Agency, Joint Special Operations Command or Defense Advanced Research Projects Agency to help the U.S. military better forecast and prepare for future threats.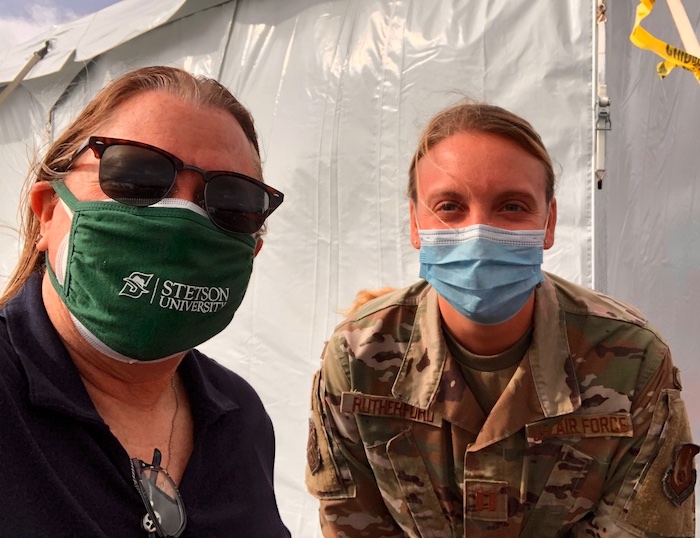 Rutherford reflects on her Hatters' past. There was rarely a dull moment — she was active in social, religious, athletic, and professional clubs and organizations. "I loved my time at Stetson and … don't think I would have changed anything… ," she says.
Rutherford adds that her experiences and professors helped prepare her not only to pursue higher degrees, but also instilled valuable life skills and character traits essential to any military career.
Her path was neither direct nor preselected, she concludes. Yet, the journey from DeLand has been both adventurous and meaningful.
Her words and with the promise of more to come during her Convocation address: "To be honest, I've always been a go-getter, but I never went on this path to do what I've done — a lot of it just got thrown at me or happened by chance. I volunteered and put myself out there. When opportunities pop up, even if not necessarily in your job, you have to seize the day and take advantage of it all."
-Michael Candelaria