Molly Winsten '15: Tackling a New Challenge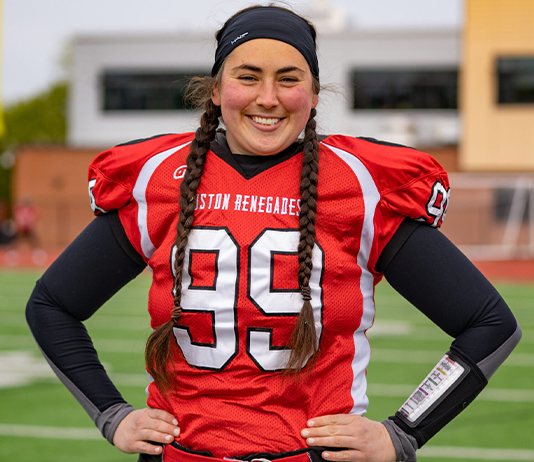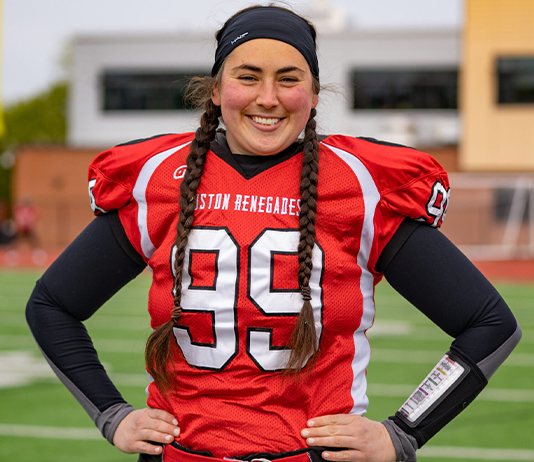 And to think Molly Winsten wasn't always a peak performer as a student and athlete at Stetson.
That's how the story began in Stetson Today's May 20 article about Winsten, who arrived on campus in 2011 and was a member of Stetson's club softball team and the women's NCAA rowing team before graduating with a health science degree four years later.
The article went on to detail a path that landed Winsten on two TV culinary competition shows: the Food Network's "Bakers vs. Fakers," which aired in 2017, and "Best Leftovers Ever!" which debuted in December 2020 on Netflix.
Winsten was a baker and cook who specialized in allergy-friendly foods and had a flair for the dramatic.
Now, Winsten is a champion on the football field.
On July 24, she and her Boston Renegades teammates won the Women's Football Alliance championship with a 42-26 victory over the Minnesota Vixen Saturday at Tom Benson Hall of Fame Stadium in Canton, Ohio. It was the team's third consecutive title and the sixth overall in the WFA, a full-contact American football league that began play in 2009. The league — largest worldwide in women's football — consists of 60-plus teams across three divisions in 32 states.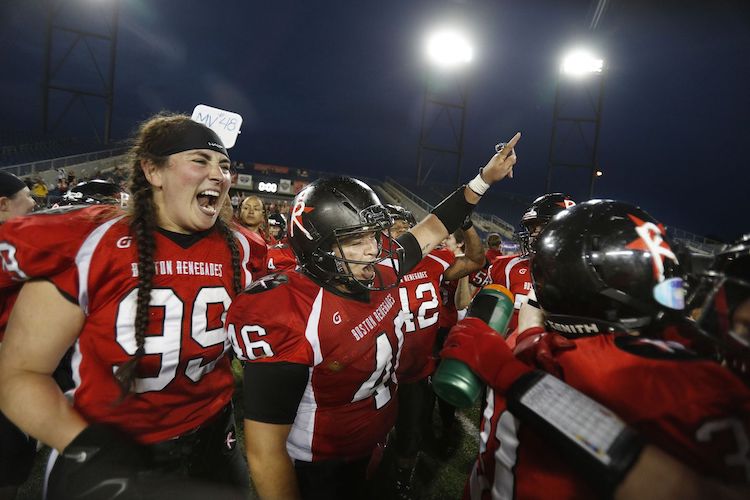 Winsten, somehow, someway, wound up being a rookie offensive lineman this year. Actually, the feat was typical of her.
Living in metropolitan Boston, Winsten already was operations manager of the Freedom Gluten Free Bakery, which she helped to launch in 2018. With a master's degree in nutrition from Boston University and a dietician's license, she also was a special-diet culinary coordination at a large area childhood overnight camp, as well as two of its smaller sites — helping "allergy kids at camp to feel like they are treated as well as the 'regular' kids, if not better!" she describes.
Of course, she played sports too. Aside from Stetson, which also included flag football and winning multiple athletic awards, she had earned nearly a dozen Florida high-school varsity letters (Holy Trinity Episcopal Academy, Melbourne) in softball, soccer and swimming. Plus, while getting her master's degree, she was on a club sports rugby that advanced to a national championship tournament.
So afterward, in the Boston area, simply playing on co-ed teams that were more social than competitive wasn't nearly enough. She sought more, even while building her career in nutrition.
Playing Tackle
Enter football. And call this tackling a new challenge.
In February 2020, Winton began Googling "Boston women's sports teams." Rugby was an option before she came across the Instagram page for Boston Renegades. As she tells the events, Winsten "slid into" the team's direct messages — a social media term referring to connecting through mutual interest or attraction.
"Within an hour, I had a call from the general manager of the team, asking if I could get myself to a practice. I had no idea what I was doing; I had no idea what I was getting myself into," she recalls.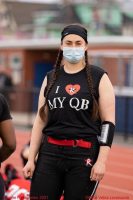 Winsten showed up and, self-described as being "5-11 and fairly broad,"  she was first placed on defense before moving to the offensive line and eventually to the tackle position. There were a few weeks of additional practices through February and early March of last year. Then COVID-19 hit and all stopped, with the 2020 season cancelled, until last fall when a few tryout-type practices set the stage for the 2021 season, this time for real.
"I still didn't understand most of the terminology," Winsten remembers thinking as 2021, her real rookie year, was about to start.
"It is rather crazy. … I had never played a sport where people depend on you to keep them safe," she continues. "You can get somebody hurt, on the offensive line, if you do not do your job. That definitely caused stress and some not-so-great practices. And there was a lot of studying. But it also made me feel important."
It turned out to be a season she'll never forget.
The pandemic-shortened schedule brought five regular-season games and the playoffs, culminating with the championship. Winsten entered that game having played in the regular season, but her time on the field was in blowout wins and without the pressure of a title hanging in the balance. In this big game, that pressure came toward the end of the third quarter when an injury to a starting offensive lineman prompted the need for Winsten to play.
Although her team was winning by two touchdowns, the outcome still was in doubt, she notes. After a first play that "maybe wasn't great," she settled down, thanks to the team's star quarterback, who told her, "You've already done this; you're know what you're doing, you're good."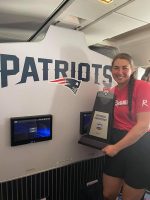 Also helping her to "settle down" was the time between the third and fourth quarters. Shortly thereafter, her team scored again, pushing the margin to three touchdowns and ensuring the win. Winsten then returned to the sidelines to congratulations.
"It was awesome; I don't know how else to say it. … That series was crazy," she says with a laugh.
"The team gave me the BEST welcome [on the sidelines]. Everyone on the team was so supportive. Them being proud of me and my performance meant more than they could ever know!"
The story gets even better. In the days leading up the game, Robert Kraft, owner of the National Football League's New England Patriots, had literally rolled out the red carpet for the team. He flew the Renegades from Boston on his private Air Kraft jet to that title game, and he provided a tour of the Pro Football Hall of Fame in Canton. He also joked that "if you win, we will even fly you back." Promise kept. Finally, the team received a grand sendoff back in Boston at the Patriots home field, Gillette Stadium.
"I was more than thrilled. It was just an amazing, amazing weekend," says Winsten. "It made me think, 'Did that really happen? Was that real life over the weekend?'"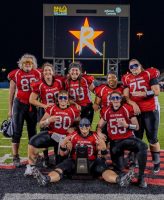 To no surprise, Winsten doesn't plan on retiring as a football player anytime soon. Her words: "Oh, heck yeah, I'm playing. I told them they're stuck with me for the long haul.
"This team, this sport, has just been indescribable. I can't believe I didn't know this existed."
She's even found another way to her teammates' hearts — through their stomachs. During the season, bringing tasty desserts became a Thursday tradition at practice, except for the time she arrived with veggies and hummus, a move that she's "never going to live down."
Clearly, Winsten has learned a lot about her newest passion, on and off the football field.
"It is an absolute privilege to play on this team with these women," she says. "I just feel lucky to be a part of it!"
-Michael Candelaria