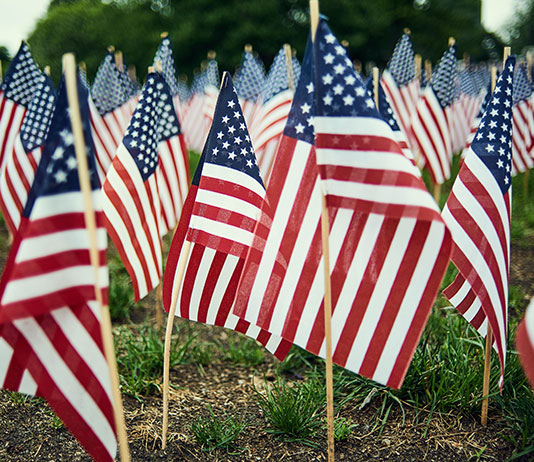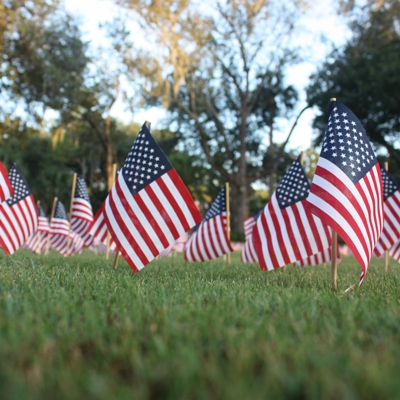 The Stetson community will remember Sept. 11 with a flag memorial outside the Carlton Union Building and a performance by the School of Music at a city of DeLand ceremony honoring the lives lost 20 years ago.
The 9/11 Flag Memorial will be placed near the Stetson flagpole by ROTC cadets and students in a First Year Seminar on "Global Citizenship: Individual, Community, World," taught by Savannah-Jane Griffin, executive director of Community Engagement and Inclusive Excellence.
Stop by and visit the memorial on Friday, Sept. 10, through Sunday, Sept. 12.
City of DeLand: Sept. 11 ceremony
On Saturday, Sept. 11, the city of DeLand will pay tribute to the more than 2,750 lives lost in the terrorist attacks. The ceremony begins at 8:30 a.m. at the site of a future fire station at 343 W. Howry Ave.
Jamie Clark, DMA, assistant professor of cello and coordinator of Chamber Music, and the Stetson Concert Chamber Choir, conducted by Timothy Peter, DMA, director of choral activities, will perform.
Also on Sept. 11, the 19th Annual Spring Hill T.U.R.N. Festival is set for 11:30 a.m. to 5 p.m. at Spring Hill Park at 903 S. Thompson Ave., DeLand. The acronym stands for "To Unite, Rebuild and Network" and the festival will feature food trucks, vendors, and live music and other entertainment.
Sept. 11: A National Day of Service
Some Stetson students will volunteer at the event as part of the National Day of Service and Remembrance on Sept. 11.
Before the festival, a ribbon-cutting will take place for the Dr. Joyce M. Cusack Resource Center at 489 W. Mathis St., DeLand.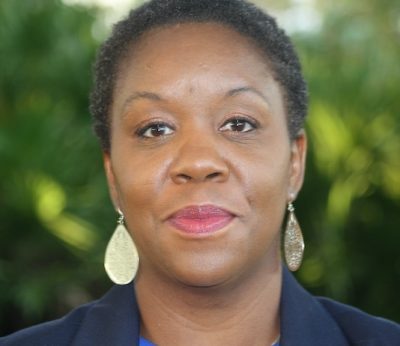 The city's Cusack Resource Center (formerly known as the Spring Hill Resource Center) will honor five people as Exceptional Community Partners, including Joanne Harris-Duff, Stetson's director of Diversity and Inclusion, and Taylor Hibel, a Bonner alumna and 2020 graduate with a degree in Biology and a certificate of Community Engagement. The awards will be presented at the conclusion of the ribbon-cutting ceremony.
The Exceptional Community Partners "have greatly impacted the Spring Hill community with their time, resources and energy," said Shilretha Dixon, director of the Cusack Resource Center. "While the past year has been difficult for so many, these individuals have truly shown the resilience of this community and what true kindness looks like in action. We are extremely proud of our honorees."
-Rick de Yampert