SGA prioritizes Safety, Inclusion and Connections for Upcoming Year
While the pandemic has cancelled or altered almost all the routines of campus life, Josh Finkelstein '22, who was Student Government Association (SGA) president last year and elected to the role of vice president this year, said he learned some unique lessons through the situation.
"Last school year was very challenging and unpredictable. Perseverance and flexibility are the two values I learned that come to mind," said the Accounting and Business Systems & Analytics double major from Longwood, Fla. "Every day, new information about COVID-19 and COVID policy dictated what the needs of the students were. SGA was able to pivot and address those needs, which included supporting those students as well as addressing other issues on campus."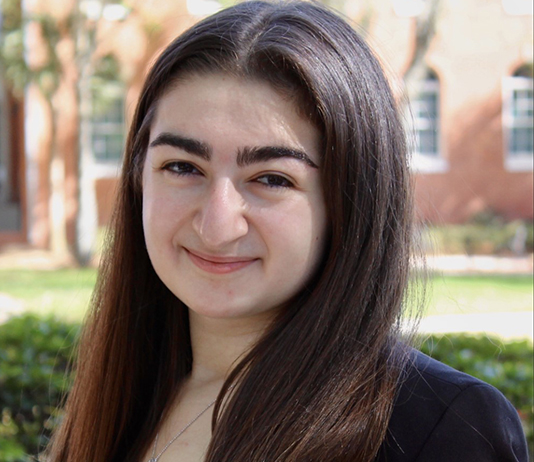 Finkelstein and incoming SGA President Lana Kolchinsky, '22, a Political Science major from Moorestown, N.J., are pivoting once again. This time, however, they are looking forward to what the upcoming year may offer Stetson students.
"Although Tier 2.5 was not the way that we were hoping to enter the academic year, Hatters are extremely resilient. Despite this setback, it is important that we center on kindness, resilience, and a sense of personal and community responsibility for keeping each other and ourselves hopeful, healthy, and safe," said Kolchinsky, who is also co-chair of Stetson's Hillel and lead career peer in the Office of Career and Professional Development. "We encourage the students to get vaccinated, get tested, wear masks, and stay vigilant in looking out for and understanding the communications that are coming from the university regarding safety and campus life in general."
Students are also encouraged to report their vaccinations through the confidential online form, so that the campus can be that much safer for in-person academics and student life activities.
In addition to the goal of enhanced campus vibrancy, she outlined that SGA will also prioritize reimagined communication methods with students and administration as well as a stronger focus on diversity and inclusion.
"We intend to help move Stetson forward by empowering student organizations and calling in the members of the Stetson community to engage in activities and policy improvements that reflect the needs of marginalized communities at Stetson," said Kolchinsky. "The approach that Josh, my vice president, and I wish to take this coming year is all about partnership and connection. Our students and their fearless leadership will be the key to a vibrant campus life this year and we will do everything possible to empower and encourage them."
She added that the entire Stetson community has put forth a lot of effort to make sure the community has stayed as safe as possible, and they are looking forward to benefiting from these efforts in the coming months.
-Trish Wieland