Redesigned John B mascot ups his game for the Hatters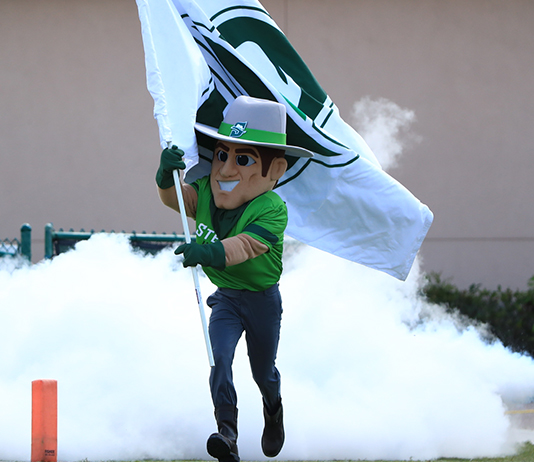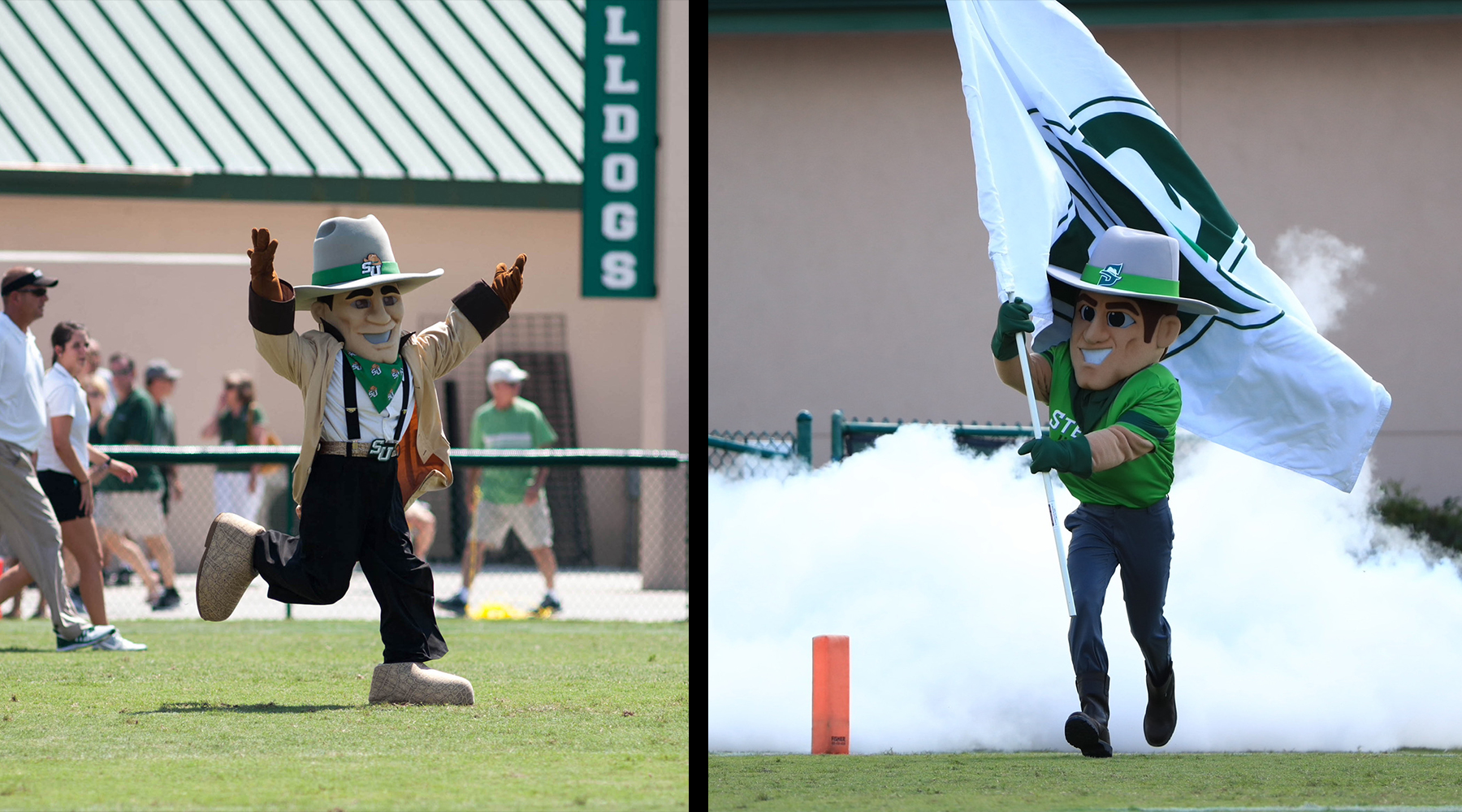 To those who say people don't improve with age, please meet the new John B.
In the long offseason, John B has slimmed down. He started lifting weights and boosting his cardio workouts. Add whitening strips and he now flashes a million-dollar smile.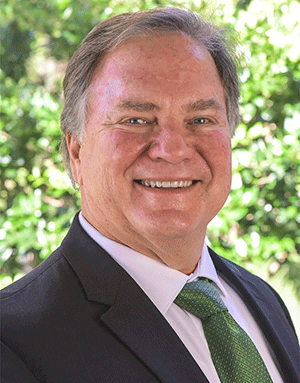 The new mascot made his debut as the Hatter Football team ran onto the field Oct. 2 to face Davidson. And the fan feedback has been positive, said Athletics Director Jeff Altier.
"Most fans have commented about John B's mobility," Altier said. "During the COVID pandemic, John B, like most Hatter athletes, made good use of the extra time and doubled down on the commitment to become a better athlete. … The result is a much more fit, agile and mobile Hatter mascot."
"Time to Freshen Up the Mascot"
The makeover has been in the works since 2018. That's when Stetson Athletics unveiled a new logo and a new look for its athletics uniforms. Suddenly, the old John B, unveiled in 2012, looked dated. His outfit was showing signs of age.
"After rebranding, we knew it was also time to freshen up the mascot," said Zack Hurst, assistant Athletic director for Marketing & Sponsorship. "These suits take a lot of wear and tear through the hundreds of events we have a year."
However, revamping a mascot can take time. Joel Jones, assistant vice president of University Marketing, and the Athletics staff worked to find the right company, review possible designs and assure quality. "This has been in the works for the past couple of seasons," Hurst added.

Stetson's Mascots Through the Years
Certainly, Stetson's mascot has undergone radical changes over the past 60 years. There was a pot-bellied statue that stood on the Hat Rack patio or on a table inside from 1959 to 1967, left. A 10-gallon hat with big eyes and curled eyelashes made appearances in the 1970s, middle. A Mad Hatter, right, with a crazy "Doc Brown" hairstyle and giant teeth, reportedly was scaring children. Consequently, he had to be retired in the 1990s.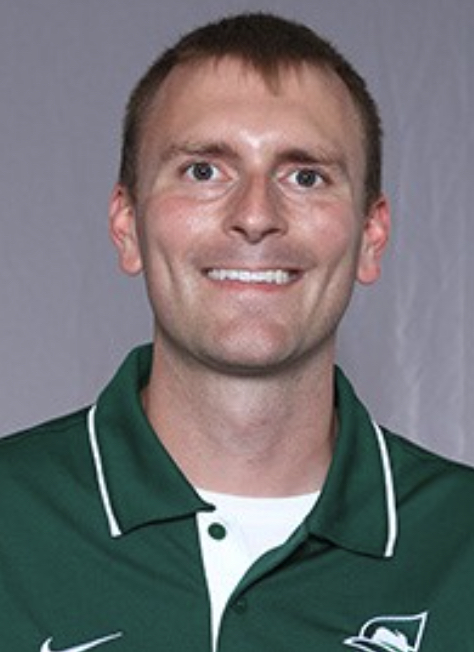 In comparison, the new John B is looking good and the improvements aren't just skin-deep. The new outfit is made from better foam construction and has a fan in the hat to cool the inside on hot Florida days.
"Currently, we only have one student filling the suit (whose identity should remain a secret), but we will be holding tryouts for a second, so that we can attend as many events as possible," Hurst explained, adding that anyone can try out as long as the top of the suit fits them properly.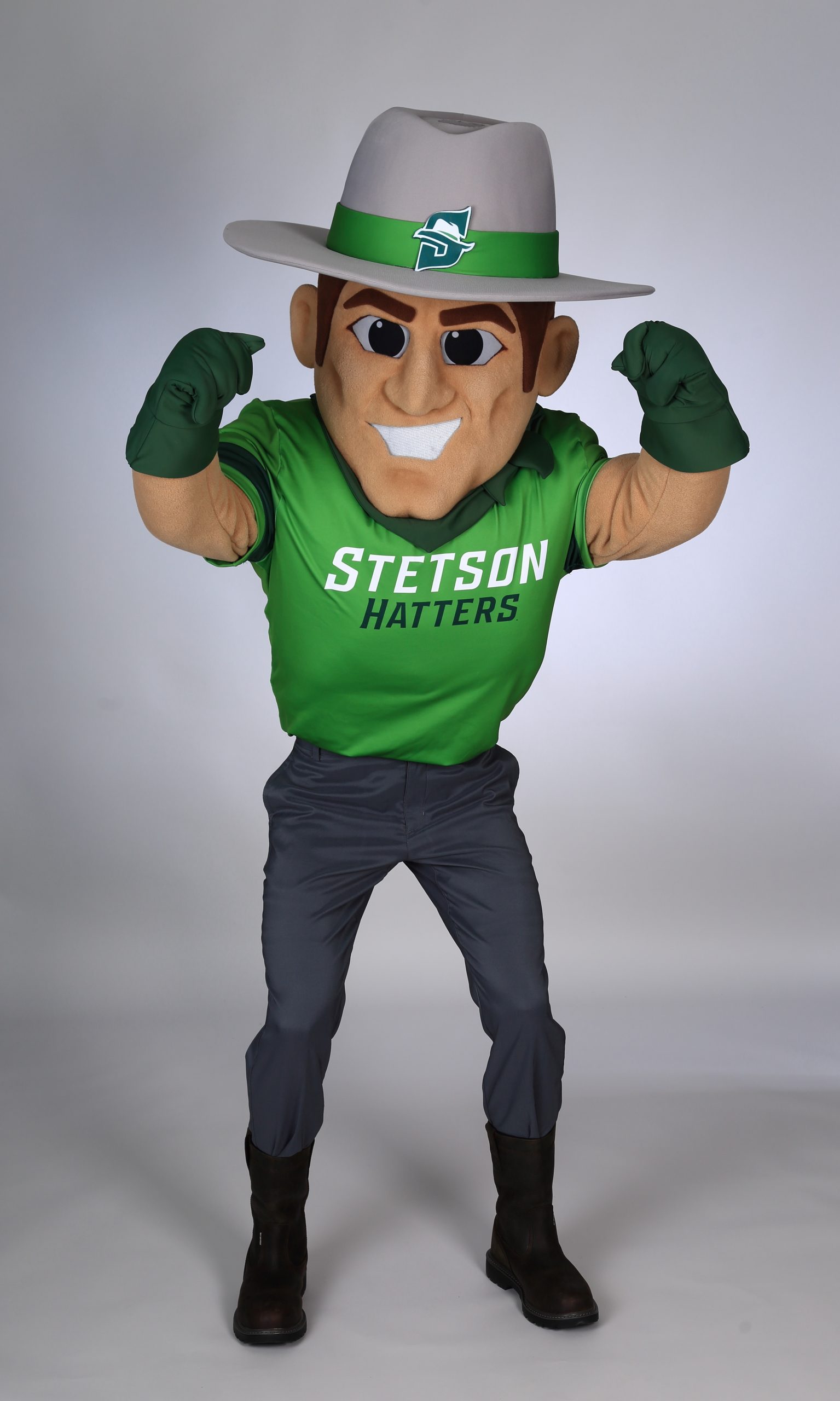 "Tryouts are expected to take place around January," he said. "There are a lot of hot, long days when working events, but wearing the suit is truly rewarding."
Where to find the Mascot?
John B also will soon revive his social media accounts, so students can follow him and engage with him throughout the academic year. The mascot plans to make many appearances at sporting events throughout the year, as well as events for Development, Alumni Relations and in the community, such as Monsters on MainStreet.
"Students who have yet to meet John B will be able to find him around campus promoting game days and other various Stetson events," Hurst said. "If anyone sees John B around campus or other events, don't be afraid to ask for a photo!"