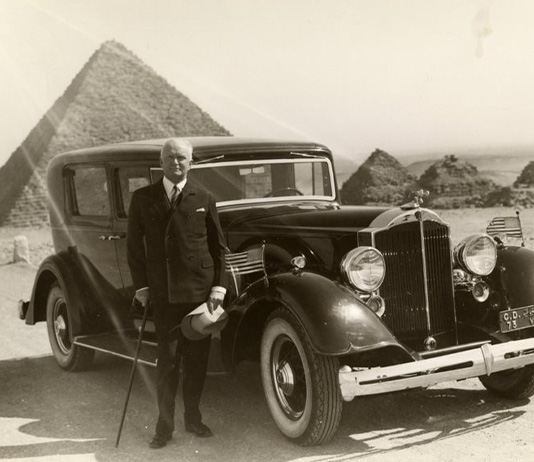 Editor's note: The full length of this article about Bert Fish will appear in the Fall 2021 issue of Stetson University Magazine, which will be in mailboxes in late October.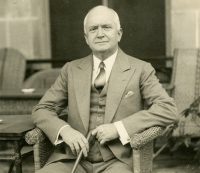 Ornate furniture from the 19th century, a palace-size Persian rug, invitations to royal banquets and photos taken in the company of kings. Those are just a few of the gems that comprise the Bert Fish Collection, which was acquired by the duPont-Ball Library earlier this year and is now on exhibit.
Items from the collection, including artifacts, correspondence, scrapbooks and photos, illuminate the intrepid final years of Stetson alumnus Bert Fish.
Who is Bert Fish?
DELAND TO DIPLOMAT
Many people associate him with the local hospitals he established. If you were (or are) a Stetson student, you're probably familiar with the modest street that bears his name on the DeLand campus. Local history buffs know he was once the self-proclaimed "Red Fox of Volusia County," heavily involved in the DeLand "courthouse ring" (political machine) and, later, a top-ranking U.S. diplomat who played a pivotal role in foreign affairs.
Those who knew him personally undoubt­edly had varying opinions of him, but most seemed to agree on one sure thing: He was an ambitious man.
Over the course of his lifetime, Bert Fish went from the public schools and court­houses of Volusia County to the upper echelon of foreign service. Although he was born in Indiana, his family moved to the small town of Spring Garden, Florida, when he was still a child. His father, George Fish, planted citrus groves on roughly 80 acres of land near present-day Barberville, issued to him by the government in 1885. The same year, a simple schoolhouse in the newly established town of DeLand had just become an institution of higher education. That school would eventually be known as Stetson University — and Bert Fish was among its first graduates.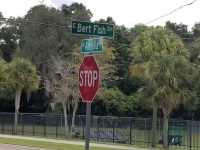 George Fish died in 1895, leaving 19-year-old Bert to care for his mother and three siblings. Just weeks later, young Fish graduated from Stetson's preparatory department. By that time, he had already worked as a public-school teacher for at least two years. He held his first public office (superin­tendent of Volusia County Schools) in 1901, and earned his law degree with Stetson's first law class in 1902. He went on to create a powerful law firm with Stetson Professor Cary Landis, eventually becoming a county judge and, ultimately, a major player in Volusia politics.
Meanwhile, Fish amassed great wealth through shrewd real estate investments. Many citizens, particularly political oppo­nents, accused him of generating his income by insalubrious means and using his money to dominate county politics. Fish, for his part, denied all allegations of wrongdoing. Whatever the case may have been, he estab­lished Bert Fish Inc. to manage his vast real estate holdings in 1923. The company was worth $500,000, an enormous sum at the time.
Fish ended his term as a criminal court judge, and after an unsuccessful bid for the state senate, he backed away from local politics. He retired in 1927 and sold his share of the law firm.
Throughout the late 1920s, ocean-liner passenger lists show that he traveled fre­quently, arriving back in the United States each autumn. One might guess he escaped the Florida summer in favor of more temper­ate climes abroad. It was during those long trips in the Mediterranean that Fish took a greater interest in global affairs.
CAIRO AND SAUDI ARABIA CALLING
Fish re-entered the political arena in the early 1930s, this time on the state and national levels. A $5,000 donation to Franklin Delano Roosevelt's presidential campaign opened doors for him with the Florida Democratic National Convention, and it wasn't long before he became its finance director. Following Roosevelt's victory in 1932, Fish applied for a U.S. foreign service position, hoping for a diplo­matic post in Cuba, Turkey or Egypt. When Roosevelt made patronage appointments for his Florida supporters, Fish was among them, and he accepted an assignment in Cairo, Egypt.
His official title was "Envoy Extraordinary and Minister Plenipotentiary," usually shortened to just "Minister." The State Department doesn't use that title anymore, but it was once the standard rank for heads of mission, signifying the head of a legation. (An embassy, on the other hand, is led by an ambassador.) Like ambassadors, ministers had full powers to act on the government's behalf in their assigned posts. As the minis­ter to Egypt, Fish was the highest-ranking U.S. official in that country.
Fish arrived in Cairo in 1933 and rode in a horse-drawn carriage to present his creden­tials to King Fuad I. The U.S. Legation was located in downtown Cairo, but the foreign service personnel resided at the Mena House Hotel, a luxury resort overlooking the Giza Pyramid complex.
Fish was chauffeured back and forth in a pristine Packard Super Eight automobile, and if the photographs are to be believed, he was attended at all times by at least one scimitar-bearing kavass. A holdover from the Ottoman Empire, the kavass is variously defined in English-language sources as a courier, interpreter, guard or attendant, usually in the service of a foreign diplomat.
(The article is continued in the Fall 2021 issue of Stetson University Magazine.)
-Kelly Larson, MLIS, archivist of Archives & Special Collections at Stetson's duPont-Ball Library
Editor's note: The Bert Fish Collection at the duPont-Ball Library on campus is open to research and curricular use, and will serve as the basis of future educational and cultural credit events. The Bert Fish Collection was made possible by a generous Deed-of-Gift from the Bert Fish Foundation Inc. of DeLand.