Stetson Inaugurates its 10th President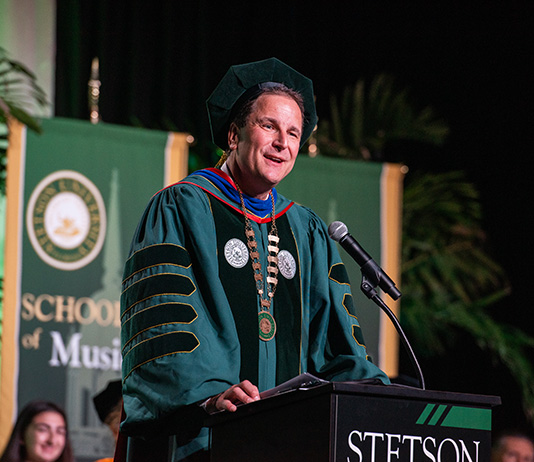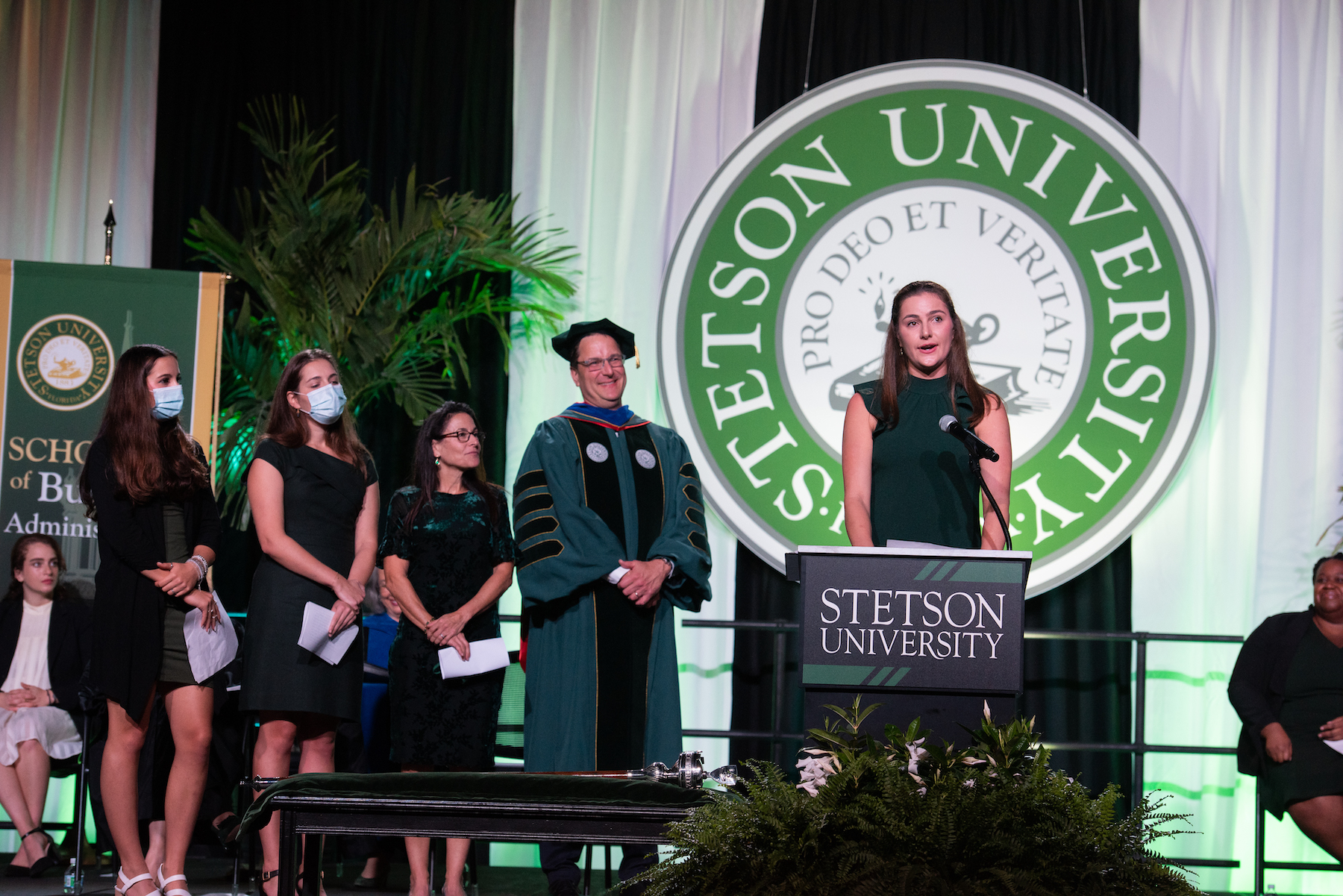 Christopher F. Roellke, PhD, made four simple requests to the committee that planned his inauguration as Stetson University's 10th president.
He asked for the ceremony to include Stetson students, beautiful music and a role for his family – wife Kim and their three daughters. His next wish was a bit more unusual. "My fourth and final request today was that I get my own bobblehead!" he said during his Presidential Inauguration Saturday morning.
Roellke received those wishes and more as a few hundred people gathered in the Edmunds Center for his inauguration. Many more watched via livestream. An outpouring of faculty, students, alumni, family, friends, colleagues and others offered their congratulations and well wishes on stage. Others sent video recordings from around the country and as far away as Brussels, Belgium.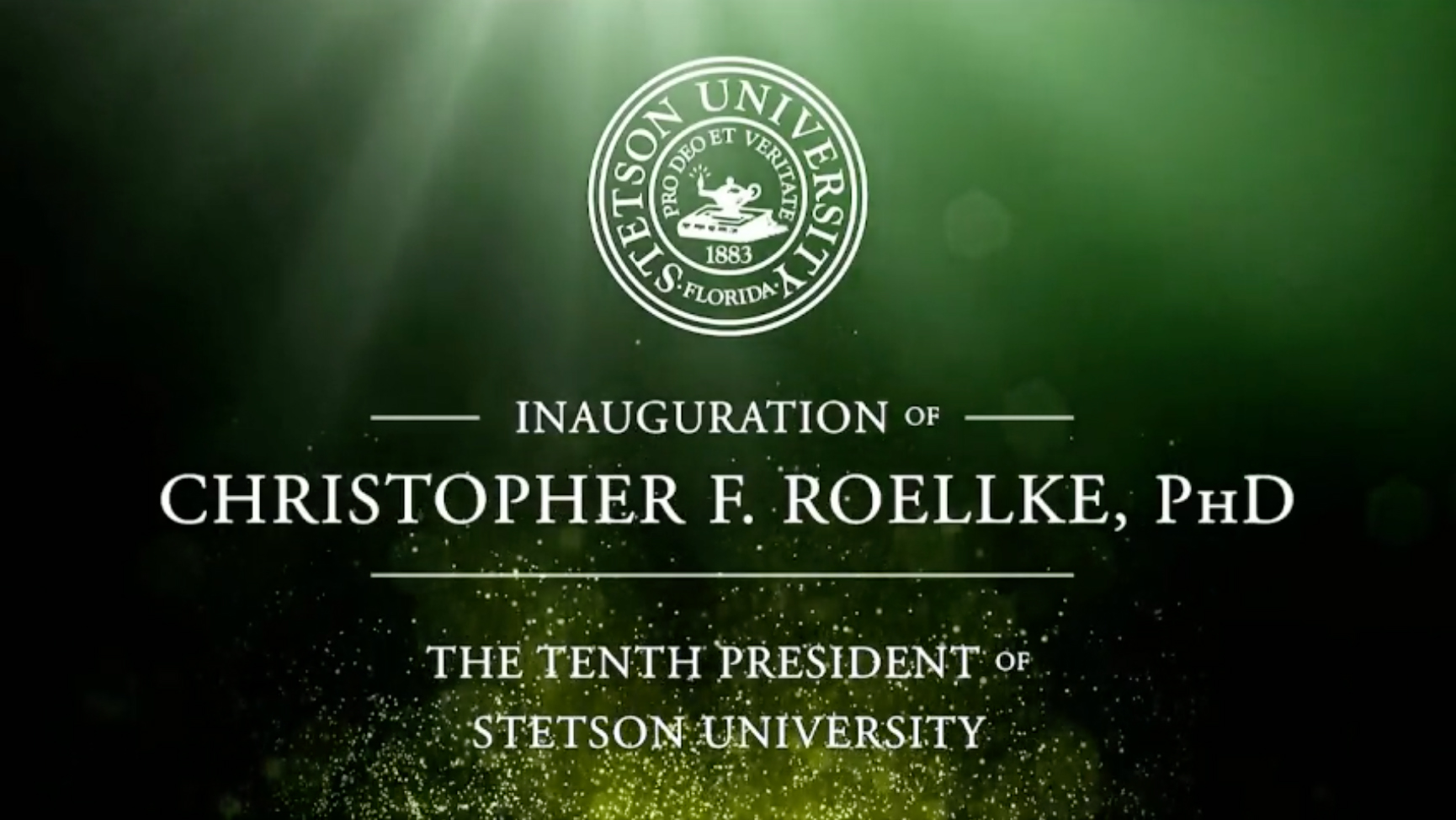 They praised his leadership, enthusiasm and personal values of empathy and kindness. Those traits have clearly been on display since he became president on July 1, 2020, during the height of the COVID-19 pandemic, one of the most challenging times in higher education.
The Stetson School of Music's Concert Choir and Symphonic Band provided the beautiful music. That included the choir's moving performance of "All of Us" from "Considering Matthew Shepard." Roellke's wife and daughters Emma, Julia and Liv offered loving words and shared funny stories about him. Other family members were in attendance, including his soon to be 91-year-old mother, Elizabeth.
Limited Edition Bobbleheads
A limited edition of 100 Rolks bobbleheads were ordered. However, they did not make the ceremony. They were "sadly stuck on a cargo ship someplace," he said, a victim of the supply-chain issues that have impacted the world. In their place, his family made a special bobblehead for him, which he showed the crowd.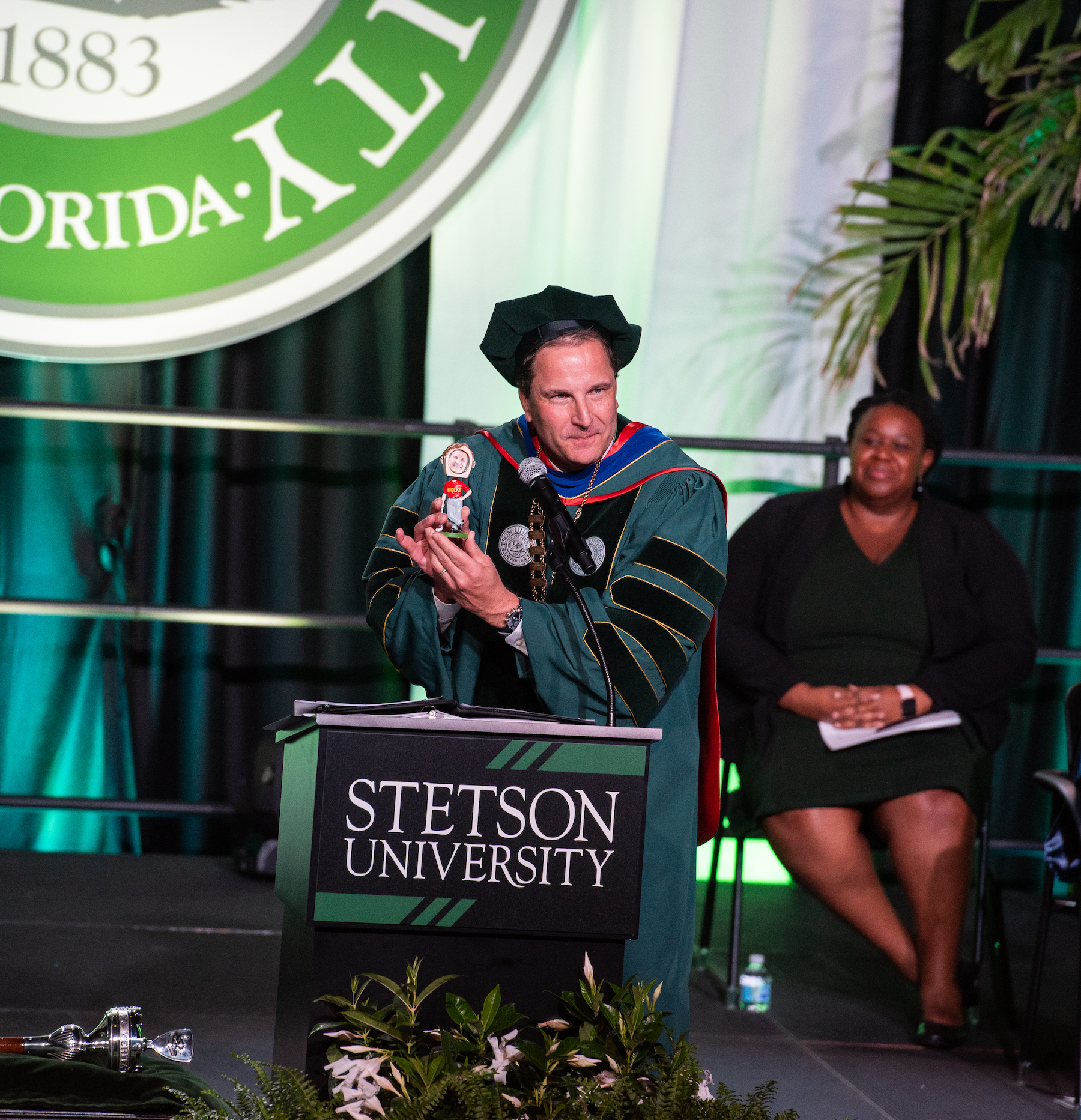 The limited-edition Rolks bobbleheads should arrive later this month, he added.
"A gentle reminder that only 100 of these will be made. For the right price, you, too, can own a piece of Stetson history," he joked, showing other bobbleheads, including one of John B. Stetson. "Another friendly reminder that Stetson University accepts cash, checks, stock, wire transfers, Venmo, PayPal, Google Pay, Apple Pay and all forms of cryptocurrency!"
Investiture Ceremony
Master of Ceremonies, Yvonne Chang MBA '09, a member of Stetson's Board of Trustees, performed the Investiture ceremony. She officially installed Roellke as president and bestowed on him the official symbols and authority of the position. These included a copy of the University Charter and a new Presidential Chain of Office, bearing the names of the presidents in the school's 138-year history.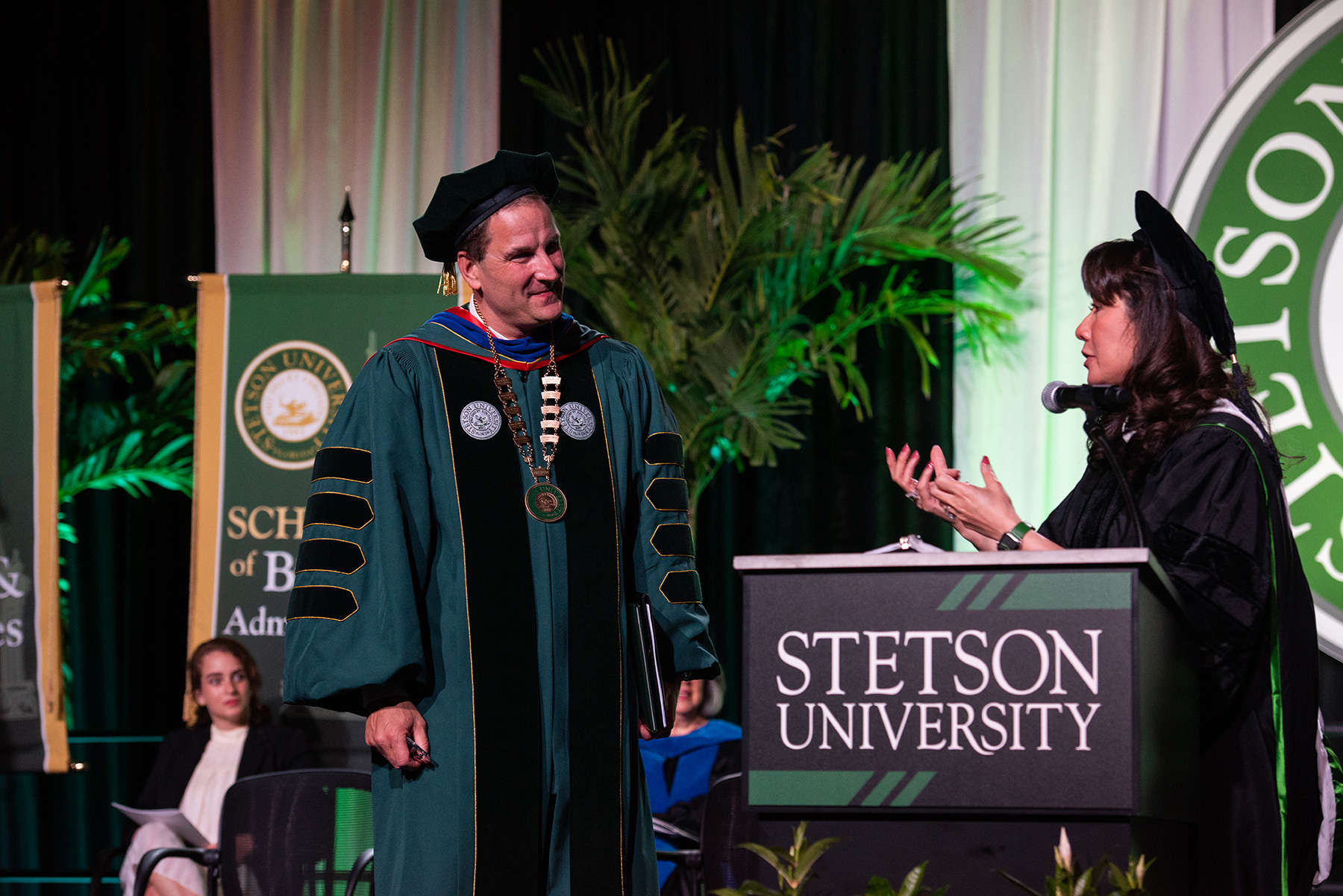 Chang recalled serving on the national search committee tasked with finding a new president after Wendy B. Libby, PhD, announced her retirement in February 2019.
"As I reflect back to when our Presidential Search Committee first met candidate Christopher Roellke, we were quickly impressed by his many special leadership qualities, his passion for students, and his commitment to education and the art and science of learning," she remembered.
"As our selection process continued, we soon came to realize in our hearts and our minds that Dr. Roellke was, indeed, the unique leader we were seeking who could triumphantly lead us into the future," she said.
An All-In Commitment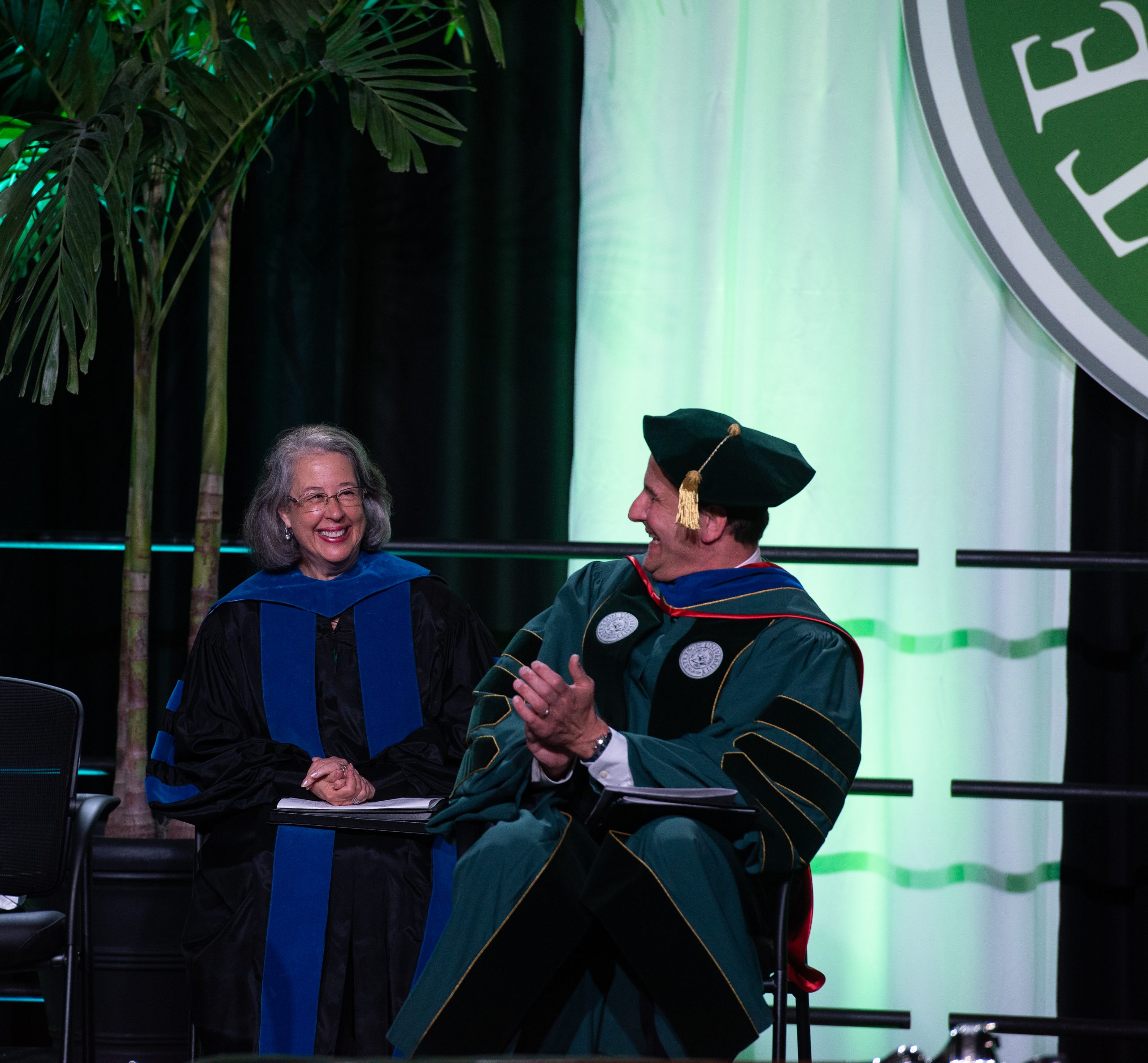 The Board of Trustees announced in October 2019 that Roellke, then Dean of the College Emeritus and professor of Education at Vassar College, would become the tenth president. In a matter of months, the world was engulfed in a global pandemic. By mid-February 2020, Stetson leaders were consumed with emergency meetings and planning for the challenges of COVID-19, recalled President Emerita Libby.
"Dr. Roellke could have stayed away, relaxed and revitalized himself for the job he would inherit on July 1. But instead, he threw himself 100% into Stetson's planning, bringing his experience and intelligence to our work," Libby said.
"That's when I knew his commitment to our university was all-in. During that uncharted time, we greatly benefitted from his insights and thinking. And he has continued to show those qualities in the 16 months since he officially joined us," she added.
Navigating through Complicated Times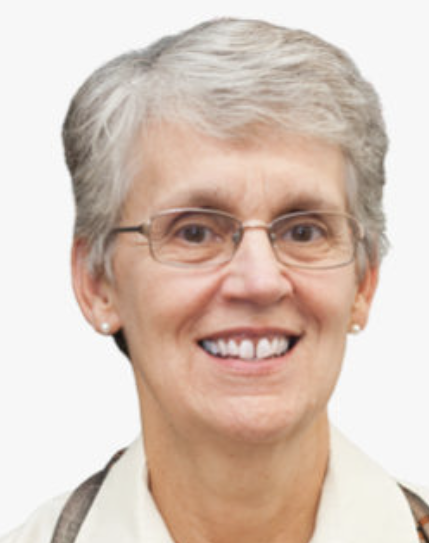 In her keynote address, former Vassar President Catharine "Cappy" Bond Hill, PhD, recalled the challenges that she and Roellke faced during the decade that they worked together in Poughkeepsie, New York. That included the Great Recession of 2009 and growing student activism on campus over social justice issues, as well as hurricanes and blizzards.
Undoubtedly, Roellke handled these crises with "grace, creativity and empathy," she said in the video-recorded address.
"Looking back, that decade together looks like a walk in the park in comparison to responding to a global pandemic and a dozen other issues at President Roellke's start at Stetson," she commented. "How fortunate Stetson University has been to have President Roellke's steady and optimistic leadership navigating you through these complicated times."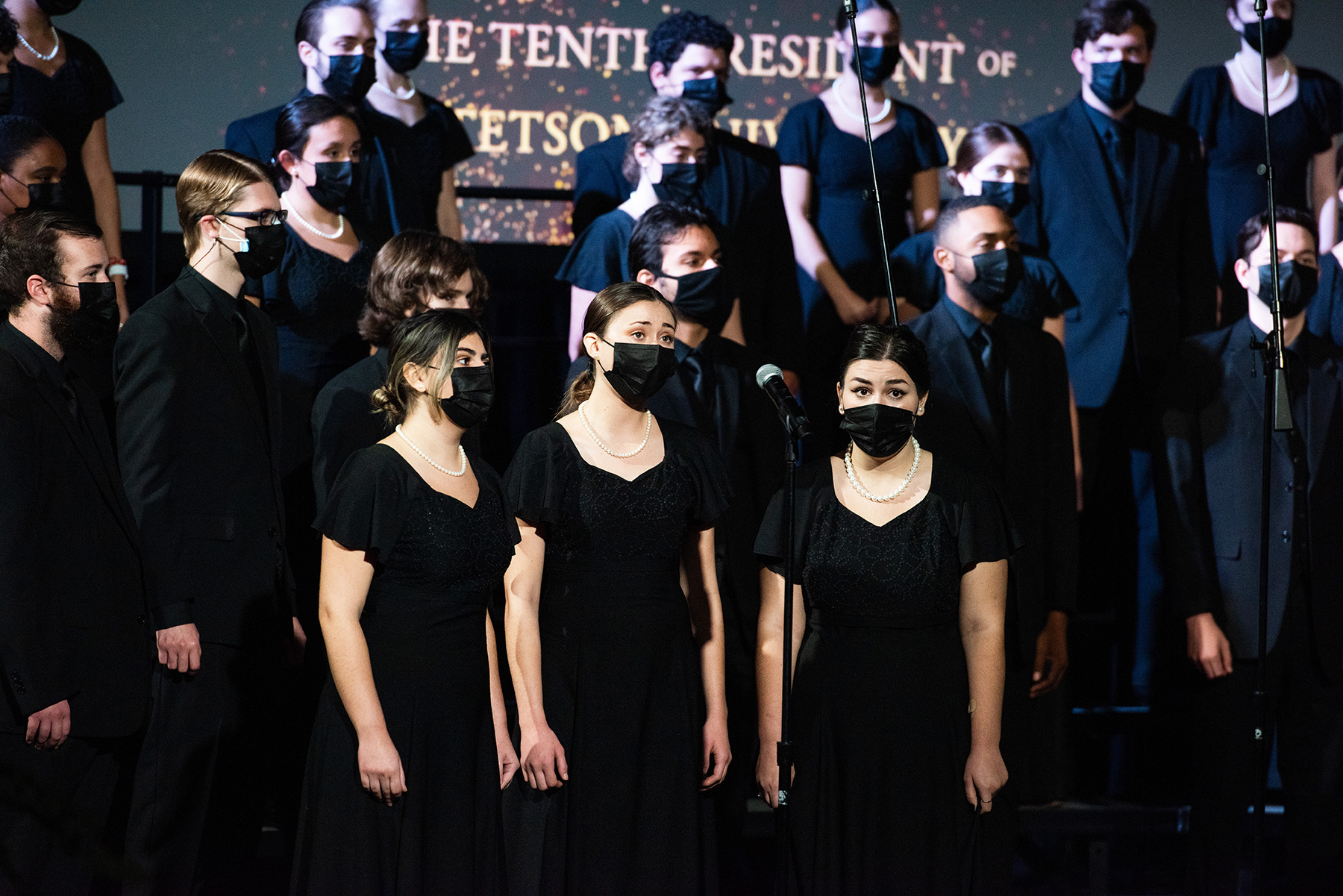 Laser-focused
In his Inaugural Address, Roellke acknowledged the challenging times facing the university, higher education and the world. But he predicted Stetson would come out not just okay, but "more than okay."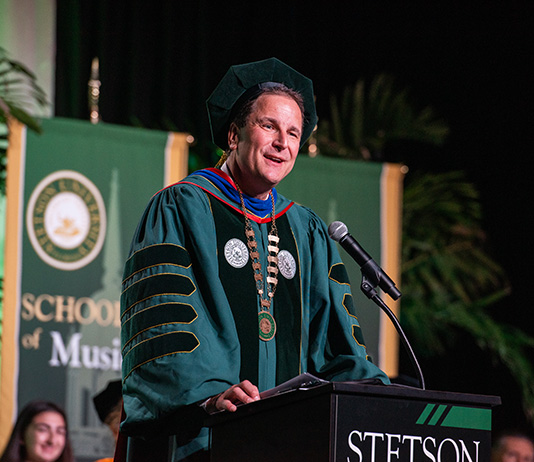 "With our collective efforts, we will make our form of extraordinary education accessible to really smart, really engaging young people," he said. "We will broaden and deepen Stetson's personalized, experiential and intellectually vibrant education for our students coming to us from a wide range of social, ethnic, geographic and economic backgrounds."
Stetson will embrace innovations in curriculum and continue to challenge students to be the best that they can be.
"We will stay laser-focused, and I mean laser-focused, on how students learn and how best to help them learn. We will pursue all of this with kindness, with empathy and through shared ownership of our university."
"Some Kind of Wonderful"
During his address, Roellke said he recently heard a song that he thought encapsulated Stetson University in his mind. The song, "Some Kind of Wonderful," was written by musician John Ellison. It was made popular by the band Grand Funk Railroad, whose cover of the song hit number three on the Billboard Hot 100 in 1975. In 1994, a version by Huey Lewis and the News hit number seven on Billboard's Adult Contemporary list.
Roellke went on to read his "Stetson" version of the lyrics with some help from the School of Music and some support from the crowd. "Stetson is, indeed, some kind of wonderful," he said.
– Cory Lancaster