Stetson University in the News, Nov. 19-25, 2021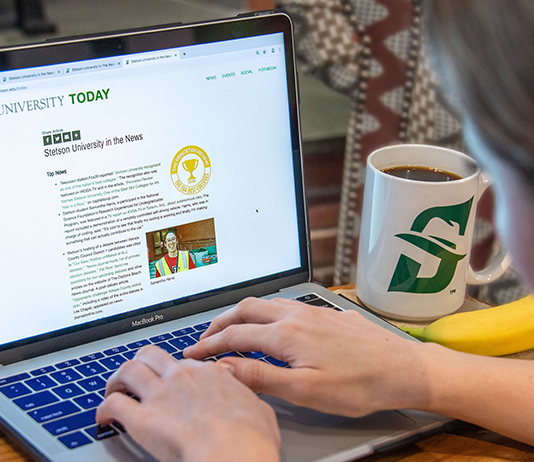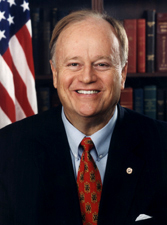 Top Stories:
• The Daytona Beach News-Journal, Yahoo.com and other media outlets published the Nov. 14 article, "In Max Cleland, we lost an American hero who found inspiration at Stetson," by Susan Ryan, dean of the Stetson duPont-Ball Library. She also is curator of the Max Cleland Collection. "With his passing Nov. 9 at age 79 — only three days before Veterans Day — that's what Max Cleland left behind," Ryan wrote. "A Stetson legacy."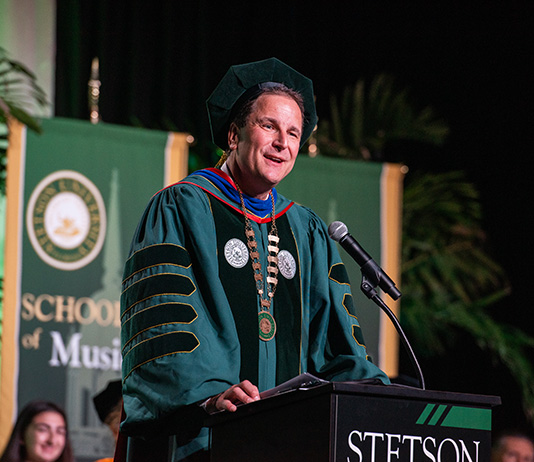 • The West Volusia Beacon published, "Stetson inaugurates its 10th president," on Nov. 19. "Today is not about me," President Christopher F. Roellke, PhD, said during his inauguration. "It is not about any individual. Today is about Stetson University. Today is about teaching and learning. Today is about celebrating Hatter Nation." The Daytona Times also reported on the inauguration.
• College of Arts and Sciences Dean Elizabeth Skomp, PhD; School of Music Dean Washington García, DMA; and Kate Pearce, Stetson's former director of planned giving, were quoted in the News Daytona Beach WNDB 93.5 FM/1150 AM story on Nov. 16 entitled, "Stetson Receives $15 Million Bequest For Art & Music Scholarships."
• The Orlando Sentinel included Stetson in the Nov. 23 story, "Central Florida colleges: New theater, new holiday concert, new arts money" about the $15 million donation from the estate of Antoinette "Toni" LaValle to support students pursuing degrees in the fine arts, creative arts and music.
• The Champion of DeKalb County, Georgia, published, "Hail to the Chief," a remembrance of alumnus Max Cleland on Nov. 22. The Gwinnett Daily Post, the Jackson Progress-Argus and other media outlets also published the column. The Waikato Times, Timaru Herald and other media outlets profiled the late alumnus Max Cleland in the Nov. 23 story, "Senator who lost limbs in Vietnam war, became subject of an infamous 'attack ad.' "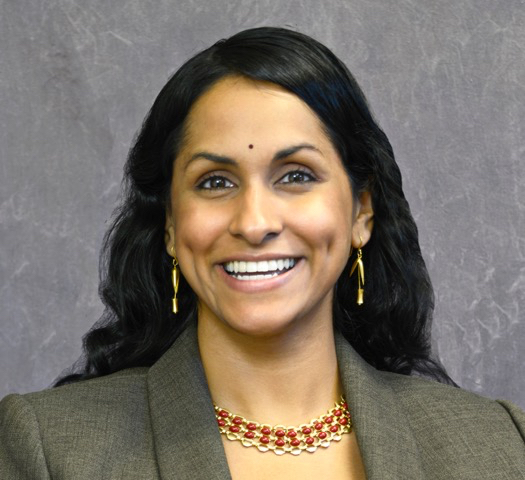 • Rajni Shankar-Brown, PhD, professor and Jessie Ball duPont Endowed Chair of Social Justice Education, and Christopher Ferguson, PhD, professor of psychology, were quoted in The Daytona Beach News-Journal story, "Critical race theory: What is it and how did it become a political dividing line?" on Nov. 13. The story also was picked up by the Gainesville Sun and the Stuart News.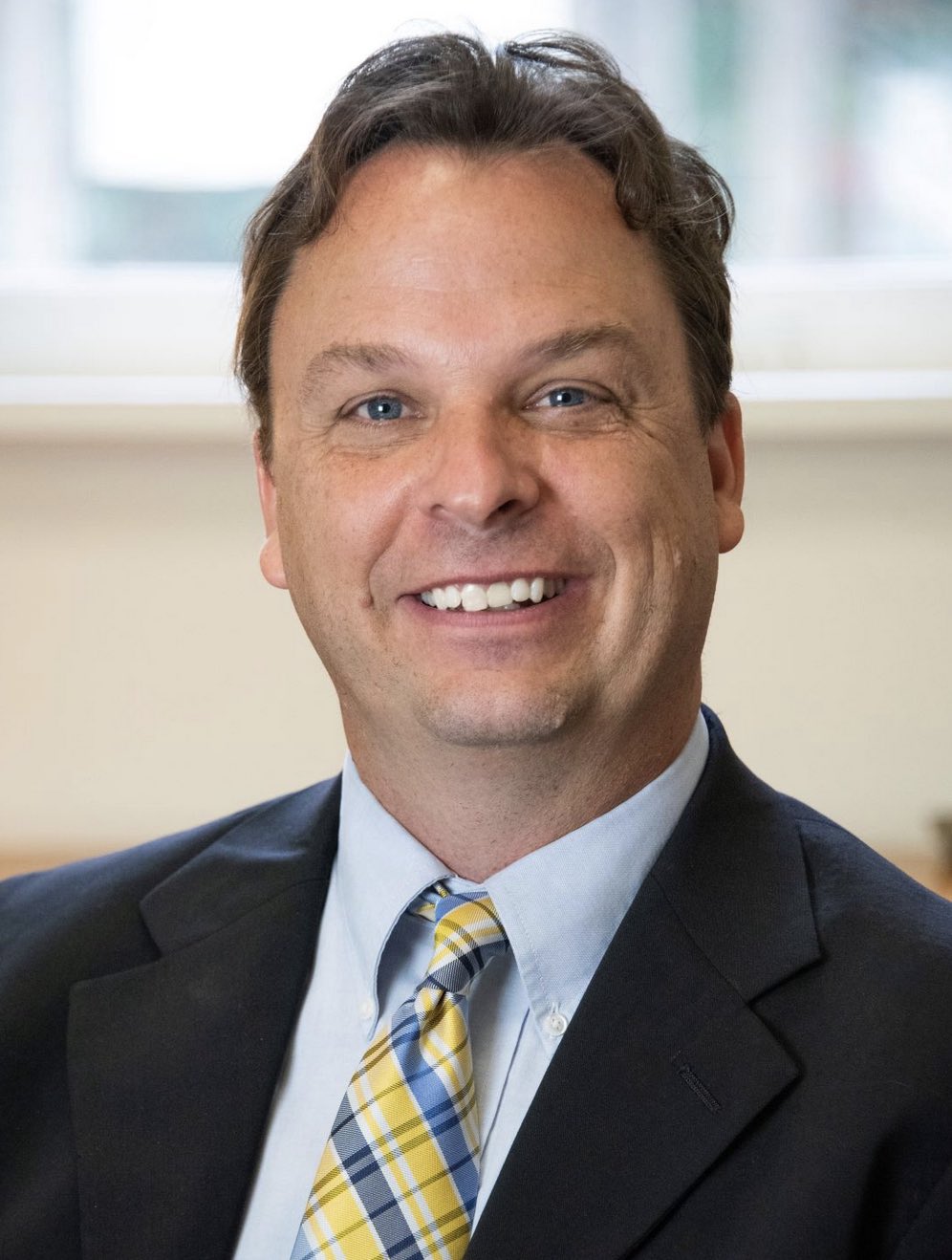 • The Atlanta Journal-Constitution quoted Professor of Psychology Chris Ferguson, PhD, in the Nov. 24 article, "Does social media impact our mental health, or is it a 'people problem.' ?"
• Reason published, "Eugene Huskey on the Soviet legacy in Central Asia," in its December 2021 issue. Huskey, PhD, is professor emeritus of Political Science. The interview also was published by Conservative Angle.
• Orlando Inno quoted Director of the Prince Entrepreneurship Program Lou Paris, MBA, in the Nov. 23 story, "Stetson program teaches students how to be angel investors — and it may lead to investors signing checks." The story also mentioned business student Guilherme Pinheiro.
Other News:
• Scott Powers, PhD, distinguished scholar of health sciences, was interviewed for Doctor Health Radio about exercise and COVID-19 on Nov. 13.
• The West Volusia Beacon profiled Adjunct Professor of Creative Arts Martha Underriner in the Nov. 25 article, "Underriner joins Museum of Art – DeLand."
• TCPalm.com profiled student Bennett Rossell in the Nov. 24 story, "Giving thanks: Palm City rower aims for Olympic gold, grateful for family's sacrifice."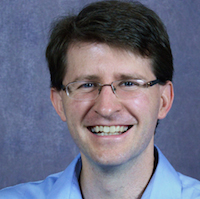 • Alan Green, PhD, chair of the Economics Department and associate professor, was interviewed for a Spectrum News 13 story, "Volusia Mall attracts ten new tenants over the past year during the pandemic," on Nov. 26.
• ReadSector and other media outlets mentioned men's basketball coach Donnie Jones in the Nov. 19 story, "Wichita State University basketball star goes viral after helping clean arena following game."
• Stetson University was mentioned in the Nov. 19 story, "5 Best Food and Drink Trails in the Southern U.S.," by Travelawaits.com.
• ZDNet.com, techio.co and other media outlets cited Stetson in the Nov. 19 story, "Best online master's in accounting 2021: Top picks."
• The Hometown News included the Hand Art Center in its Nov. 19 "Art Notes" column.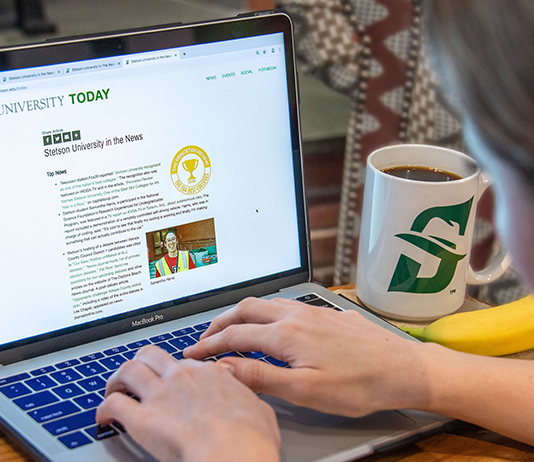 • The Watson Institute of Brown University mentioned Assistant Professor of Political Science Kelly Smith, PhD, in "Robert Hackey ─ Today's Healthcare Issues: Democrats and Republicans (Across the Aisle)."
Alumni News:
• LegalNews.com profiled alumnus Matthew Snyder in the Nov. 23 story "Law Student Sports business background with S.E.C."
• Florida Politics, the South Florida Tribune and other media reported Nov. 20 that Florida Gov. Ron DeSantis appointed alumna Michelle Branham to lead the Department of Elder Affairs.
• Our Sports Central and uslchampionship.com featured alumnus and former soccer player Devon Kerr in the Nov. 19 article, "USL Announces Broadcast Teams for USL Championship Final."
• Yahoo.com published the Nov. 19 article, "10 Best Motley Fool Stocks to Buy Now," which featured alumnus Bryan Hinmon.
• The Boca Raton Tribune profiled alumna Patricia Medina in the Nov. 20 article, "PBSC Alumna Spotlight: Patricia Medina."
• Hunt Scanlon Media profiled alumnus Tom Schmid in the Nov. 22 article, "DHR Global Recruits CEO for Columbus Zoo and Aquarium."