Marcia Chatelain, PhD, discusses McDonald's and 'the unfinished business of racial justice'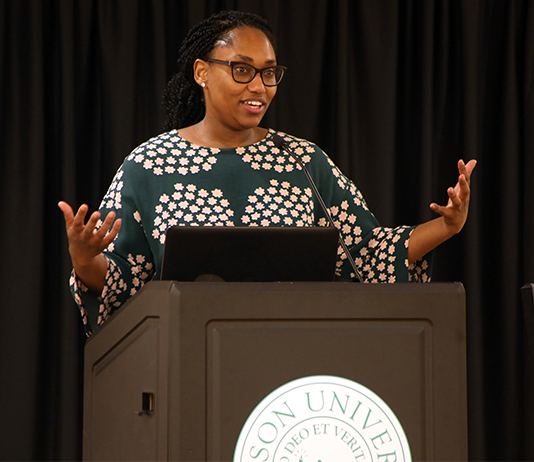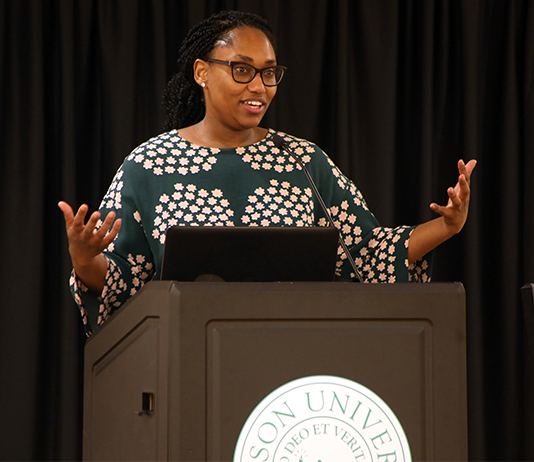 As Marcia Chatelain, professor of History and African American Studies at Georgetown University, delivered the J.A. Stewart Lecture Thursday night in the CUB's Stetson Room, she talked about "my weird book about civil rights and McDonald's," and "what it can do to help us understand the unfinished business of racial justice."
That book, "Franchise: The Golden Arches in Black America," won the 2021 Pulitzer Prize for history. Her talk, titled "Fighting for Food Justice with History: Fast Food, Black Struggle and Strong Communities," explored how McDonald's "is part of the story of racial unrest in America."
Before some 40 in-person attendees plus a Zoom audience, Chatelain traced that story through the last half century, accompanied by a slide show on numerous video screens that displayed historic photos.
Chatelain citied the first African American-owned McDonald's franchise, in Chicago in 1968. She cited a statement from McDonald's CEO in the wake of the 1992 Rodney King police beating that crowed about – quite dubiously, she believes — the company's socially progressive initiatives following Martin Luther King Jr.'s assassination.
As the video screens revealed print advertisements from the 1970s, she noted that numerous corporations co-opted Black history and MLK's legacy.
Chatelain became intrigued by the connections between McDonald's and race issues when she read writer Toni Morrison's 1998 appraisal of President Bill Clinton. Clinton, Morrison wrote, "displays almost every trope of blackness: single-parent household, born poor, working-class, saxophone-playing, McDonald's-and-junk-food-loving boy from Arkansas."
"What did it mean for Toni Morrison to imagine McDonald's as an indicator of race, even though a lot of people, regardless of their background, enjoy McDonald's?" said Chatelain, PhD. "Like a detective on a bad podcast, I started to try to find the answer: How did McDonald's become Black?
"It is not a coincidence" that the first Black-owned McDonald's franchise "opened eight months after Martin Luther King Jr.'s assassination," she said. "The call for Black capitalism after King's death is part of a pattern of seeing racial unrest as a problem of the marketplace instead of the entire society. … It was like if someone said today you now own Facebook and all the wealth that comes out of that and all the things you can do with that. Being offered Facebook today is like being offered a McDonald's in 1969. … But the consequences of the consumption of fast food and the conditions of fast-food labor would crystallize later."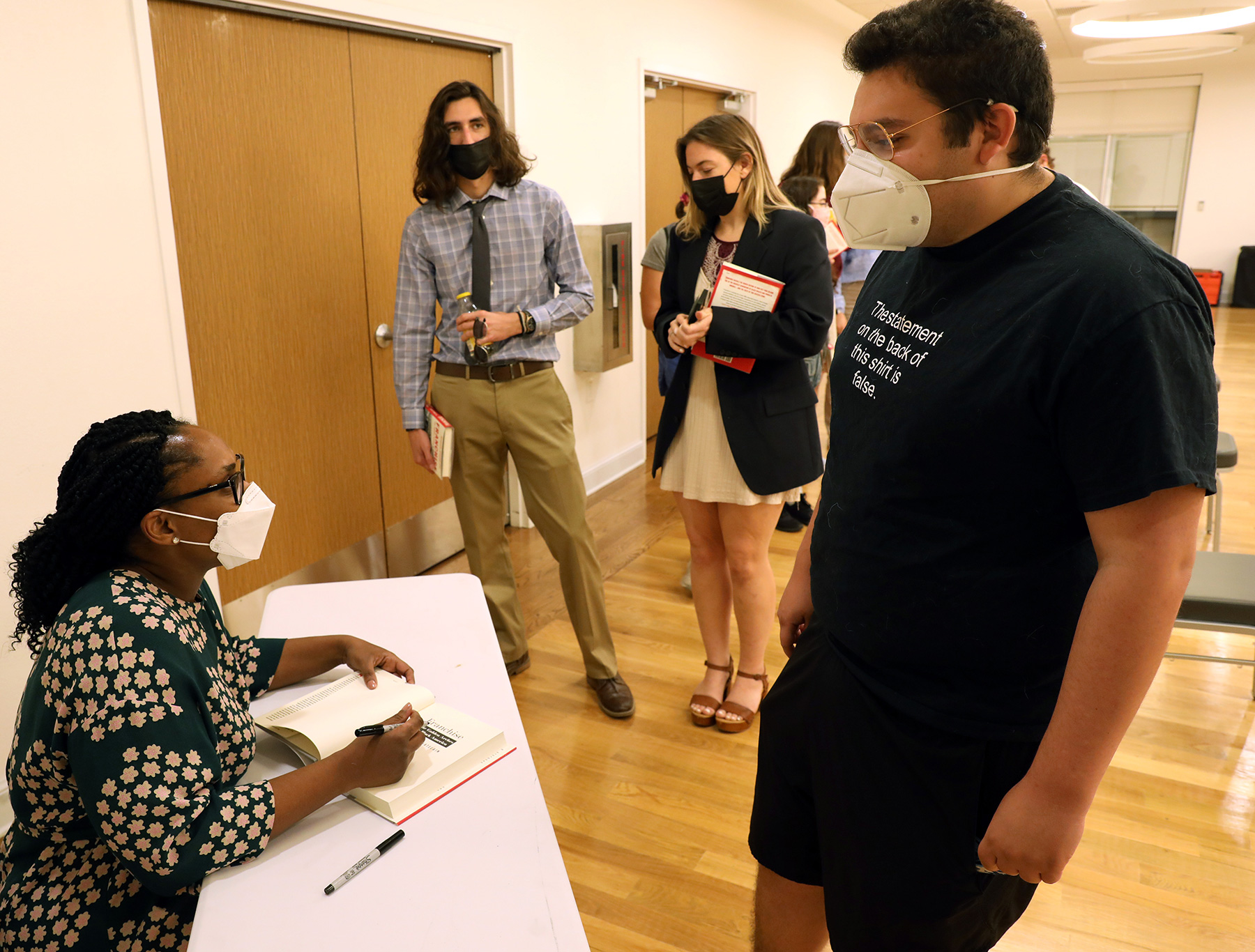 Chatelain also said she wrote her book to respond to the tendency in the food justice movement some 20 years ago "to talk a lot about choices and not enough about structure."
The website hungercenter.org says food justice "seeks to ensure that the benefits and risks of where, what, and how food is grown, produced, transported, distributed, accessed and eaten are shared fairly."
"When I started to engage with the food justice movement, I'd hear that people who eat fast food are bad or stupid or don't care about their children, and if people just knew about healthier foods and how to cook them, they would make different choices," Chatelain said. "Often I felt this was a cover for talking about race, and that to suggest everyone had equal access and equal choices was something the movement at the time wasn't addressing honestly."
Chatelain hopes her book will cause people "to think about what fast food inspires us to think about."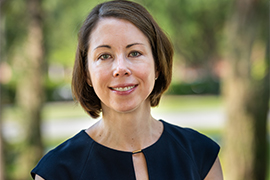 Chatelain's talk was sponsored by Stetson's Sustainable Food Systems and the Department of History, and is a relaunch of the College of Arts and Sciences' J.A. Stewart Lectures, which was established in 1990.
Elizabeth Skomp, PhD, dean of the College of Arts and Sciences, said the aim of the Stewart lectures "is to stimulate awareness of and critical reasoning about important ethical concerns in an ever-changing world. We hope to offer lectures on a regular basis."
— Rick de Yampert