Stetson Law Students Help Veterans Confront Bankruptcy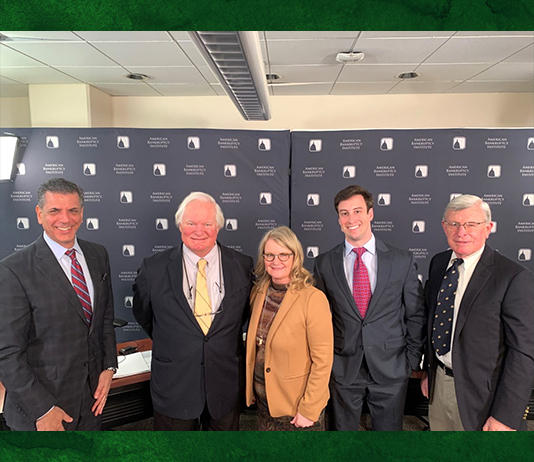 For veterans dealing with serious money woes, it can feel like there's no way out – especially in the wake of a challenging life event, such as divorce.
Financial insolvency has even been identified as a leading cause of veteran suicides. That's why two Stetson Law students are harnessing what they've learned to help members of the military take control of their finances.
The 3L students, Cooper "Cade" Zimmerman and Jade Yeban, worked with Steven Berman, a partner in the Tampa office of Shumaker Law who specializes in bankruptcy law, on an in-depth presentation to train Navy Judge Advocate General (JAG) officers on bankruptcy, so they can better advise service members who are facing insolvency and other serious financial problems.
Giving back to those who have served
To the students, it was an invaluable hands-on experience doing work on behalf of those who have served.
Zimmerman said a thorough bankruptcy law course he took at Stetson Law gave him a solid foundation for this project, which he said was one of the best experiences he has had at Stetson.
"I have always held our military in the highest regard – both of my grandfathers were Marines," he said. "To have a positive impact on anyone's life is special, but to help those who have the job of protecting the United States and our values is an extraordinary experience."
How the program got started
While JAG officers have extensive legal training, there are no required curricula related to financial literacy. With the number of veterans experiencing insolvency and its effects on everything from everyday work to obtaining security clearances, Berman saw an opportunity to educate military legal officers on laws relating to consumer finance, bankruptcy and potential avenues for relief.
"There are lots of options and we wanted legal officers to understand and be able to identify the issues attendant to financial distress and have the tools to refer active duty and veterans in need to competent insolvency professionals," Berman said.
Appointed to the American Bankruptcy Institute's Veterans Task Force in December 2020, Berman has worked to establish a pipeline of volunteers with expertise to combat bankruptcy and the far-reaching consequences it can have.
"Financial distress can be emotionally debilitating and also can affect an individual service member's day-to-day work, especially if someone doesn't know how to get out of a bad situation," Berman said. "We saw the need and believe it will be impactful on a likely large unaddressed need in the legal support for our military members."
A "fantastic" hands-on experience
Recently, Zimmerman and Berman traveled to Washington, D.C., to support a panel presentation by United States Bankruptcy Judges Mary Heston, Christopher Klein and Michael Williamson. The discussion was recorded and will be available to Navy JAG officers, as will the supporting written materials. The Army and Navy have also requested the presentation, Berman said.
Zimmerman said the experience left quite an impression on him, and that he hopes to use the knowledge and skills he learned at Stetson Law to help veterans after he graduates.
"During my trip to D.C. for the live panel, I was able to develop relationships and have in-depth conversations with each about the ins and outs of bankruptcy law and the legal field in general," he said. "It was truly one of the best experiences I have had at Stetson Law."
A win-win for students and veterans
Though it's a complicated area of the law, one that's not particularly intuitive, Berman said the students worked to create enough written materials to support three to four hours' worth of programming.
"The students were fantastic," he said. "They understood the need for the project right away, and were eager to help."
To Law Professor Theresa Radwan, who coordinates the Business Law Concentration program, the project was an absolute win-win.
"For the students, it helped them deepen their own understanding of the law while knowing that they were helping attorneys help others," Radwan said. "In addition, they received mentoring from practitioners and judges associated with the project."
Learn more about the work Stetson Law does for veterans through its Veterans Law Institute.
-Media contact: Kate Bradshaw
[email protected]