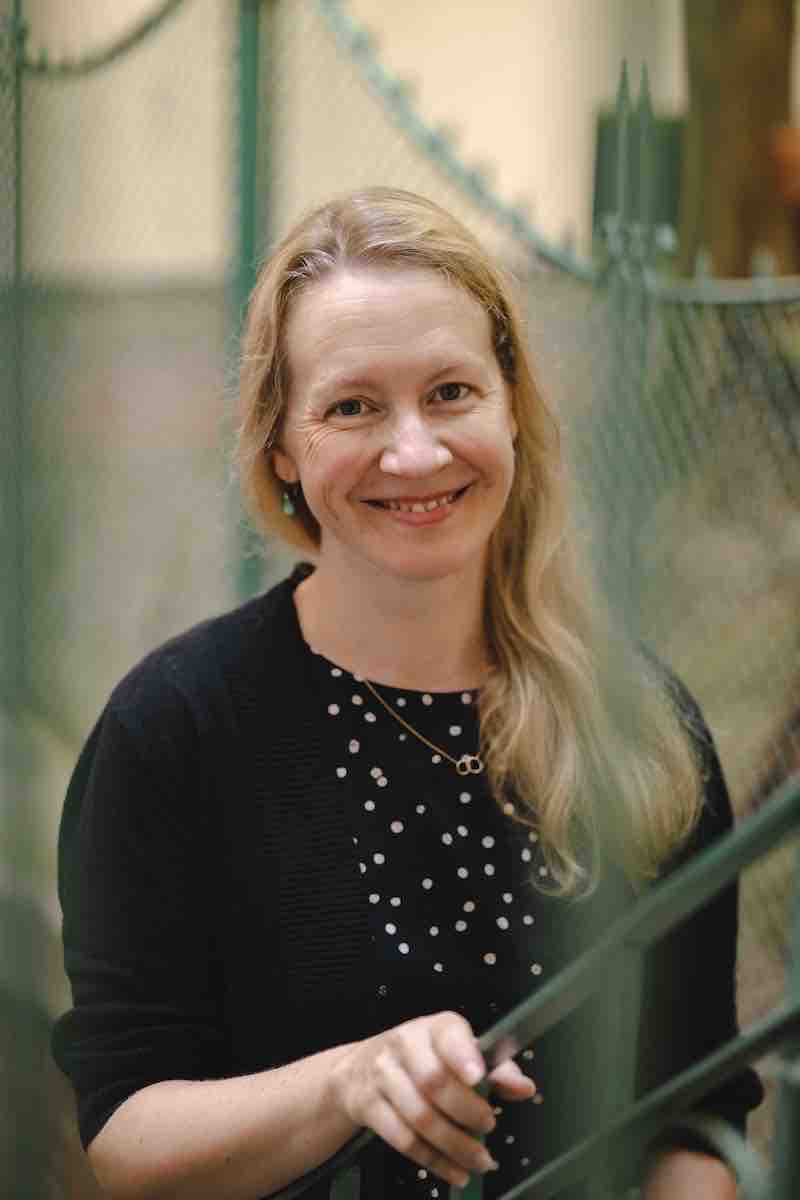 Clearly, this wasn't the best of times for Stetson Associate Professor Mayhill Fowler, PhD, to meet up with her two close friends from Ukraine. Yet, while the circumstances were far from ideal, the time together proved to be worthwhile, educational and, as Fowler labeled it, "great."
On Thursday, March 24, Fowler, director of SPREES (Stetson's Program in Russian, East European and Eurasian Studies), moderated Voices of Ukraine, a Zoom conference featuring Ukrainian scholar/activists Sofia Dyak, PhD, historian and director of the Center for Urban History in Lviv, Ukraine; and Natalia Otrishchenko, sociologist and researcher at the same center.
There were approximately 55 participants, including current and past students of SPREES along with Stetson faculty and staff. Among the students were Fowler's entire Soviet Century class.
Participants learned not only about surviving the war with Russia, but also about imagining the future of Ukraine. Brief presentations were followed by questions and answers.
Although students may have expected dire darkness and despair, they saw an important other side, noted Fowler.
"Actually, what they saw was two young women speaking from a beautiful building, speaking articulately and with emotion but also with critical thinking, about this experience," Fowler said. "And I think, in sort of a weird way, that normalized it. But also, once you normalize it, you also realize the gravity of everything they were saying."
Powerful Messaging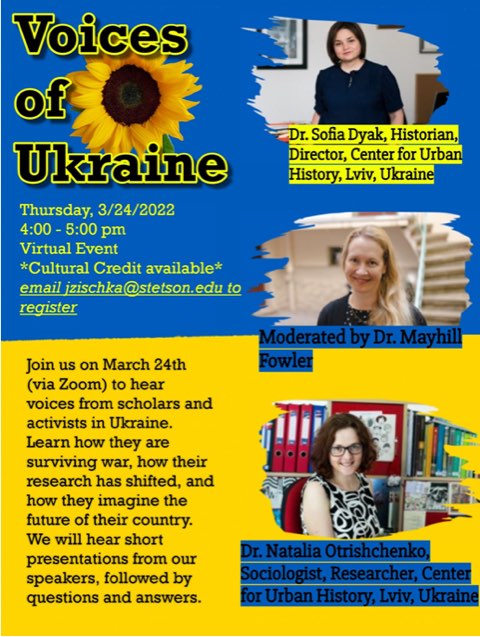 Both Dyak and Otrishchenko spoke powerfully about getting past initial shock to settle in and realize they had to do something. So, they've turned their research center into a shelter while also continuing to figure out how best to ethically record what is happening through visual images and testimony.
"[Their message was] you have to do something, and what are you going to do? Not everybody can go fight," said Fowler. "But there are many fronts, and there are many things that need to be done.
"They're not lost; they're not collapsed," Fowler continued about her two friends. "I think I'm more collapsed than they are. They're working, and they're working to record the war and record what is happening. And they're thinking about the future. And I think to hear those thoughts is so important, because on the news what we see is loss — the loss of war and death, and who's going to win? … Geopolitics and the changing-every-minute fluidity of war. But I think it was great to hear that people are thinking about the future, are working really hard and are, even now in the midst of this whirlwind of emotion, able to kind of critically analyze what is going on."
In addition, Fowler gave special thanks to Diane Disney '63, one of SPREES' first students and a longtime benefactor of the program, who also participated in the ZOOM event.
The Land of the Hopeful
Among the participants of Voices of Ukraine was Jonah Helwig, who graduates in May. Helwig spent the past two semesters in Kyiv as a recipient of a SPREES Scholarship for Study Abroad.
The following is a recent essay from Helwig, titled "The Land of the Hopeful."
In the past two weeks, I have been approached by nearly everyone I know, asking me about the war in Ukraine. This is to be expected, as I have a degree in Russian, East European, and Eurasian studies and have studied in Kyiv, Ukraine, for two semesters. These people approach me seeking my opinion or my experience or my thoughts on the conflict. For most, this war is a distant thought, and my opinions and thoughts are just part of an intellectual debate. And that is why most will never understand how someone this connected to Ukraine would be feeling in the wake of this devastating war. So, I have decided to write a little something that can give a brief explanation of how this war has made me, and so many scholars connected to Ukraine, feel.
Ukraine is a special place to me. It was a place of many firsts for me. I lived outside the United States for the first time in Ukraine. I rode an underground metro for the first time in Ukraine. I lived on my own for the first time in Ukraine. I had my first boyfriend in Ukraine. I fell in love for the first time in Ukraine. And now I sit at home constantly refreshing my newsfeed, and I wonder if all these "firsts in Ukraine" could be my "lasts in Ukraine."
Just today, a residential building in Obolon was struck by a Russian missile. The building next to it was my boyfriend's apartment. This opened the floodgates of memories. We used to kiss in the kitchen and look out the window to the very building that was struck today, wondering if anyone had seen us. I built a life in Kyiv. In my Ukrainian life, I was the happiest I had ever been. Now I am filled with sadness, anger, fear and grief as I watch my Ukrainian life destroyed. I look back on all my firsts in Ukraine, and I wonder if I will ever get to experience more firsts there. Will I ever be able to return to the peaceful and happy life I knew in Kyiv? Or has this war destroyed the piece of me that will forever be in Ukraine?
There is sadness for what we have lost. There is fear for what else we could lose. There is grief for the lives lost to this senseless violence. There is anger because all that has been lost was lost for no reason. So many emotions and so much lost. But the one thing that I am filled with in this dark time … is hope. I know that Ukraine has lost a lot and could lose much more in this war, but I know for certain that not a single Ukrainian has lost hope. The hope of a nation to survive the onslaught. The hope of a brighter and safer tomorrow. The hope that Ukraine will be victorious. All the hopes and dreams of the Ukrainian people give me a resounding sense of reassurance, and I know that this nation of the hopeful will fend off this threat and rise to greatness. In Ukraine, we say, "Glory to Ukraine! Glory to the Heroes!" And although I may be sad, angry, scared and grief ridden, I know that the heroes of Ukraine will fight and bring back the peace and happiness that I knew in Kyiv. I know that this war will end. I know that Ukraine will be victorious. And I know that someday I will return to the land I love and cry, "GLORY TO UKRAINE! GLORY TO THE HEROES!"