Leadership Stetson Reunion Remembers Max Cleland '64, Hears University Update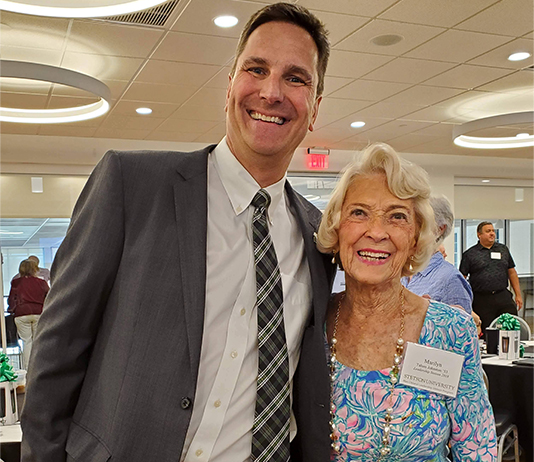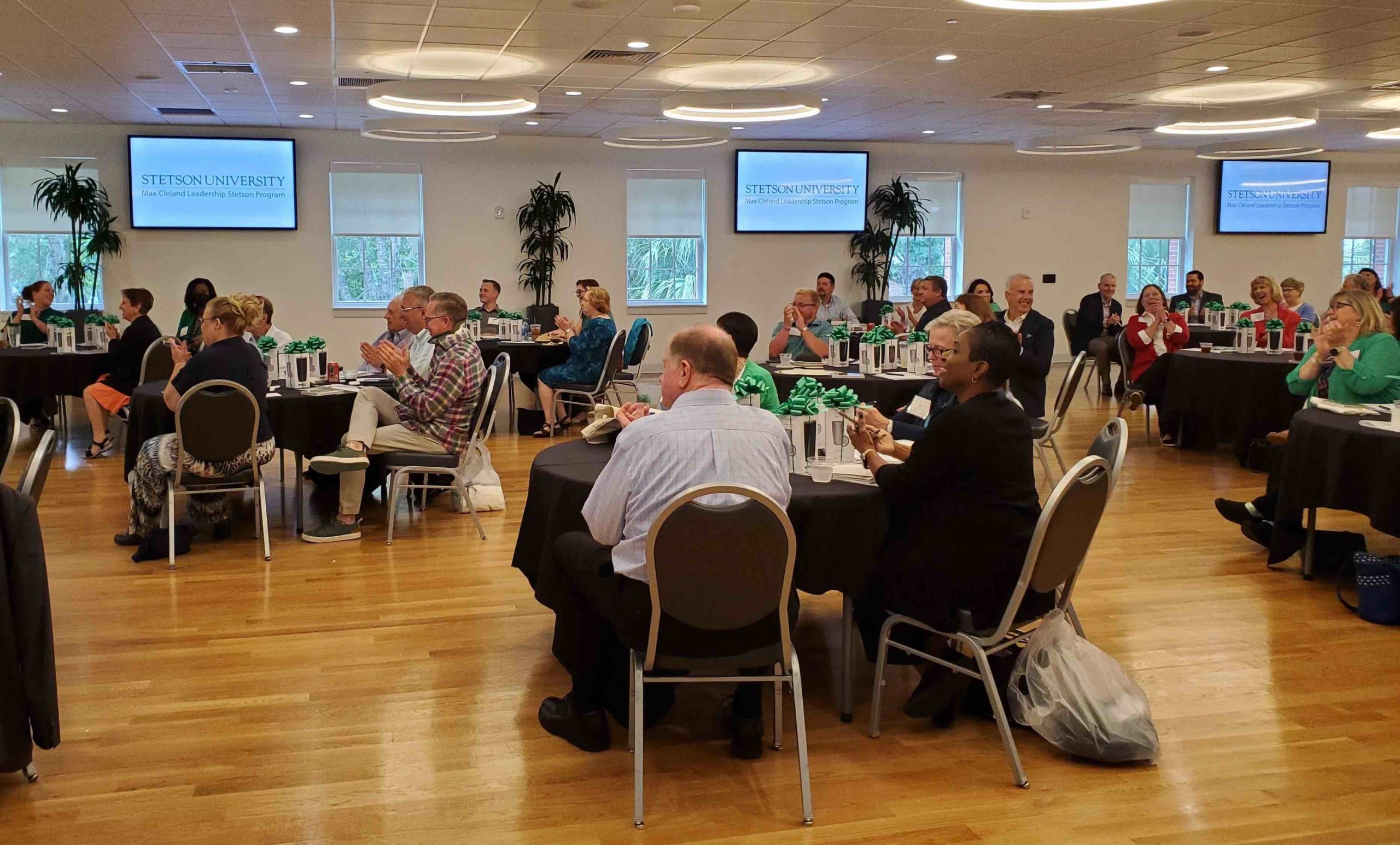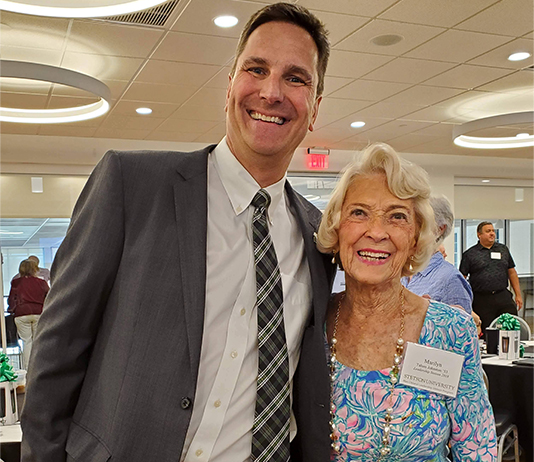 President Christopher F. Roellke, PhD, delivered an exuberant message to open the Leadership Stetson Reunion on Friday afternoon, April 29, in the CUB's Stetson Room: "Stetson is back, baby!"
More than 70 alumni, who have participated in Leadership Stetson over the years, gathered for a reunion with a university update from the president, presentations by top Stetson administrators and a celebration of the late Max Cleland '64.
Cleland was one of Stetson's most renowned alumni, a decorated Vietnam veteran, triple amputee and former U.S. senator who founded Leadership Stetson in 2008. The program aims to engage alumni with their alma mater and potentially groom them to be the next generation of university leadership.
The program has been renamed the Max Cleland Leadership Stetson Program, an initiative that began shortly before Cleland's death at age 79 last November, said Amy Dedes '04, director of Alumni Engagement.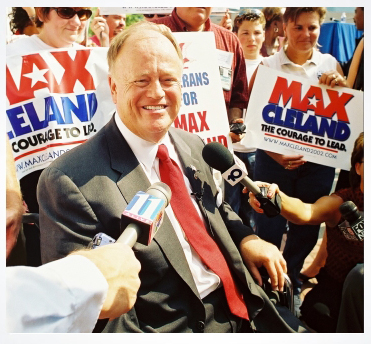 Attendees at the Leadership Stetson Reunion visited the duPont-Ball Library to view just a few of the 12,000 photos and more than 1,000 pieces of memorabilia in the university's Max Cleland Collection, which Cleland gifted to the school in 2007.
Among the items are photos of him with Bill Clinton, one of his prosthetic legs and his handwritten Vietnam diary, whose last entry was penned just days before he lost his legs and right arm during a grenade explosion.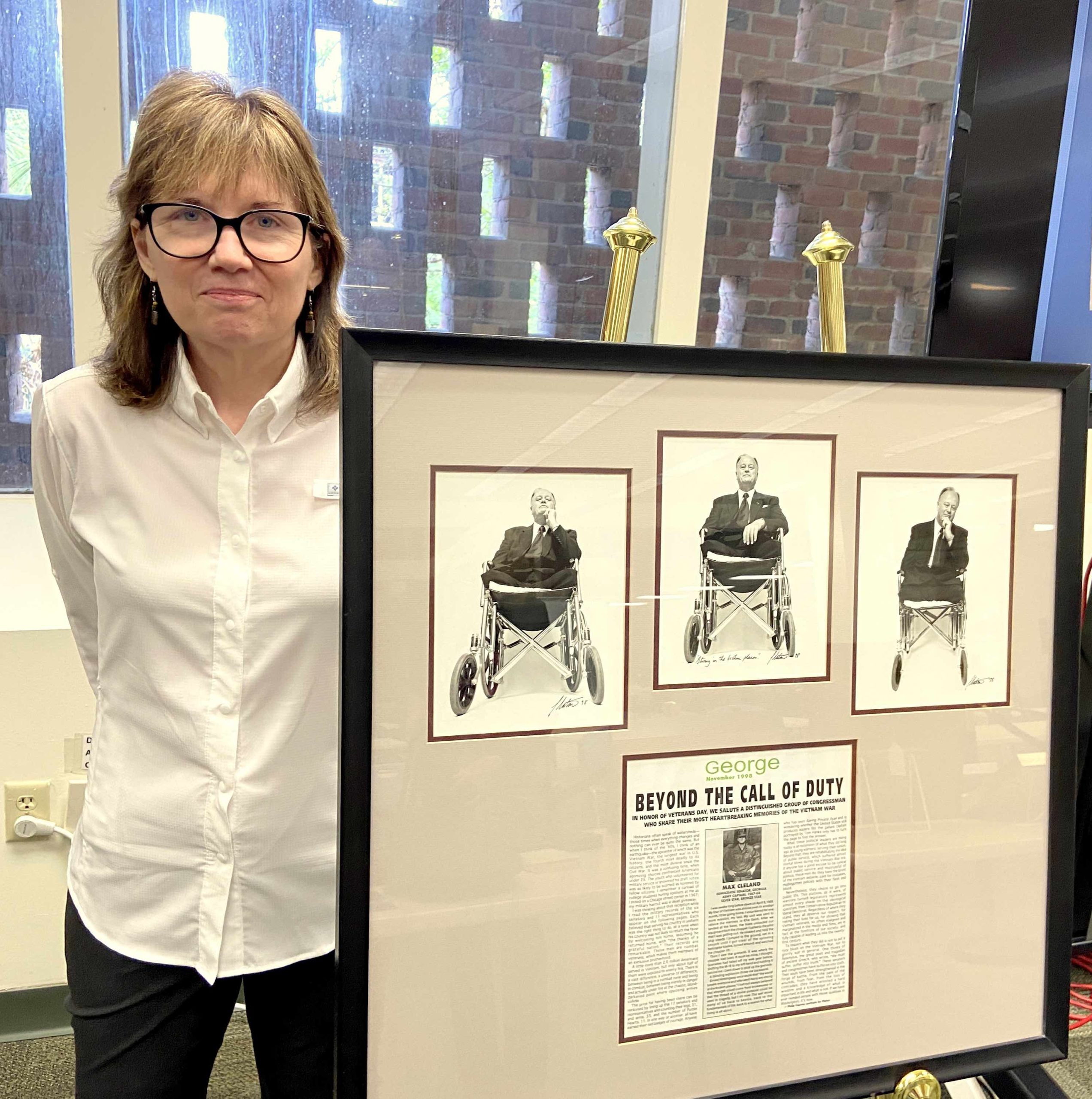 "A couple of items are really special to me," said Sue Ryan, MLS, dean of the duPont-Ball Library and Learning Technologies and curator of the university's Max Cleland Collection. One of them is the Vietnam diary, which she once showed to Cleland. He teared up and said he hadn't remembered writing it.
"Max was a wonderful human being. He made everybody feel like they were his closest friend," she said.
The alumni also heard a university update from Roellke and presentations by Noel Painter, PhD, executive vice president and provost, and other high-ranking administrators, including deans.
During a light-hearted moment in Roellke's talk, he asked if any attendees in the Stetson Room were about to celebrate a birthday. When one attendee said yes, Roellke presented her with one of his "Rolks" bobbleheads made for his inauguration as Stetson's tenth president last year.
"Let me be clear: This is a limited-edition Rolks bobblehead — only 100 of them were made," a smiling Roellke quipped. "I better not see that thing on eBay!"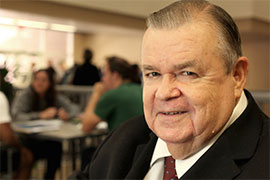 Then Roellke turned to more weighty matters, lauding Cleland as "a true American hero and a true Stetson legend." He noted Stetson lost "two extraordinary heroes" in 2021 – Cleland and T. Wayne Bailey, PhD, professor emeritus of Political Science – "during what has been an exceptionally difficult time across the globe."
"I never had the opportunity to meet Max in person, but during the pandemic we met virtually a number of times," Roellke said. "What an extraordinary spirit, what an extraordinary Hatter. I'm so pleased that this important program is being named in his honor."
In his update, Roellke said Stetson is emerging from the pandemic with a number of bright spots for the institution.
"The campus is back to life. We now have in-person tours. We see families coming to visit the campus," he said. Late Night Breakfast, a Stetson tradition for students before final exams begin, took a two-year hiatus due to the pandemic. But it returned last week and "had this place packed — it was hopping."
"All of this is very, very energizing and encouraging."
Due to "great investment advising," the university's endowment recently topped $400 million "for the first time in Stetson's history," he said.
— Rick de Yampert