Georgia Peters '15: 'Reminders of Life, Love and Loss' in Ukraine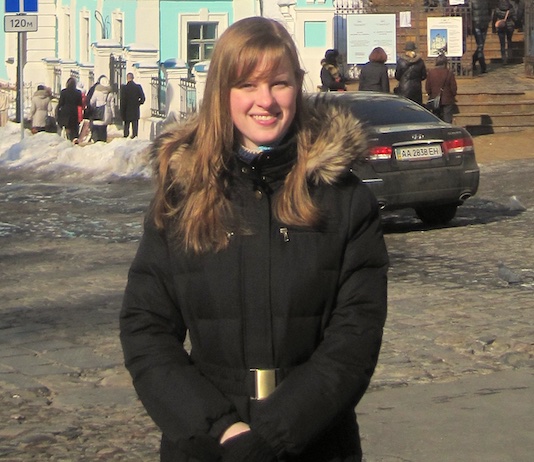 Georgia Peters '15, a Russian Studies and Political Science major, "came to Stetson as a rosy-cheeked freshman," she said.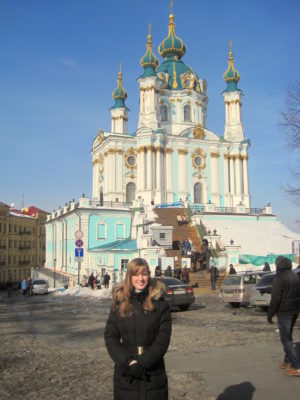 Her study abroad in Kyiv, Ukraine, in spring 2013 "was the beginning of my understanding of what was possible out in the world," the DeLand native added.
As Russia's invasion of Ukraine enters its fourth month, Peters' experiences in the country have led her to donate to its animal rescue shelters, while Stetson has initiated a campaign to bring displaced Ukrainian students and a university professor to its DeLand campus.
Peters said she has to "limit my consumption of news coverage, but often it's the quotidian reminders of life, love and loss that stand out to me most strongly."
Even a parakeet.
"I am reminded of my hostess in Kyiv, Katya, who had a parakeet named Kesha about whom she was absolutely crazy," said Peters. "He would accompany her in her tasks around the apartment, and she would croon to him in Russian and Ukrainian, telling him what a good, handsome boy he was."
Offering Help
And so Peters, who is pursuing a Master of Public Affairs and studying the Uyghur language at Indiana University, is donating to Ukrainian animal shelters and rescue organizations.
"In the face of a war that no individual could stop, how can you help?" Peters asked, rhetorically.
For her, the answer is "the ones who need the most help are the ones who are unable to ask or advocate for it."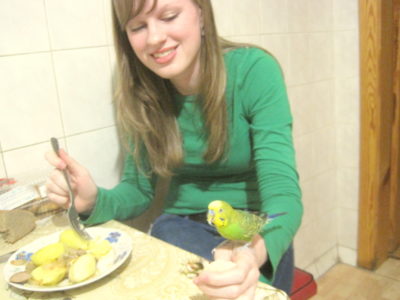 For Stetson, the answer is to bring displaced Ukrainian students and a faculty member into the Stetson community this Fall semester through the university's efforts to support Ukraine. Stetson will provide tuition, room, board and travel expenses for a handful of Ukrainian students, allowing them to continue their studies here. Ukrainian faculty also can apply for a yearlong appointment as a Brown Visiting Teacher-Scholar Fellow.
Stetson has launched a fundraising campaign to support the initiative, with a goal of $250,000. Displaced Ukrainian students and faculty can apply for the program at the Stetson University Supports Ukraine website. Supporters also can make donations on the site.
"Very Lucky"
Peters confessed that she didn't specifically choose Ukraine over other locales for her study abroad. She chose a course of study in Stetson's Program in Russian, East European and Eurasian Studies (SPREES) called Policy and Conflict in the Post-Soviet Space, which was "mostly based in Kyiv, but also included trips to Russia, Georgia and Moldova as well," she described. "I consider myself very lucky that chance landed me in Ukraine."

Her interest in studying Russia was spawned "mainly because Russia was my sole point of reference to begin exploring what was to me a mostly unknown swath of the Eurasian continent," Peters explained. "As my studies progressed and my frame of reference widened, my academic interests clarified and morphed from an interest in a former empire into an exploration of the effects of hegemony on the populations that experienced the Russian Empire in varying ways.
"I credit my time in Ukraine for part of this paradigm shift, as a sense of Ukrainian-ness was negotiated daily around me and I observed, for example, the daily tension between an imposed legacy language [Russian] and the language of the nation [Ukrainian]."
While Peters said she "certainly enjoyed the opportunity to pursue my studies while abroad," it is "the laughter and the joy that remain my most cherished and vivid memories."
Some of those memories: "I experienced Kyiv covered in snow and then bursting with springtime blooms: By tromping through snowdrifts, making trips to my hostess' dacha and enjoying sun-dappled picnics with friends. By celebrating Women's Day with my hostess by having chocolate cake and beer for breakfast, then sitting down to dinner with her extended family, for which she had prepared Herring Under Fur Coat Salad — which I bravely managed a very small slice of. It's the moments of connection that meant the most."
And it meant something new.
"My experience at Stetson was a fairly sheltered one," she concluded. "DeLand is my hometown, and while it makes for a nice place to grow up, leaving town and going to Ukraine was the beginning of my independence."
-Rick de Yampert