NFL's Donald Parham Returns to Stetson to Finish his Degree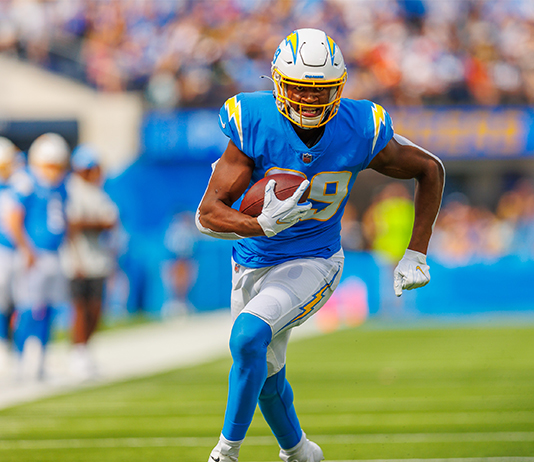 Donald Parham Jr. enjoyed a breakout season with the Stetson Hatters during his senior year, leaving behind a record-shattering career that included most receptions, most receiving touchdowns and most receiving yards in school history.
But there was one thing he didn't have when he left Stetson University in 2019 — a college degree.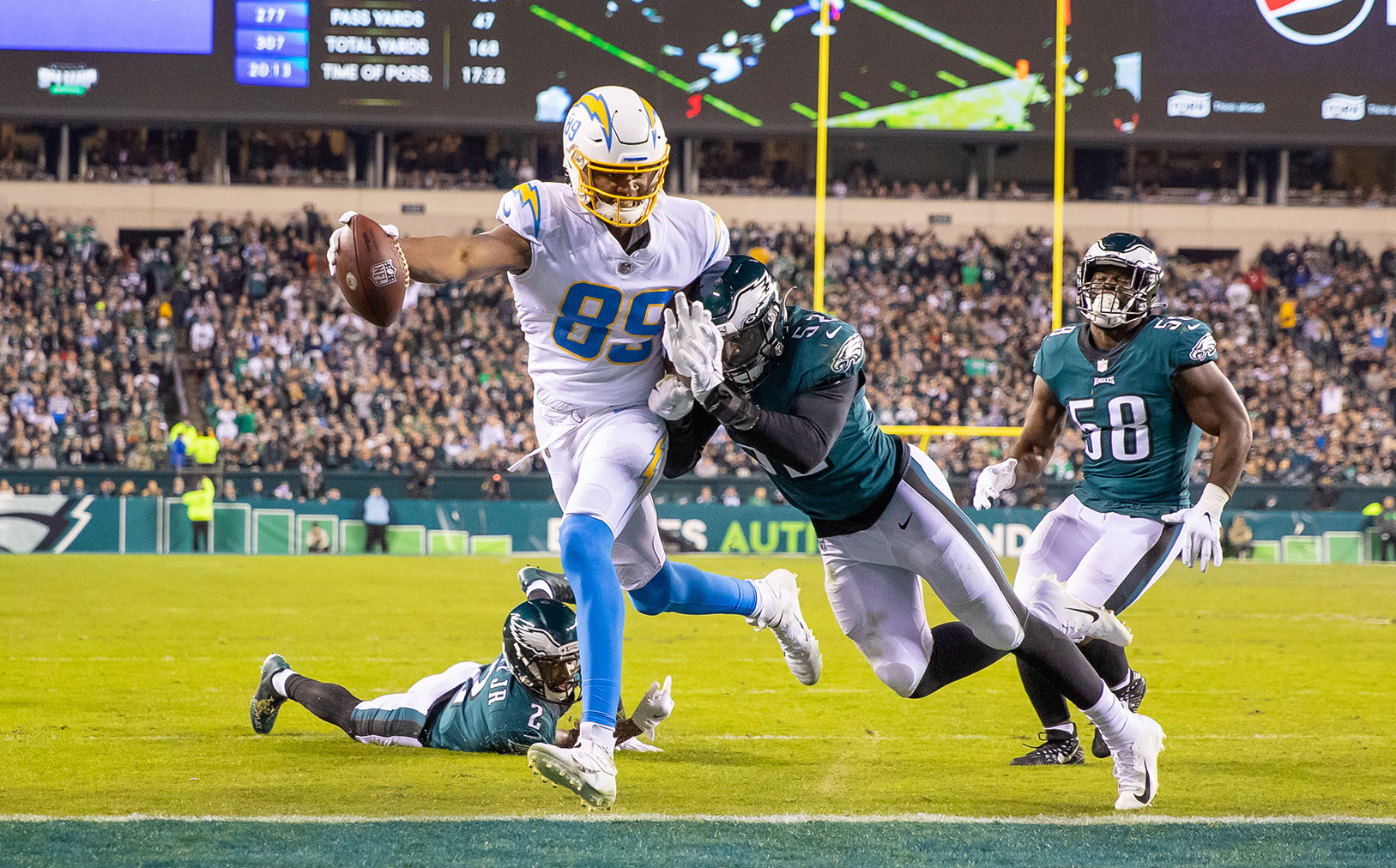 Now a tight end for the Los Angeles Chargers, Parham said he always knew he would be back for his degree. He enrolled for the Spring 2022 semester and will return again next spring, graduating in May 2023.
"I'll be back next spring and we'll be walking, hopefully graduating and making sure that I'm closing that chapter in my life, reaching that milestone," Parham said during an interview in the CUB in April, as he was wrapping up two classes and an internship on campus.
"It will be very important for my family and friends to see me walking across that stage."
He enrolled for the spring semester during the NFL's offseason. But he arrived for classes a week late in January because he was recuperating from "a really bad accident" in a game against the Kansas City Chiefs in December.
The 6-foot-8, 255-pound athlete jumped up to catch a touchdown pass in the end zone, landed hard and slammed his head against the turf. He lay motionless on the field, his arms locked in a rigid position. He was taken away on a stretcher to UCLA Harbor Medical Center, where he was diagnosed with a concussion.
"That was a really scary moment for me," he recalled. He was fully conscious the whole time but unable to move his body. He has since fully recovered and received a clean bill of health. Still, the accident reinforced the need to finish his college degree and have a backup plan for professional football.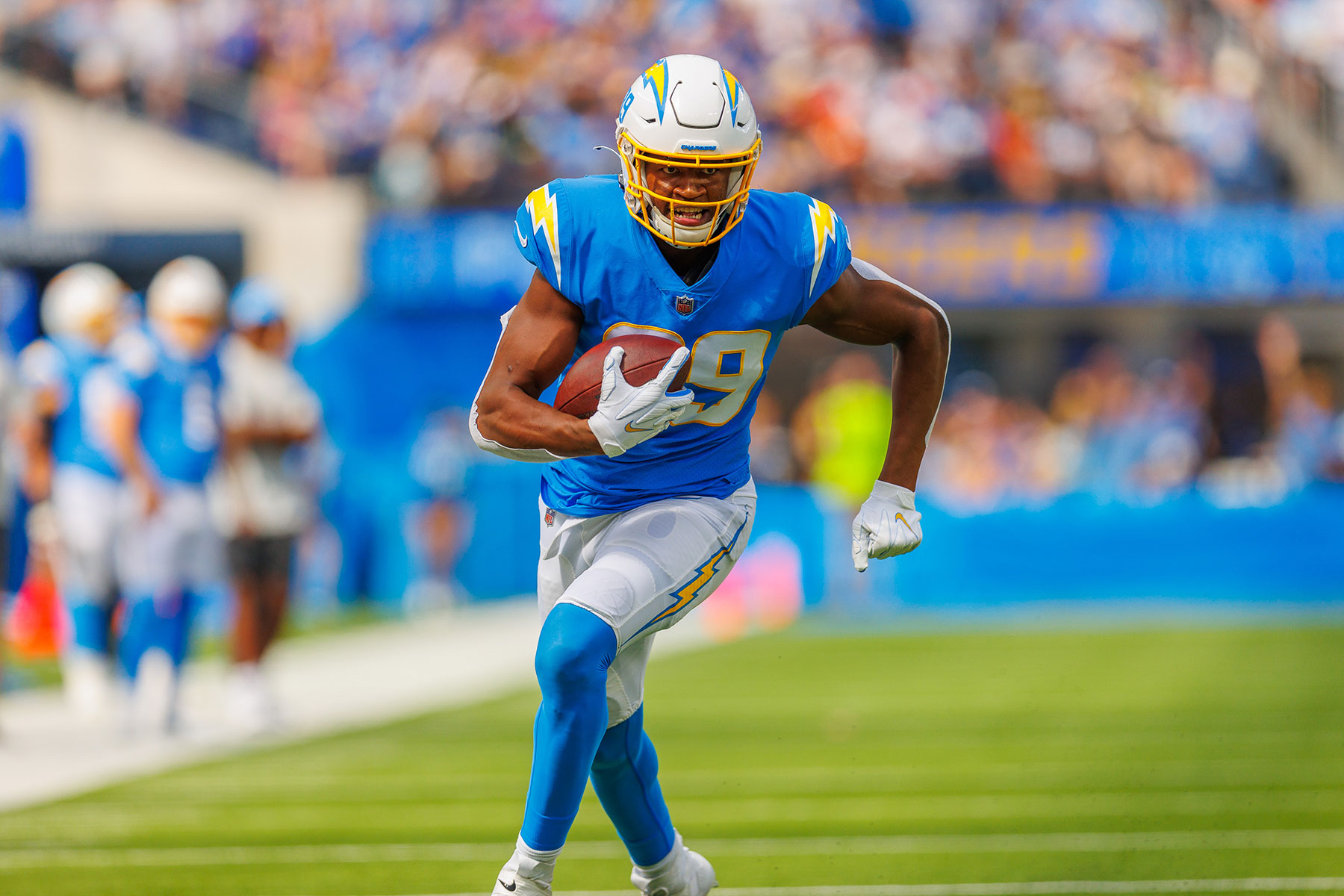 "The accident I had in December was just a real eye-opening thing," he said. "It made me start overall thinking about what life will be after football because it can be taken away from you within just a few seconds, just like it almost was."
A Chance to Prove Himself
Growing up in Lakeland, Parham played both basketball and football. His father, who played college football at Albany State, told him to pick one sport or the other, and said his odds might be better in football, given his height and athleticism.
Parham wasn't heavily recruited in high school and only received a call from Stetson in the spring of his senior year. But four years later, during his senior year at Stetson, he was a star, finishing the season as the top receiver in NCAA Division I football (FCS and FBS) for most receptions per game (9.4) and most receiving yards per game (146.6).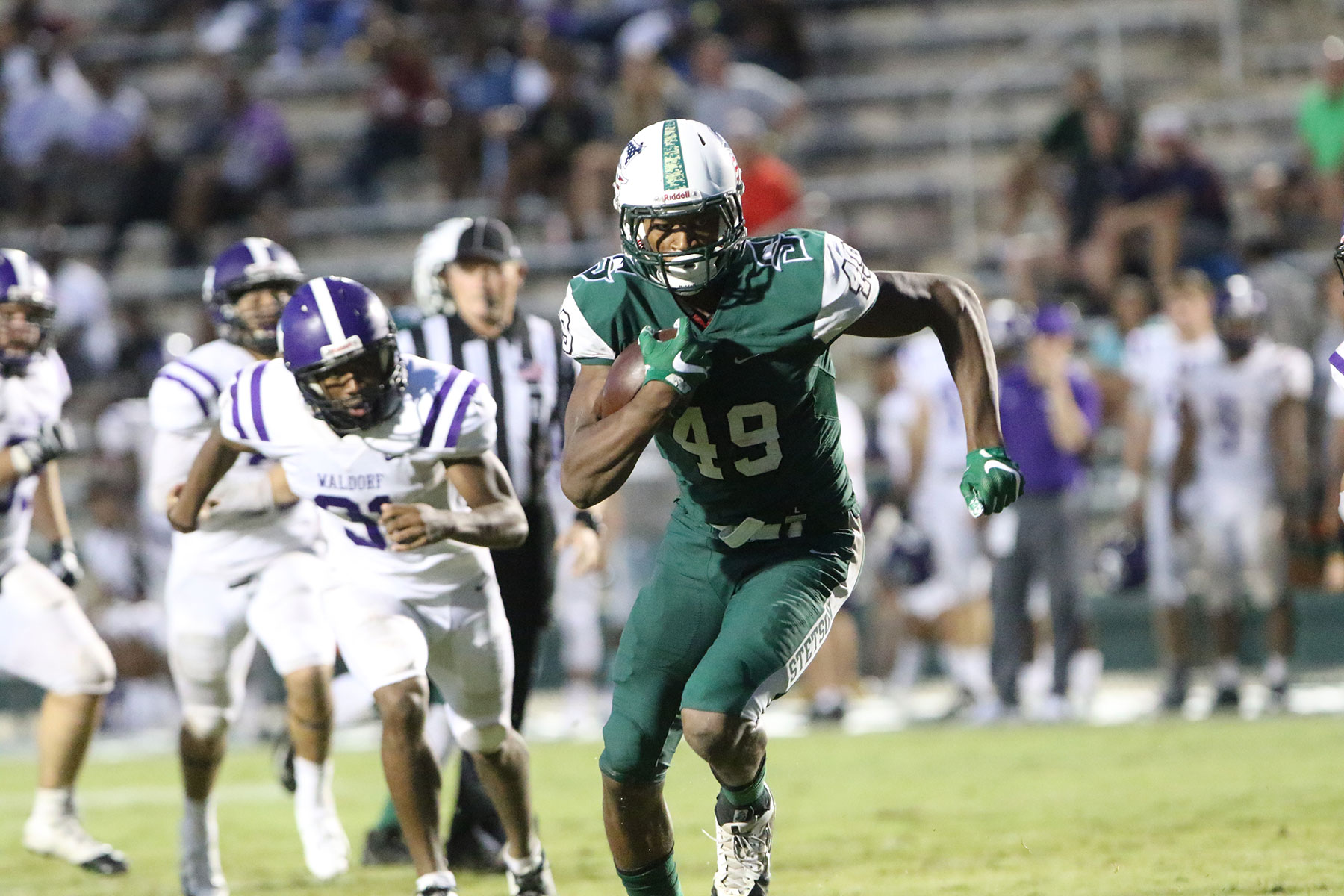 He thought he would be selected in the 2019 NFL Draft. When he wasn't, he took a leap of faith and tried to land with NFL teams in Detroit, Buffalo, New England and Washington. After bouncing around without any luck, he got a call from the XFL football league.
Parham told himself, "Okay, this is where I can prove myself."
He played for the Dallas Renegades in the spring 2020 season, which was cut short when the COVID-19 pandemic arrived. After five games with Dallas, he was the league's top-performing tight end, posting 24 receptions for 307 yards and four touchdowns.
"Literally, the week after the XFL shut down because of COVID, they (the Los Angeles Chargers) had called me up, or called my agent up, and they were like, 'Hey, come on out,'" Parham recalled. "And the rest is history."
Stetson: A "Special Place in my Heart"
Professional sports teams are filled with athletes who left college early without their degrees. Some of them later return to school and graduate, including Michael Jordan, Shaquille O'Neal and former Pittsburgh Steeler Troy Polamalu.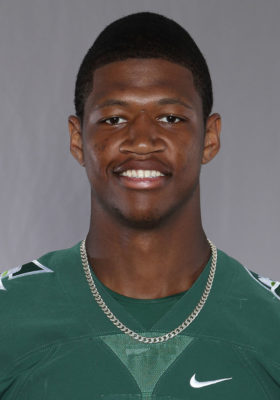 For Parham, after two years with the Chargers, he was ready to enroll again at Stetson in the offseason. A couple things kept the goal in the forefront of his mind, even as the years passed by.
"Well, one, it was my parents," the 24-year-old said with a smile. "They kept pushing me to go back and always have a backup plan just in case. … Then, also just me wanting to finish here. Obviously, I had somewhat built a legacy here, so I wanted to finally establish myself as an alumni."
He was living in LA, 2,500 miles away. But he knew he wanted to graduate from Stetson University with a bachelor's degree in Communication and Media Studies.
"Stetson always had a little special place in my heart just because they gave me my only opportunity to play D-1 (NCAA Division 1) football," he said.
In addition, Stetson "has such a great alumni base. It would be worth it to have a degree from here because you just never know who you might meet later down the line. … The alumni base here is pretty interesting because they're very tight knit. They're very willing to help at all times."
Stetson Head Football Coach Brian Young said he and the previous coaching staff have always encouraged Parham to return for his degree. Parham and Young grew close back when Parham played for the Hatters and Young was the team's defensive coordinator.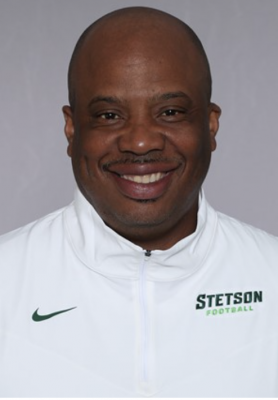 "He is a role model, an excellent role model," Coach Young said, citing Parham's hard work, determination and dedication. "He has shown what it is to be a great athlete, as well as what the true meaning of a student-athlete looks like. He recognized the importance of having a Stetson degree and what doors can be open for him after football."
Young and the Athletics staff encourage other former players to return, too, if they left without their degree. "That is one of our core values here at Stetson Football, which is not only to win on the field, but also to win in the classroom as well."
Working on his Backup Plan
In the NFL, a backup plan is essential because careers do not usually last long. Estimates vary, based on factors like a player's position. The NFL, for example, said a player who makes the team's opening day roster in his rookie season will average six years in the league, according to Sportscasting.com. But an analysis by the Houston Chronicle found the average NFL career for all positions was only about two and a half years.
Parham is more optimistic.
"My ultimate goal is to reach that 10-year mark and then retire," he said. "Then, I'm going to start my own business. I have a clothing brand that I'm starting now. … Maybe just hopefully that blows up after a while and we'll see where that goes."
Still in the planning stages, the brand name is RPC Entertainment, an acronym for respect, perseverance and courage. It will offer street wear geared especially toward today's youth.
"That's how you have to live your life," he explained. "You have to always respect others, persevere through adversity and have the courage to step out. … You have to sometimes be against the grain to provide inspiration to the youth."
With his clothing line in mind, he signed up for a professional sales class in Stetson's School of Business Administration during the spring semester, aiming to sharpen his skills and learn about marketing. Plus, he took a gender and communication class, required for his major.
He also interned for Stetson Athletics, working with the social media team and in the university's production trailer, broadcasting Hatter athletic events live on ESPN3.
"Obviously, I wanted to see if I had a future in that kind of thing, either in front of the camera or behind the camera," he said about TV production work. "Just watching and absorbing as much as I can to see if that's something I want to do and pursue later on down the line in my career. … That's just kind of like a backup plan behind my [clothing] brand that I'm starting now."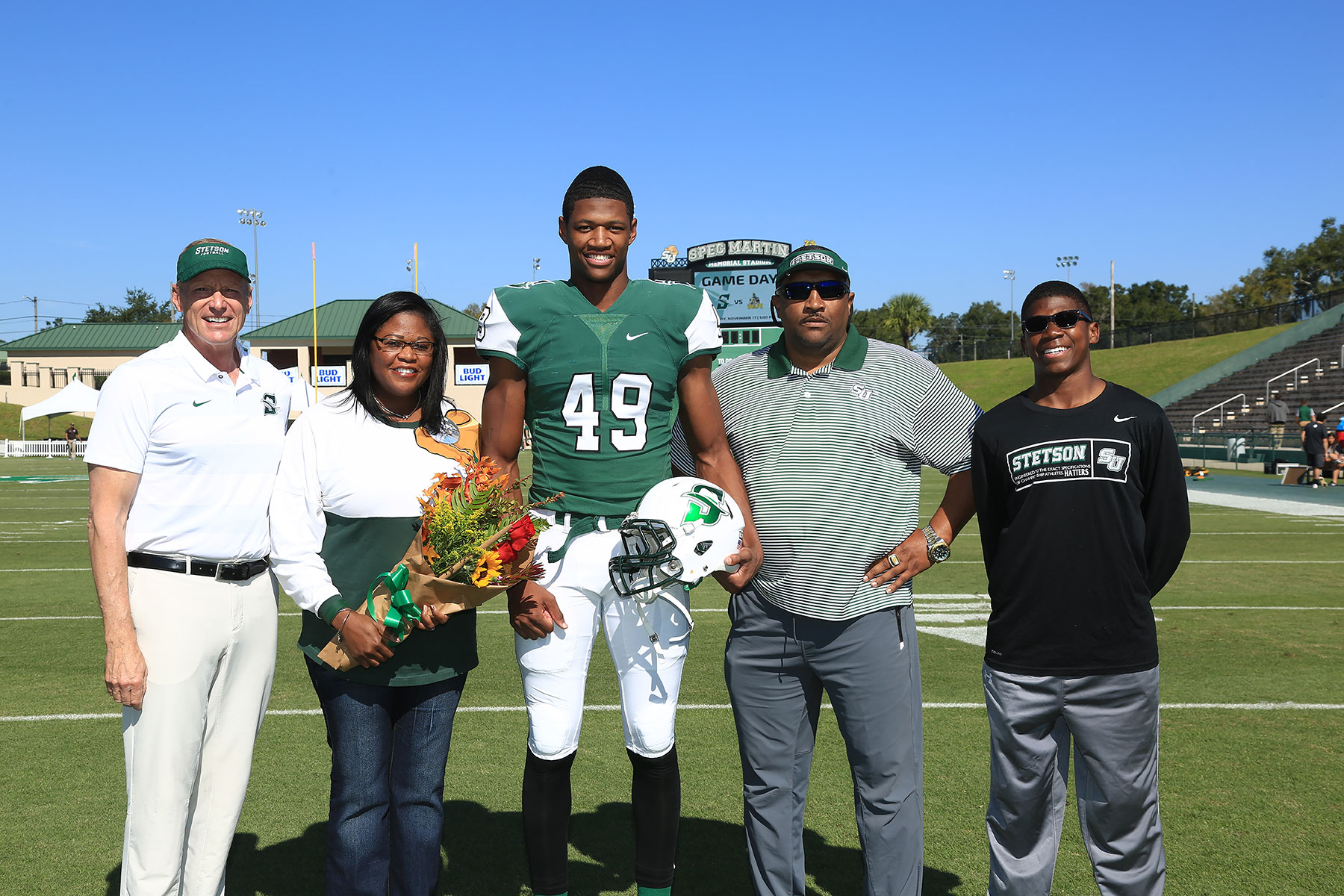 While back at Stetson, his days started at 8 a.m. in the Athletic Training Center with a two-hour workout, designed by the LA Chargers' strength coach to get him ready for the upcoming NFL season. After working out, he'd grab breakfast and head for the duPont-Ball Library to prepare for his classes.
He plans to return next spring for his last few classes and then walk in the May 2023 Commencement ceremony, cheered on by his parents, other family members and friends.
Along the way, he would like to inspire other athletes to complete their degrees, too.
"For the other athletes in the NFL, it's very important to have a backup plan, no matter what it is," he said. "I feel as though having a college degree would open a lot more doors and a lot more avenues for you to succeed later on in life."
-Cory Lancaster