Volunteers Prepare Welcoming Homes for Ukrainian Students and Professor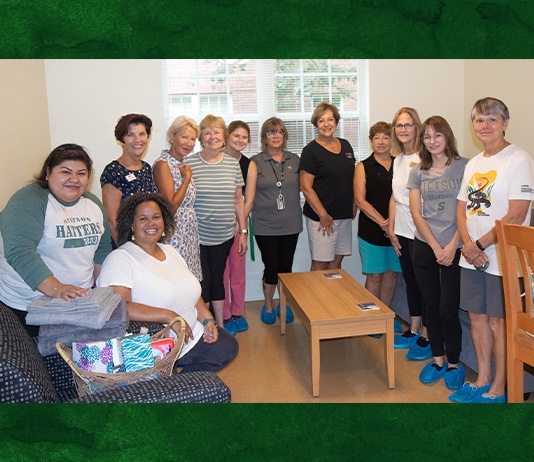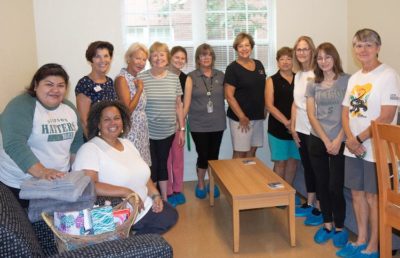 The word "home" traditionally connotes a place of safety, a refuge where peace and rest may be found. A group of volunteers gathered Monday, Aug. 8, to create warm, welcoming homes for four Ukrainian students and a professor who will be hosted at Stetson University this year during Russia's war against their homeland.
Stetson staff members, along with members of the Victoria Gardens Women's Club, outfitted two apartments for the students and faculty member, who will arrive for the Fall 2022 semester.
In their bedrooms, fuzzy pillows, soft blankets and Stetson shirts and pennants adorn the full-size beds with deep-piled rugs beside them. Lamps, office supplies, white board planners, candy and sunglasses cover the desks.
Bathrooms are stocked with towels, bath mats and personal care items. Gift baskets brim with snacks and grace well-stocked kitchens, complete with cooking and cleaning supplies. Decorative pillows and Stetson blankets add cheer to the living rooms.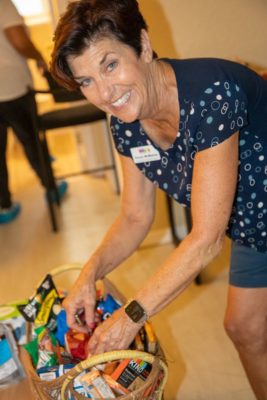 "We're adding some touches to make it homey," said Susan McMahon, charitable actions director for the women's club's board of directors.
Stetson announced plans in March to sponsor Ukrainian students and faculty displaced by Russia's war against Ukraine. A fundraising effort helped pay for the group's expenses, including travel, and room and board.
McMahon said the university's Ukrainian initiative immediately resonated with club members. "As we were seeking a way to help in the Ukrainian crisis, we saw the notice from Stetson that they were going to be sponsoring students and a professor here," McMahon recalled. "After hearing more details, I knew it was something we wanted to be involved in."
The women, all residents of the 55-plus retirement community Victoria Gardens, decided to turn their silent auction into a fundraiser for the Stetson initiative. It raised $6,300 and the club donated $5,000 to Stetson's Ukraine Student and Faculty Support Fund to help pay for the group's expenses.
The Garden Club members used the remaining $1,300, along with other club funds, to outfit the apartments with $2,476 in items from an Amazon wish list assembled by the Ukraine Initiative Task Force.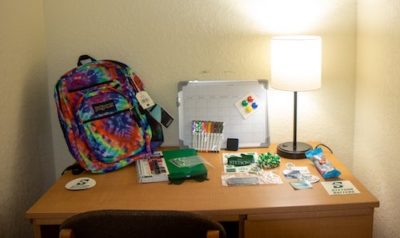 About 10 club members volunteered to help Stetson employees set up the apartments Monday before the group's arrival while making last-minute supply runs to ensure no detail was overlooked.
"We just love to help Stetson. Stetson is truly the jewel of this city," said Rosie McKenna as she set up the bedroom for Ukrainian Professor Olena Kolupayeva, PhD, in an on-campus apartment complex reserved for faculty and staff.
The students will share a four-bedroom, two-bath apartment on campus, according to Jessica Day, Stetson's executive director of Residential Living and Learning. The apartment will afford privacy to each student while also providing them with companionship.
Day said she is excited that Stetson is "giving back to a community that right now is needing some love."
It is important to house the Ukrainian professor and students in comfortable spaces because "they haven't had that in a while," she added. By making them feel at home, she said Stetson is giving them an experience that she hopes all Stetson students, faculty and staff enjoy.
-Cheri Henderson