New Hal S. Marchman Chair of Civic and Social Responsibility Named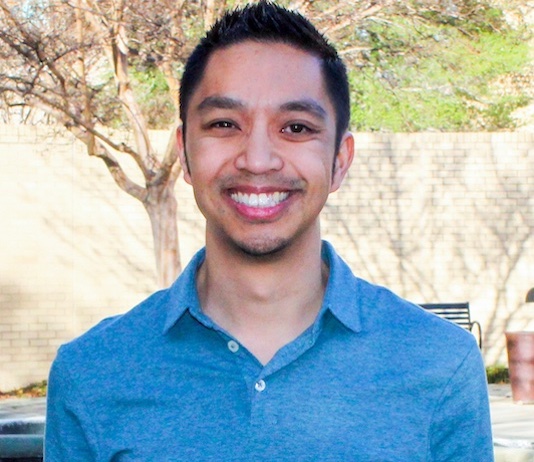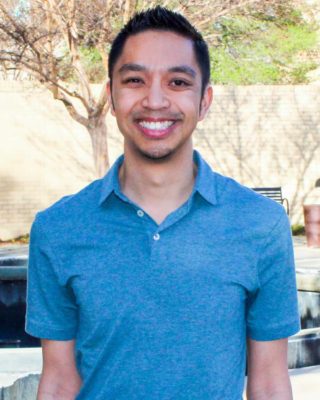 For Jeremy Posadas, PhD, an early hunger to address social inequity arose in a place of literal hunger.
His first job was at a fast-food restaurant as he was preparing to attend college. Most of his co-workers weren't so fortunate. Their jobs weren't temporary like his, not a steppingstone to a greater economic security. Instead, they were precarious livelihoods that offered few pathways to change.
"I've never forgotten how hard that work is," said Posadas, who grew up in a middle-class Navy family in multiple locales along the West Coast. "I recognized the importance of using the opportunities I have to create more opportunities and more equitable structures for everybody.
"A commitment to economic justice and equality is a central part of my scholarship and my activism. I try to stay conscious every day that so many working-class folks are doing their best just trying to make it, for themselves and those they care for."
As the Fall 2022 semester began, Posadas brought that sentiment (and much more) to Stetson, as he began serving in the Hal S. Marchman Chair of Civic and Social Responsibility — a role established on campus in 2005 to help better the lives of marginalized populations. Posadas also has a joint appointment as associate professor of Religious Studies and Gender Studies.
Ensuring Equity and Equal Participation
Over his career, Posadas has combined the vocations of social ethicist, social justice educator, and organizer, all focused on effective collaboration for social transformation, with the goal of "creating a society that ensures equity for all members and equal participation."
As a social justice educator, for example, his previous courses have ranged from "What Is a Just Society?" and "Sex, Self and Society" to "How Class Works" and "Gay Love Stories," along with religious studies topics such as "What Is Christianity?" and "Jesus, Christ, and Culture."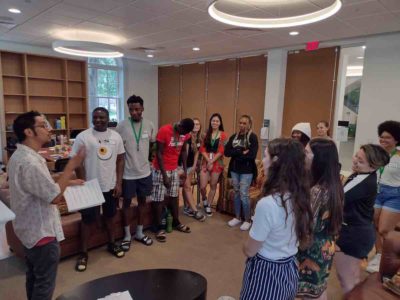 This fall, his First-Year Seminar will introduce students to core concepts and practices in community organizing and labor organizing. He chose this focus in response to the strong desire in the current generation of students to build a more just society, wanting to introduce them to skills they need to do so effectively.
"The late Justice Ruth Bader Ginsburg is reported as saying, 'Fight for the things that you care about. But do it in a way that will lead others to join you,'" Posadas said. "I want my students gain some know-how for doing this — but more importantly, to understand the deep wisdom in this sentiment."
An emphasis on community organizing — honed in large part by more than a decade working in the LGBTQ and labor movements — is something Posadas will also bring to the Summer Civil Rights Travel Course (Page 22), jointly undertaken with the College of Law. The course, led for many years by Posadas' late predecessor, Greg Sapp, PhD, until his sudden passing in fall 2020, brings students throughout the South to key sites of the Civil Rights Movement. Posadas, who will be one of the faculty co-leading the course, wants students to learn from the course how a successful social movement is built through the painstaking, often unglamorous background tasks of good community organizing. In this way, he noted, "students will understand that the Civil Rights Movement is not just history, but a source for creating a more just future."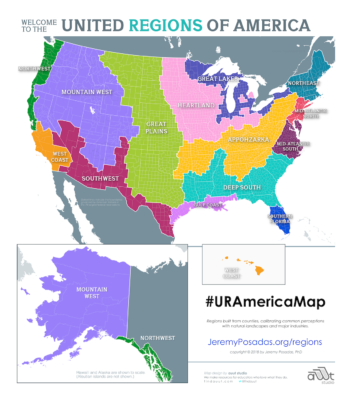 One resource he will draw on for the travel course is a map he created in 2018, called the United Regions of America Map, encompassing all 3,142 counties (and county equivalents) of the country. He clustered them into 14 regions based on natural landscapes and major industries rather than cultural/political stereotypes. Posadas created the map as a way to feel reconnected with the country in the aftermath of the 2016 election.
"I saw the map as a chance to fall in love with the beauty and diversity of our country again — to be reminded that in every part of the country and every kind of environment people are trying to make it and trying to figure out what kind of society we can be," he explained.
Deep Values
Posadas earned his doctorate in religion from Emory University in Atlanta in 2012 after earning a Master of Divinity degree (concentrating in Hebrew Bible and Christian worship) from Union Theological Seminary in New York City and an honors undergraduate degree in the Great Books concentration at The University of Chicago.
Prior to Stetson, Posadas taught for 11 years at Austin College in rural Sherman, Texas, on the border with Oklahoma. The first queer person of color tenured at the college, he departed as an associate professor of Religious Studies and Director of Gender Studies and served in the John F. Anderson Chair of Christian Thought. He won all three annual faculty awards for outstanding teaching, scholarship and service.
In addition, Posadas has proved to be a successful fundraiser. In his final year at Austin College, he led the effort that secured a $1.3 million grant from the Mellon Foundation for social justice curriculum development. The grant was the result of several attempts in previous years.
"Students are hungry for more in-depth engagement with social justice, and many faculty also want to engage these issues. This is an area where philanthropic support can have the greatest multigenerational, systemic impact across many communities," he said.
Now, he's intent on doing the same at Stetson.
"It's impossible to leave such a major project without a heavy heart," Posadas continued. "But the Marchman Chair speaks to the values I hold dearest as a teacher-scholar. The position really is a dream come true for me as a scholar and as a civically engaged person.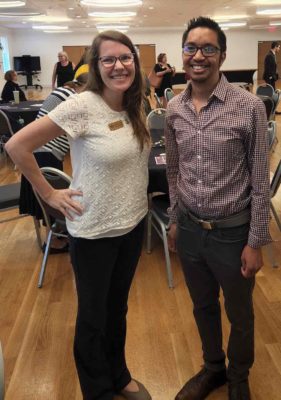 "There are very few colleges and universities that have endowed positions like the Marchman Chair. Just the existence of it spoke to commitments the university has made that resonate vibrantly with my own. This is a chance to be part of a community that is really committed to social justice, to community engagement, to global citizenship — how could I pass that up?"
Elizabeth Skomp, PhD, dean of the College of Arts and Sciences, is similarly enthusiastic about Posadas' future at Stetson.
"Well before arriving in DeLand, Jeremy began the process of building relationships and seeking to understand the university and our community," said Skomp, also a professor of World Languages and Cultures. "Those qualities will serve him well as he collaborates with people across the university and community to advance community-engaged learning at Stetson."
His Marchman work is already underway. Aside from teaching, Posadas has begun strategizing with Stetson's Center for Community Engagement, as well as reaching out to community partners. With Stetson's Brown Center for Faculty Innovation and Excellence, he is organizing a professional-development series for faculty who want to incorporate community-engaged learning in their teaching.
There is, Posadas eagerly acknowledges, much to do. At the same time, he knows the importance of small joys in life.
"I have a hobby of rollerblading and ice skating," he shared, "and I am equally passionate about the music of Beethoven and Lady Gaga, who once called me on the phone in front of thousands of people at her concert."
Such outlets for renewal, he concluded, are no less necessary to the pursuit of justice than are good organizing skills.
"It's crucial for all of us to find a few things that keep our hearts lively," he said. "The work of building a more just world repeatedly threatens to break one's spirit, so we must find sources of joy that will keep us fresh for the fight."
-Michael Candelaria