Away from Home, Ukrainians Find Peace at Stetson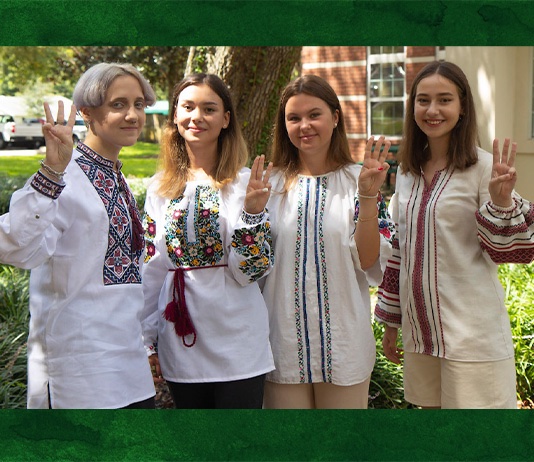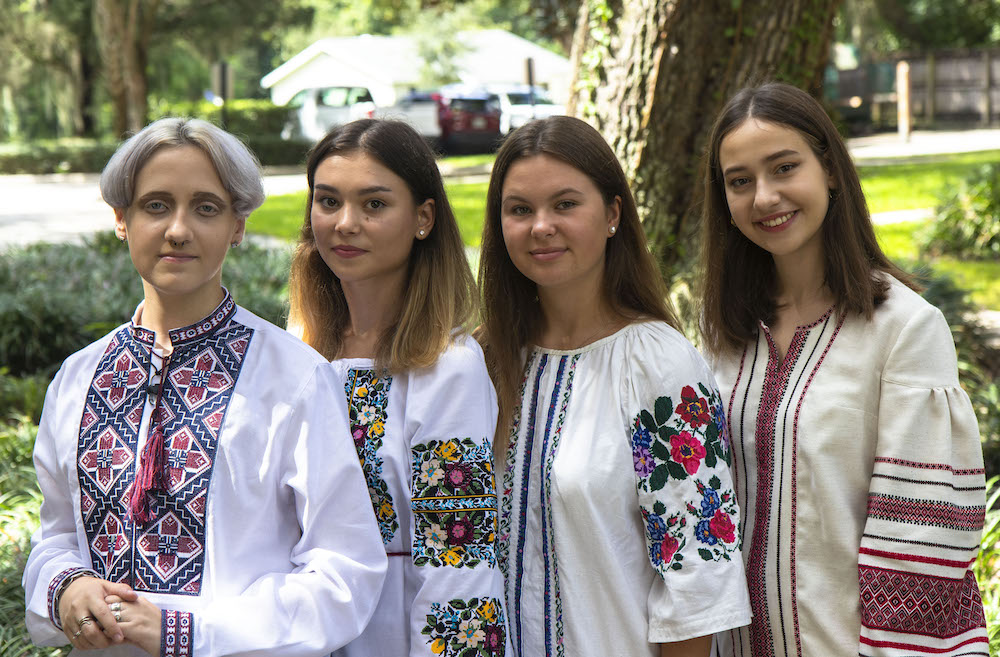 The excitement of new adventure and opportunity was widely apparent in their eyes. Meanwhile, their passion and anxiety were palpable.
Four students from Ukraine arrived in time for the start of the Fall 2022 Semester at Stetson — approximately 5,650 miles from home. Stetson is hosting them, along with visiting teacher-scholar Olena Kolupayeva, PhD, by virtue of a communitywide philanthropic campaign, the Stetson Ukraine Initiative, which began last spring.
The students didn't know one another until a few scant weeks ago. Now, just like so many others on campus, they getting to know their roommates, making friends that could last a lifetime, and learning important lessons both inside and outside the classroom.
Yet, for these four students, not all is exactly the same. They look ahead with the promise that a year at Stetson brings, while they also live with the pain of a war against their homeland that began on Feb. 24, 2022 — a date emblazoned in their mind and etched in their soul. You can see the students often wearing colorful vyshyvankas (traditional Ukrainian embroidered blouses) to show their native pride. Yet, they also wear, quite literally, their heart on their sleeves.
Yuliia Balan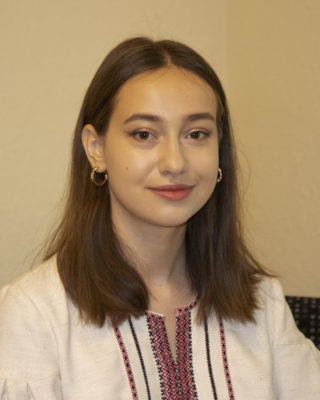 Originally from Ternopil, a city in western Ukraine, Yuliia Balan studied International Information for two years at the Ivan Franko National University of Lviv, the oldest institution of higher learning in present-day Ukraine, dating back to 1661.
Balan's family and many of her friends still live in Ukraine. Her mother is a teacher; her father is a firefighter; she has an older brother and two nephews that concern her greatly.
"I call them every day just to see if they're safe, just to be sure. And I tell them what has happened here," Balan said softly from the four-bedroom, two-bath campus apartment the four students share.
Crediting her mother, in particular, Balan was always an active young person, running student councils in the past, among other leadership roles. At Stetson, her classroom focus has shifted to political science with a focus on international relations.
"I thought this [attending Stetson] would be a great opportunity to study in this country. … And I want to gain some practical experience," she explained. "Ukraine now needs — for its redevelopment and rebuilding — active, enterprising students with experience in studying abroad and who understand the world's practices."
Balan plans to return home to complete her senior year there after her time at Stetson.
The adjustment to new surroundings has been made smoother by the friends she's quickly made on campus. "Here, I find myself calm. And it's peaceful," she commented.
At the same time, visions remain that are difficult to deny.
"It would be hard for me to forget the sounds of air sirens because it was every day," she said. "You're always looking to the sky to see if there is another plane."
Veronika Shchur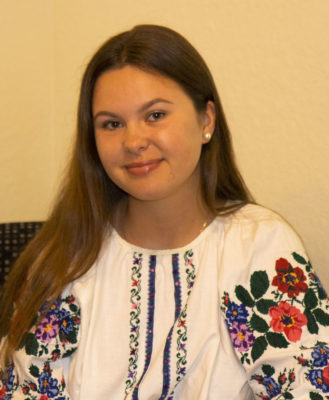 Veronika Shchur grew up in Kyiv, Ukraine's capital city, and attended the Taras Shevchenko National University of Kyiv for two years.
The heart on her sleeve: "I love Kyiv; it's my family; it's my friends. Everyone was there before the war, and everyone left."
During the first days of the war, she could hardly grasp what was happening.
"On the first day, my mom woke up with tears in her eyes and was telling my sister to take her favorite toy, and we were running to the bomb shelter. We saw tanks across the street. It was just something unbelievable," she said.
Her grandparents continue to live in Kyiv, another grandmother is in Ireland, and her parents and younger sister fled to Italy. She has a sister in Texas, too. "We're all spread around the world. And my friends are also everywhere," she continued.
Similar to the three other students, Shchur found out about the Stetson opportunity from social media — and, seeing it as too good to pass up, she applied for consideration.
"Now, I have the opportunity to be here in the U.S., in the center of democracy and the most influential and powerful country," she said. "I feel like it's my chance to learn here, to get an education and build the knowledge I need then return to my country."
As for Stetson, where she is studying Economics? "The best part is the people; everyone is so nice — students, professors, Americans, internationals. All are very helpful," she gushed.
If you see her around campus, however, perhaps offer her some popcorn. In better days gone by, her parents were marketers of a Ukrainian popcorn brand.
"We always had lots of popcorn at home," Shchur said with a broad smile belying the circumstances.
Yana Verbova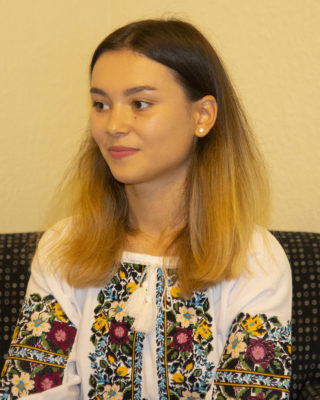 Born in the city of Chernivtsi in western Ukraine, Yana Verbova acknowledges the leap of faith that landed her at Stetson wasn't easy. But it was a must.
"I decided, 'Why not'? When you have a chance, you just need to grab it in the heartbeat, and you just need to use the chance," Verbova said with conviction before adding, "I didn't expect anything to happen, but I'm here at Stetson. And I'm really delighted for that."
She described Stetson in these telling words: "It's been fabulous — the learning process, getting to know everybody."
A third-year student, she is studying pre-dentistry in hopes of returning home to make a difference — in her case, "making smiles bright," she joked before changing the mood by talking about her family and friends.
She is an only child, and her parents — both English teachers — remain in Chernivtsi. Her friends are now in Poland and Germany, among other countries. One saving grace is a family friend who lives in nearby Deltona.
And, like the others, Verbova exudes steely resilience, highlighted by this one comment: "Air raids were actually every day; we were going to shelters every day. But we managed to deal with everything."
"I really miss Ukraine, and I want to return back and to rebuild the country after the war," she continued later. "So, I have faith in my country, and I believe that we will continue after."
Genevia Gayden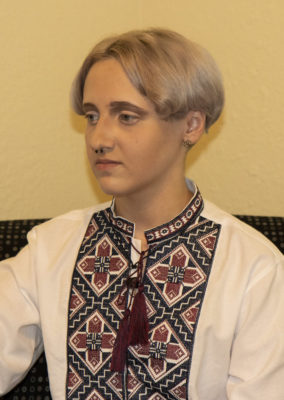 Born with a father who was a Ukrainian diplomat, Genevia Gayden lived in many places as a child, including Russia, where Gayden began learning life's realities.
Pointing to age 3, they said, "I understood what was going on already."
Today, now a student of Political Science at Stetson, Gayden minces few words. "This is one of the most black-and-white conflicts of the 21st century," they asserted. "Russia is clearly the aggressor, the bad person — a terrorist, genocidal state.
"This is essentially a war of democracy and terrorism. And, if Ukraine loses, not only will it be bad for Ukrainian people, but it will be the global tomb of death to authoritarianism and the Russian regime."
Gayden is an only child. Their grandparents live in Russian-occupied land in Ukraine while their father is in Kyiv, where they were born. Gayden's mother has evacuated to Germany.
"I think about all Ukrainians every second of my life," they noted.
"This situation is tough for everyone, and everyone finds a different way to deal. For me [in Ukraine], it was working with all the information I could obtain and informing people. It helped me get through this. It gave me some sense of purpose."
In much the same way, Stetson has strengthened their resolve. "If I can make one more person here think about Ukraine, to tell some news about Ukraine, to spread some information or to care, then I did something good. … I want people to know; I want people to care," Garden said before adding this about the university, "I love it."
Nonetheless, there is a yearning, evident in all of the four students, to learn at Stetson, yes, but also to find a way back home to help.
"Right now, it's great that I have this opportunity. And I'm grateful for it," Gayden said, echoing their roommates. "But the younger people, the passionate ones, we need to go back to Ukraine. We need to help during this war and after the war to rebuild it."
-Michael Candelaria
'We Could Fill An Important Gap'
Written by Elizabeth Plantan, PhD, assistant professor of Political Science, and Martin J. Blackwell, PhD, visiting professor of History, co-chairs of Stetson's Ukraine Initiative
After Feb. 24, many universities around the world developed programs to host displaced scholars and PhD students affected by Russia's war against Ukraine. However, very few, if any, were offering programs for undergraduate students. Faculty from Stetson's Program in Russian and Eurasian Studies (SPREES) wanted our university to be a part of this effort, and we realized that we could fill this important gap by providing support not only to a scholar, but to undergraduate students as well.
It is truly extraordinary that a school of Stetson's size was able to mobilize quickly and to join this international effort of universities to offer scholarships or paid positions for Ukrainians affected by Russia's aggression. Ten days after the invasion, SPREES faculty helped put together a webinar explaining the historical background and political context of this terrible situation, and more than 500 members of the Stetson community attended. The strengths of our faculty, together with support from the university's administration and, subsequently, the incredible financial support from donors within our community, made this initiative possible. This has been a team effort and an unprecedented step for the university to sponsor these students and faculty member for the year.
It is our hope that the students and scholar will enjoy their time at Stetson, share their knowledge of Ukraine with our community, and return to Ukraine after this year to help rebuild the country after the devastation of war. Through this initiative, Stetson is not only providing material support to these five Ukrainians, but also providing moral support to the people of Ukraine during this horrific time and investing in the future of their country.