Homecoming: We Are Better Together
Stetson University's Homecoming 2022 is filled with excitement and anticipation as it marks the first in-person Homecoming since 2019 with faculty, staff, students and alumni in attendance.
"Find community, build community, be in community and having fun is what the Homecoming theme 'Come Together' is all about," said Akeem Todman, director of Diversity and Inclusion.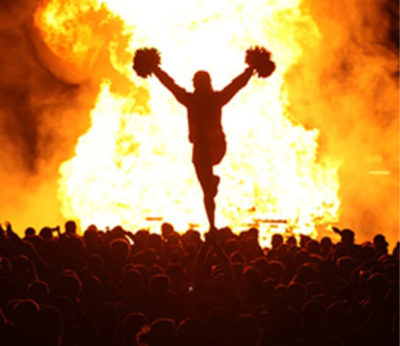 The traditional bonfire and pep rally kicks off this year's festivities on Monday, Oct. 24 at 9 p.m. "We haven't had the bonfire since 2016 and this is a pretty big deal to have it back on campus," said Lizzie Dement, Homecoming advisor, associate director of Leadership and Student Events, Student Development & Campus Vibrancy.
"The Homecoming Schedule includes multiple spirited events across campus and in the DeLand community throughout the week," said Dement. Homecoming ends on Sunday, Oct. 30 with special commemorative events honoring our Veterans' and a Memorial for beloved faculty member, Greg Sapp, PhD.
First year students have the advantage of experiencing Homecoming in their first year as Hatters unlike their sophomore and junior colleagues. "I've had the pleasure of serving in the homecoming committee since my sophomore year and every year becomes more memorable. I am most excited to have our wonderful alumni back to celebrate our spirit-filled week, who have not been able to return since 2019," said Ariana Motta, student government president and Homecoming chair.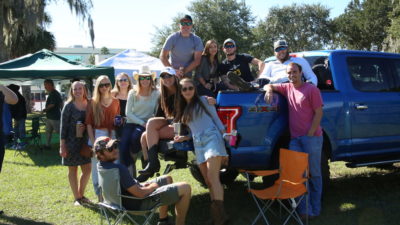 "It is exciting to see how alumni registrations are continuously coming in because of the excitement of being back on campus," said Amy Dedes, director of the Office of Alumni Engagement. "We are so excited to have all Hatters 'Come Together' and celebrate now that Homecoming is back!"
Other Homecoming highlights include:
• Bonfire and Pep Rally on Monday, Oct. 24, will be hosted on Rinker Field at 9 p.m. to kick off Homecoming Week.
• Music Festival will be hosted Wednesday, Oct. 26, at 5 p.m. on Libby Lawn with a variety of student performers and favorite food treats.
• Student groups will be competing in a dance competition at Airwaves on Thursday, Oct. 27, at 8 p.m. in the Edmunds Center.
• Alumni Award Luncheon on Friday, Oct. 28, at Noon- 1:30 p.m. will honor the University and Alumni Award winners from 2020, 2021 and 2022. The lunch in the Stetson Room will provide an opportunity to celebrate all winners and their accomplishments.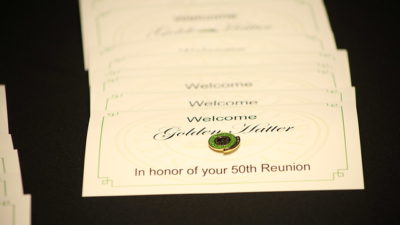 • 50th Reunion Welcome Reception for Classes of 1970, 1971, 1972, Friday, Oct. 28, at 5 p.m. at the Presidents Home.
• Homecoming All-Class Reunion and Happy Hour on Friday, Oct. 28, from 6-8 p.m. on the Stetson Green. Every graduate is invited to this all-class reunion in the heart of campus. Food, drinks and live music, with a few surprises in the mix. This is a can't-miss event! Registration includes food, beer, wine and more!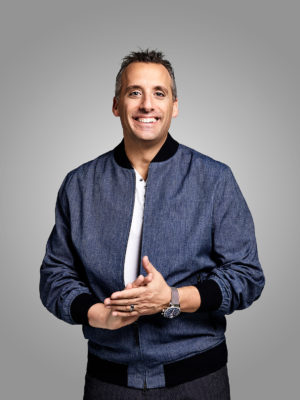 • Homecoming Comedian- Joe Gatto best known for the hit TV shows "Impractical Jokers" and "The Misery Index." Alumni must register via the Homecoming form and be verified as a Stetson alumnus. Tickets will be available for pickup at the Rinker Welcome Center on Friday, Oct. 28, from 10 a.m. – 7 p.m. Doors open at 8 p.m. and your ticket to the event will only guarantee your seat until 8:45 p.m. After that, people on the waitlist will receive a notification that a ticket is available. Alumni may register for up to 3 additional guests ($5 per person) and payment for those guests will be collected at the door of the Edmunds Center. Students, faculty and staff must also register for tickets through an online ticket registration process going live on Wednesday, Oct. 19, at 9 p.m. To learn more about tickets for students, faculty and staff, check out the Homecoming Comedian ticket website.
• Stop by Hatter Village on Saturday, Oct. 29, starting at 11 a.m. outside of Spec Martin Stadium to tailgate and celebrate before the Stetson Football game and then attend the Homecoming Football game at 1 p.m. where you can see the Stetson Hatters take on the Drake Bulldogs. Click here for Homecoming 2022 football game tickets. At halftime, Homecoming Royalty 2022 will be announced and crowned by past Homecoming Royalty.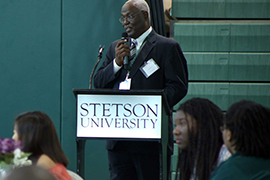 • Annual Multicultural Alumni Homecoming Networking Reception, on Saturday, Oct. 29, at 5:30-7:30 p.m. in the Rinker Welcome Center. The theme is "Great Gatsby."
Todman added, "this event allows all Hatters to reconnect, deepen our bonds and enhance our university for the next generation of Hatters."
-Alicia Scott