Gavel falls on Fifty-First Patrick L. Smith Model U.S. Senate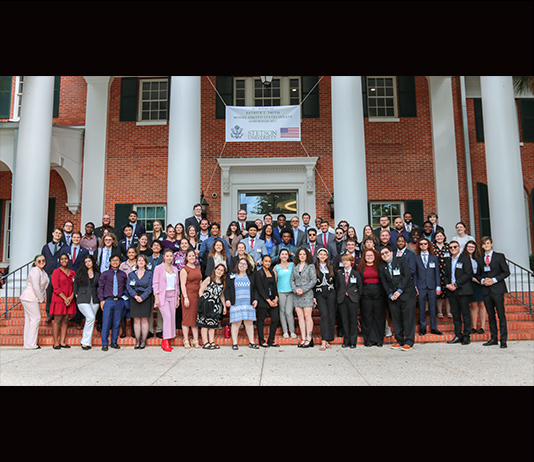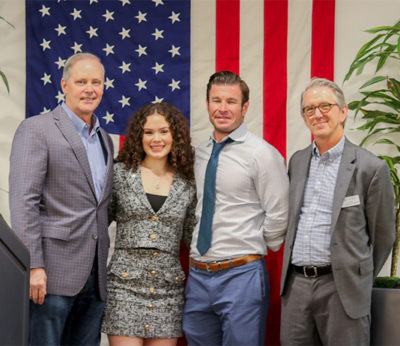 Before junior History major Wyatt Sise attended the Fifty-First Patrick L. Smith Model U.S. Senate held March 23-25 at the CUB, he debated shaving his head.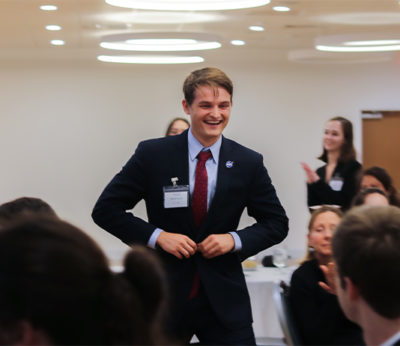 While the other 81 student attendees from seven schools were portraying such real-life U.S. senators as Chuck Schumer, Mitch McConnell, Lindsay Graham and Cory Booker, Sise had elected to adopt the persona of Mark Kelly, the Democratic junior senator from Arizona, his home state. Kelly, the former astronaut, is bald.
"But my girlfriend wouldn't let me (shave my head)," Sise said. "So I settled on wearing a NASA lapel pin."
Established in 1970 by student John Fraser and Political Science professor Dr. T. Wayne Bailey, with financial assistance from then-President John E. Johns, Stetson's program is the nation's oldest college-level Model United States Senate. The pandemic shuttered the program in 2020 and 2021, but it returned last year.
During the registration process, students list their top three preferences for the senators they would like to portray, and for the committees they would like to serve on, said Alexis Trapp, a senior Social Science major and co-student coordinator of the program with Gabriella Melendez-Rodriguez, a senior Political Science major.
Student's choices are awarded on a first come, first serve basis. The event itself is run like a session of the U.S. Senate, with students taking the oath of office, receiving committee assignments, holding party caucuses, and introducing, debating and voting on legislation.
This year's five committees included Armed Services, Environment and Public Works, Foreign Relations, Judiciary, and Health, Education, Labor and Pensions (HELP).
The Model Senate's web page states that, "In order to maximize the authenticity of the Senate, students are expected to adapt individual idiosyncrasies and characteristics of their respective senator."
"Basically that means getting into character," said Sise, who was one of four students to win the Model Senate's T. Wayne Bailey Outstanding Senator Award. Sise noted that the student portraying Sen. John Fetterman "showed up in a sweatshirt on the last day because Fetterman likes to wear sweatshirts. Just little things like that. You don't have to know your senator inside and out, but you have to know what policies they support, what their legislative history is, what they voted on, and their back stories.
"Sen. Kelly went to the Merchant Marine Academy and he was a Navy pilot. When the Model Senate spoke about environmental bills, I started my speeches by saying, 'My fellow senators, I spent 54 days in space. That's not to grandstand – that's to tell you that I spent a lot of time looking down at the earth, and the earth is beautiful and needs to be protected.' You're melding what your senator does as a person with the legislation you're voting on."
Students stayed in character throughout the event, addressing each other by their senators' names – even when, say, having informal dinners together off-campus. They revealed their true identities only at the concluding Saturday-evening awards banquet.
Although students were acting in the guise of their chosen senator, the activities and outcomes of the Model Senate are open-ended and not bound by how any U.S. Senate session played out in real life.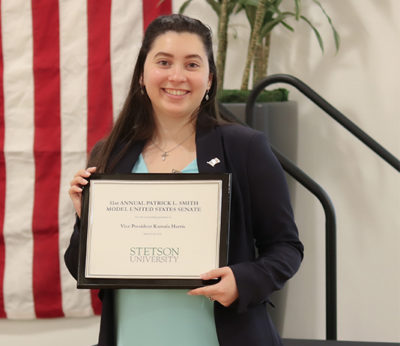 This year Melendez-Rodriguez portrayed Kamala Harris, who as Vice President also serves as president of the Senate, while Trapp portrayed the clerk of the Senate.
"The Model Senate is student-run," Trapp said. "Of course, we have our academic advisor, Dr. David Hill (PhD, professor and chair of Political Science) behind us confirming everything, saying here's the budget, make it work. But ultimately everything comes down to us."
Trapp noted that alumna Betsy Palmer '84, a former writer for Congressional Quarterly, again served as the Model Senate's parliamentarian, advising the student participants on the rules and procedures of the U.S. Senate.
Since its founding, the program has hosted numerous guest speakers, including U.S. Senators Joe Biden, Al Gore, Howard Baker, Robert Byrd, Lawton Chiles, Nancy Kassebaum, Bill Bradley and Stetson alumnus Max Cleland.
This year's guest speaker was Wilton Simpson, Florida's Commissioner of Agriculture. Central Florida attorney and Stetson alumnus Patrick L. Smith, the Model Senate's sponsor, also attended this year's session. Anne Hallum, an Atlanta resident and former professor of Political Science at Stetson for 25 years, was one of the judges for the awards presented at the conclusion of the event.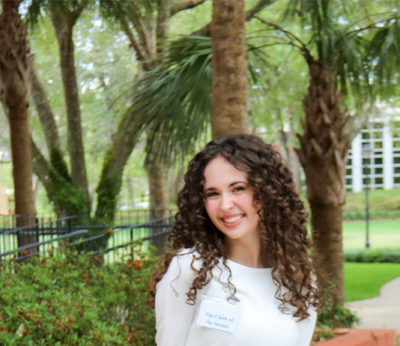 Although Trapp, who has declared pre-law, said she has "never been a super political person," she became involved with the Model Senate while taking Hill's Congress class, which requires participation in the program.
The Model Senate "is not just about debating," she said. "It's not just about throwing your opinion out and being loud or being a Republican or Democrat. I don't have an interest in politics. I want to go to law school and be a child advocate, and work with those affected by child abuse and human trafficking.
"The Model Senate is about working with other people, learning other people's opinions and how to respectfully agree or disagree with those opinions. You walk out with new confidence."
"The skills you learn transcend career," said Sise, who noted he has "always been a writer and a speaker" and plans to pursue a career that plays to those strengths, whether it's law, journalism or some other field.
"We live in a verbal society," he said. "You need to learn to speak effectively and to write effectively to get your point across, whether you're going to be a scientist or a dentist or businesswoman. That's really what the Model Senate is – it's fostering students to write and speak in an organized and professional manner, and it's also about learning how our government works."
Winners of the Model Senate 2023 Awards included:
• Floyd M. Riddick Best Senator Award ($500 cash award) – Amanda Trask of Santa Fe College portraying Senator Richard Blumenthal.
• Best Committee Chair – Johnny Conti of Santa Fe College portraying Senator Thomas Carper.
• Best Ranking Member (new award this year, $250 cash award) — Caleb Epperson of Stetson portraying Senator Lindsey Graham.
• Best Committee – H.E.L.P. (Health, Education, Labor and Pensions).
• T. Wayne Bailey Outstanding Senator Award (four recipients):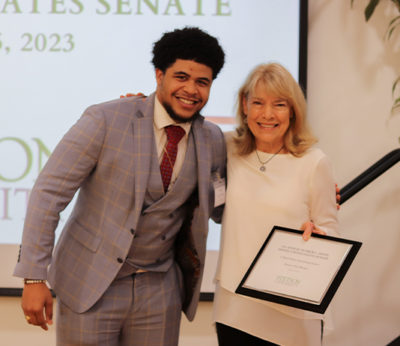 Camilo Lilleslatten – Stetson University portraying Senator John Barrasso.
Ryan Barker – Stetson University portraying Senator Cory Booker.
Wyatt Sise – Stetson University portraying Senator Mark Kelly.
William Robertson – Santa Fe College portraying Senator Jim Risch.
• Honorable Mentions (two recipients):
Tim McCardel – Stetson University portraying Senator Rand Paul.
Tyler Fowler – Bridgewater State University portraying Senator Lisa Murkowski.
-Rick de Yampert