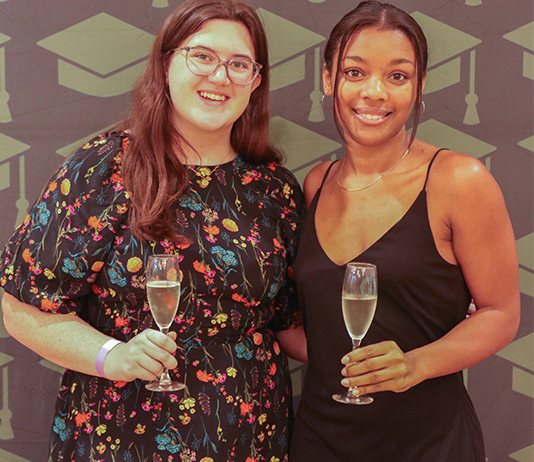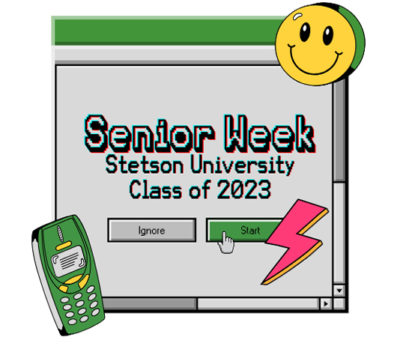 Stetson University celebrates the graduating class at the end of the spring semester.
During the week of April 17-21, graduates will have the chance to enjoy a variety of events sponsored in partnership by Student Development and Campus Vibrancy and Green, White & You. Other departments such as Alumni Engagement and Career and Professional Development are participating in many of the events listed below:
• Monday – Senior Kickoff @ Noon – 3 p.m. at the CUB
Kick off the start of Senior week with Student Development and Campus Vibrancy and Green, White & YOU. Freebies and fun await in front of the CUB. Be sure to stop by to collect your Class of 2023 Tumbler and enter into drawings for additional prizes! Stetson Career will also be holding a Snapshot Event where you can take a picture to remember your senior year or professional headshot.
• Tuesday – Stetson vs. FSU Softball Game @ 3 p.m. at the Patricia Wilson Softball Field
Come and cheer on your Stetson Hatters Women's Softball team and be honored for all you have accomplished! Free Kettle Corn and refreshments will be provided, so bring your blankets and friends for a fun afternoon!
• Wednesday – Stetson Memories @ Noon to 3 p.m. at the CUB
Stop by the CUB to reflect on your Stetson experience. Share memories with one another and document your favorites on the Class of 2023 banner!
• Thursday – Senior Night Out @ 8 p.m. to midnight at Persimmon Hollow
Seniors! Join us downtown DeLand for an evening of memory making and fun. Walk or take the shuttle from the LBC for a free ride. Raffle prizes and free food provided!
• Friday – Senior Sign Out @ Noon to 4 p.m. at DeLand Hall
Swing by DeLand Hall and leave your mark by signing the Senior Book. Complete this Stetson tradition like many past seniors and give advice, write a note, or sign your name to make your mark as a 2023 Senior.
• Friday Senior Toast at 4 – 6 p.m. at the President's Garden
Toast to all your accomplishments with your fellow Seniors and enjoy an evening all about you. Seniors get to keep their champagne flute as a gift and hors d'oeuvres will be served. Visit Senior Toast to RSVP by Friday, April 14.