Student-led Exhibitions Take Center Stage at the Hand Art Center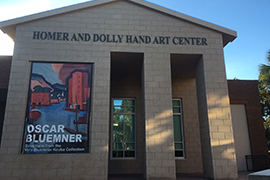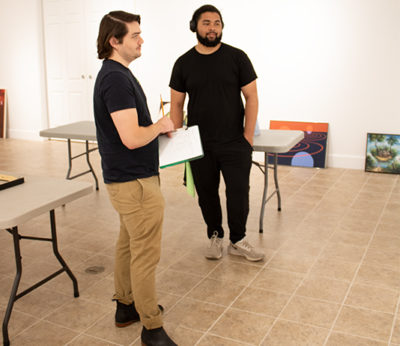 This summer, the Homer and Dolly Hand Art Center will feature art exhibitions developed by current and recently graduated Stetson University students.
Designed over the course of the Spring semester, the exhibitions enabled students to engage skillsets in curation, exhibition design, museum education, art handling and marketing.
The end result is fun, eclectic and immersive.
Into the Bowl: Curating Toiletpaper Magazine offers a visually stunning "behind the scenes" look into museum curation.
Dusting Off: Pieces from the Permanent Collection highlights paintings, sculptures and prints from the university's extensive art collection.
Squares, Swirls and Saturations: Oscar Bluemner's Landscapes invites children (and fun adults) to create Bluemner-inspired arts & crafts.
Marisa Luz Ingram '23, a former a Gallery Assistant at the Hand who earned a Bachelor of Arts degree, connected the experience to her future career goals.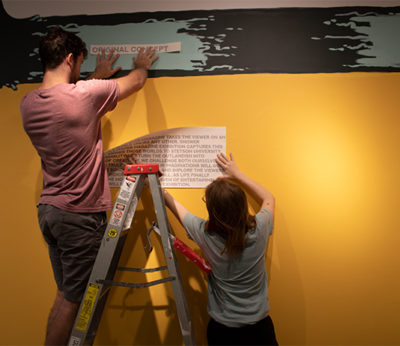 "Working on the new [Oscar] Bluemner exhibit, helped me understand Bluemner's art and exhibition design from a different perspective, Ingram said."
"I learned how I am able to alter my exhibition design process [to] cater to a younger audience. I found this experience to be enjoyable and imperative since I am currently working towards becoming an art teacher."
Lily Paternoster '23, who recently earned a Bachelor of Arts in Art History and also worked at the Hand, used the opportunity to expand an earlier exhibition originally presented at the Elsewhere Studio.
"I'm really proud of what we did and what we were able to make. I really hope people are able to come and feel invited into the art world and have a sense of what we do," Paternoster added.
"And maybe that will make it less taboo to get a humanities degree!"
Exhibition Dates
May 18 to June 24, and July 11 to Aug. 25
Hand Art Center Hours
Tuesday – Friday: 11 a.m. to 4 p.m.
Saturdays: Noon to 4 p.m.
More Information
Into the Bowl: Curating Toiletpaper Magazine
Curators: Lily Paternoster, Hallie Martin and Mario Saponaro
Faculty Adviser: Katya Kudryavtseva, PhD
Sponsor: Lavalle Experiential Learning Fund
Squares, Swirls and Saturations: Oscar Bluemner's Landscapes
Curators: Sam Berman, Marisa Ingram, Christina Knowles and Beatriz Vossen
Dusting Off: Pieces from the Permanent Collection
Curators: Leah Marisi, Grant A. Wolf and Malachi Jimenez
-Natalia Marques da Silva, PhD