Two of Stetson's Ukrainian Students Receive The Gift of Power from Solar Stik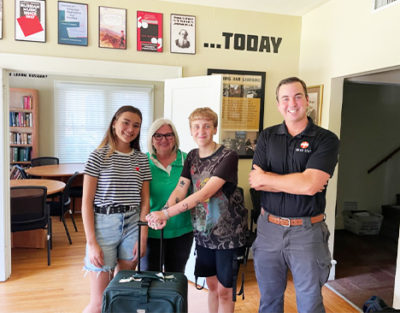 A collective labor of love from Dr. Stephanie Hollis '94, president and CEO of Solar Stik, and George Winsten '18, program manager and director of sales at Solar Stik, made it possible for Ukrainian students Genevia Gayden and Yana Verbova to take home a Solar Stik power system for the summer on May 8.
Ann Jenkins '74, former assistant director of Alumni Relations (now Alumni Engagement), spearheaded the initiative.
"One of the students mentioned her family had only three hours of power daily, and I wondered if Solar Stik could help," Jenkins wrote in an email to Winsten and Mayhill Fowler, PhD, Stetson associate professor of history.
"George and Solar Stik are incredibly generous," said Fowler.
"Ann Jenkins donated her family's suitcase for the students to transport the Solar Stik easily."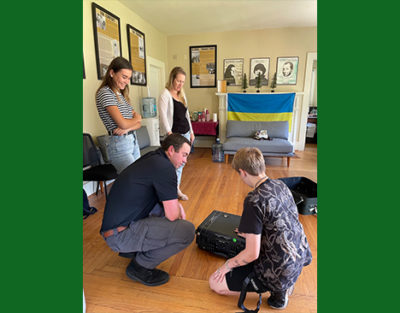 On May 8, Winsten met the students at the SPREES center to provide training for Gayden and Verbova.
The power units are similar to a generator and are approximately the size of a briefcase, weighing 50 pounds, and can be stored in an overhead compartment on an airplane.
Read previous coverage on Stetson University and Solar Stik.
-Alicia Scott