10 Questions for New Stetson Law Dean D. Benjamin Barros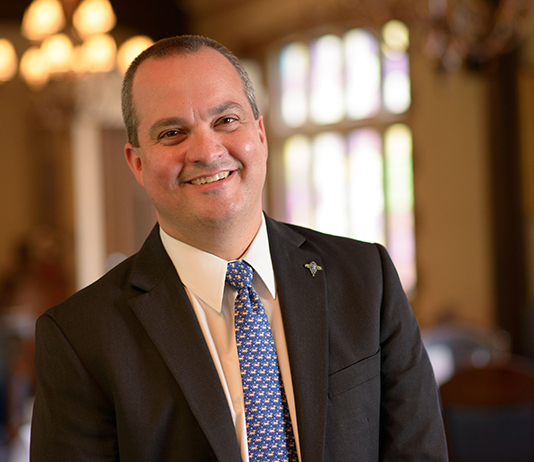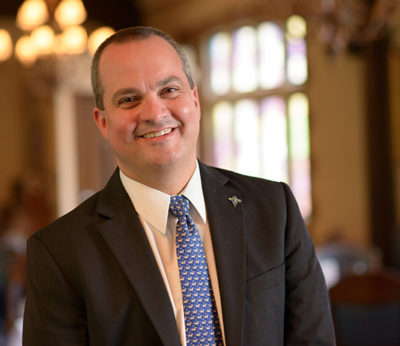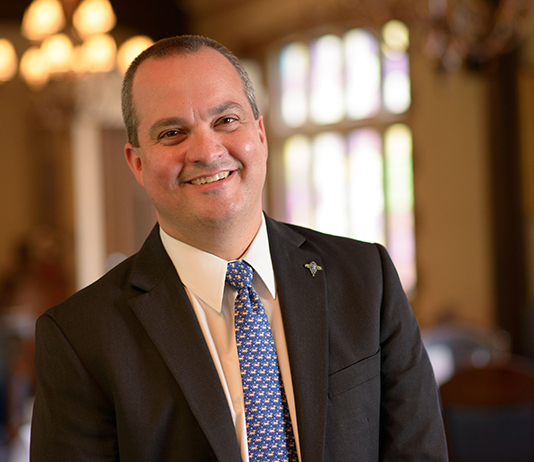 As he embarks on his new role as Dean of Stetson University College of Law, Dean D. Benjamin Barros brings a wealth of experience and success to the table. He joins the college of law from the University of Toledo College of Law, where he served as Dean. During his leadership, the institution saw great gains in bar passage, fundraising, and other key areas.
An expert in property law, he wrote a textbook on the subject and has held leadership roles in professional organizations such as Association of American Law Schools Executive Committee. He will be teaching property law in spring of 2024. (See Dean Barros' full bio.)
Here are 10 things to know about Dean Barros.
1. What sparked your interest in the legal profession?
Throughout high school and my first couple of years of college, I was interested in chemistry and the sciences. I gradually moved towards philosophy, and took a wonderful Philosophy of Law course during my junior year taught by a wonderful professor named Jerry Balmuth. That was the beginning of my interest in law. Around the same time, I was sued for libel for an article that I wrote in the school newspaper. It was a ridiculous lawsuit – I didn't even write the offending text, but it accompanied an article that I did write – and ended up just fizzling out after a year or so. Getting sued is never fun, but the exposure to the legal system increased my interest in law. The lawsuit also gave me something to talk about in my law school application essay.
2. What compelled you to specialize in property law?
Like my experience as an undergraduate, I went into law school expecting to want to do one thing and ended up after my first year focusing on something completely different. I thought that I wanted to be a prosecutor, but after my first year I never took any courses related to criminal law. Property was my favorite course in law school. The course was taught by Bill Treanor, now the Dean of Georgetown Law School. Among other things, he is an expert in regulatory takings law. This ended up being my main area of academic interest. So again, a great teacher had a major impact on the trajectory of my career.
3. Of what professional accomplishments are you most proud?
I'm very proud of the progress that the University of Toledo College of Law made during my eight years as dean. We went through a series of major challenges, including COVID, and came out stronger. A core job of a dean is to leave the institution in a materially stronger place than it was in when you started. I'm proud that we were able to do that at Toledo, and I'm looking forward to working with the Stetson community to do that here.
4. What are some strategies or habits you deem critical to your success as a leader?
I'm very committed to the idea of servant leadership – that the key job of a leader is to create the conditions for success for all of the members of the organization. As dean, I can achieve so much more by supporting and empowering everyone in the community than I could ever achieve doing things on my own. My goal every day is to be positive and to lift the people around me up. I'd ask that everyone else in our community try to do the same.
5. What is your favorite thing about being dean of a law school?
This might surprise some people, but my favorite part of being a dean is fundraising. I really enjoy working with donors who care deeply about Stetson Law. Their giving has a tremendous impact on our students on our ability to continue to grow and thrive as an institution.
6. How would you describe your teaching style?
Very straightforward and supportive, but I expect a lot from students in return. I put a lot of effort into helping my students to understand the fundamentals of property law, some of which are a bit arcane. I'm very transparent about what I expect from my students. My quizzes and exams are not easy but shouldn't be surprising. My goal is to have students walk out of my final thinking that it was very challenging but fair.
7. What drew you to Stetson Law?
I see Stetson Law as an incredibly strong law school that has the potential to become even stronger in the future. I've known of Stetson's outstanding reputation in advocacy for as long as I've been a lawyer. I love the fact that we have the best advocacy program in the country, and I want to be sure that we continue to maintain that leadership position. I also love the fact that our areas of strength, including advocacy and legal writing, are focused on training our students to be outstanding lawyers. The culture of our school is committed to student professional success, which is a great thing. I share Stetson Law's values, which made me think that Stetson Law would be a good fit for me and that I'd be a good fit for Stetson Law.
8. What do you hope to achieve in your first year as dean?
In my first year, I want to listen, learn, and meet as many people in our community as I can. I already have ideas about some priorities, but I want to hear from our students, faculty, staff, alumni, and friends about what is important to them. So far, some of my areas of interest are working to make our evening program more flexible for our students, continuing our efforts to improve student success on the bar exam and on the job market, developing our non-J.D. and international programs, and taking better advantage of our facilities in both Gulfport and Tampa.
9. What are some ways you measure a law school's success?
I always focus on bar passage, job placement, and student professional success more broadly. We are a professional school, and the basic point of law school is for our students to pass the bar and get good jobs. We do many other things as an institution – our faculty create new knowledge through their scholarship, we serve our community through our clinics, etc. – that are very important and that I value highly. But always come back to student success as the key measure of our success as a law school. The biggest positive impact that Stetson Law has on our society is by training our students to be outstanding lawyers who will do great things in their careers.
10. What are you looking forward to most about living in the Tampa Bay region?
My grandparents lived in St. Petersburg when I was growing up, so I have very fond memories of the region. It probably goes without saying that I'm looking forward to the better winter weather. I love to fish and spend time at the beach, so I'm looking forward to being so close to the Gulf.
Media contact: Kate Bradshaw
[email protected] | 727-430-1580