Charting Greatness: Convocation 2023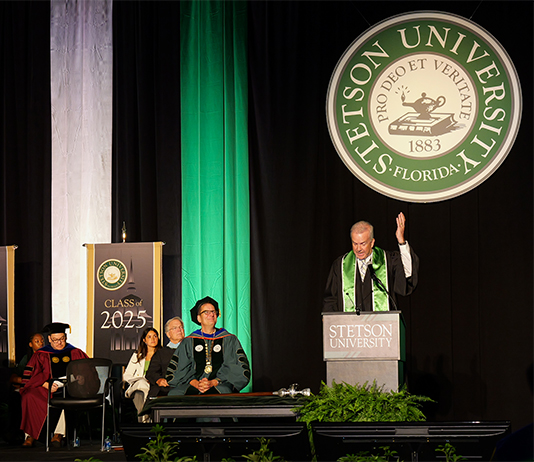 Stetson University's 2023 Convocation set the stage for the upcoming academic year, filled with tear-jerking testimonies of resilience, inspiring encouragement, sage advice, and recognizing the significance of the 140thanniversary of its founding.
An impressive processional of faculty members and speakers dressed in academic regalia entered the Edmund Center on Aug. 23 with the Stetson University Brass Ensemble setting the regal tone for the annual ceremony.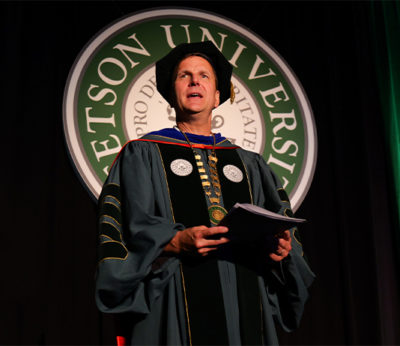 President Christopher Roellke, PhD, welcomed the students, faculty, staff, Board of Trustees and visitors to the formal ceremony that celebrates the start of the academic year ahead.
Reverend Todd Campbell, Jr., MDiv – who himself is only one week into his new role as University Chaplain – easily related to the excitement and anxiety of the freshman class. Rev. Campbell opened with a thoughtful prayer before President Roellke's opening remarks.
"Today, Stetson is better than ever and our future is bright…Because of you, we are seeing unprecedented investment into Stetson's future. For the second year in a row, Stetson has shattered all fundraising records with $65 million in new gifts and pledges this past fiscal year alone," explained President Roellke. "Though this extraordinary philanthropy represents an investment in Stetson's future, it also represents a deep and authentic confidence in Stetson's present."
"We move forward together, with a profound focus on people, culture and inclusive excellence, because at Stetson it's all about the people. You are being seen for who you are because it matters and you matter," he emphasized to the students.
"Be seen. Be heard. Be you. Let's move forward together and take Stetson from Florida gem to national treasure."
Provost Remarks and Litany for the Stetson Community
Provost and Vice President of Academic Affairs, Elizabeth Skomp, PhD., went to the podium to share her remarks.
"Stetson is a place where students live out our university values of personal growth, intellectual development and global citizenship through rich learning experiences, both here on campus and in the community. Development of the whole person is at the core of these values," she said. "As we begin this academic year, I hope that you all feel the same sense of possibilities that I do. May this year be successful, engaging and fulfilling one for all."
Madelyn Rodriguez '25, president of the Student Government Association, then challenged the students to make the most of their Stetson experience before formally reciting the Litany for the Stetson University Community with those in attendance.
Moving Testimony: Keynote Speaker Steven Alexander
President Roellke proceeded to introduce the keynote speaker and Chair of the Board of Trustees, Steven Alexander '85, whose touching recollection of his immigrant father's struggles – and that of his entire family well into the 1980's – hardly left a dry eye in the house.
"Yet amid these accomplishments, there is a reminder that even the brightest stars can be dimmed by discrimination. The legacy of our Russian heritage often cast a cloud over our family's achievements, serving as a constant reminder that prejudice can tarnish the most remarkable of contributions."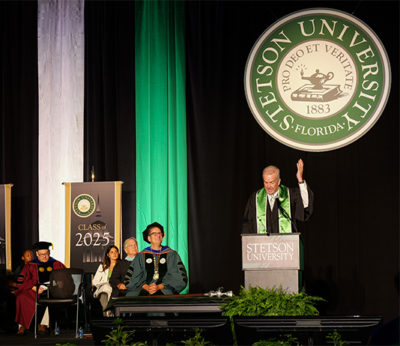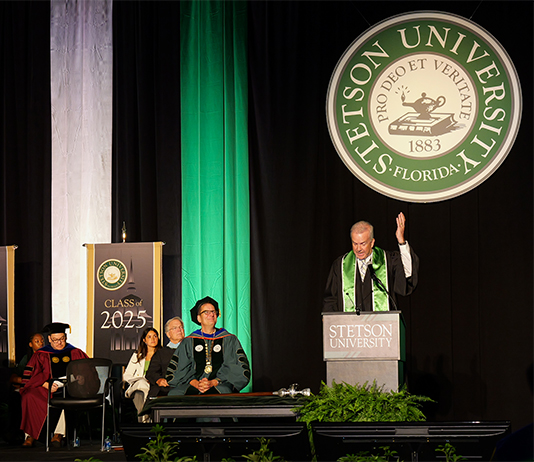 His engineer father worked hard and made pivotal contributions to his new country. He was involved with the Minutemen Nuclear Missile Program, guided every Appollo mission to its celestial destination, and helped construct the iconic NASA Vehicle Assembly Building.
Alexander said that in the 1970's and 1980's, the mere utterance of his Russian surname in the middle of the cold war, especially with the Russian accent to go with it, was a barrier that shut doors that should have swung wide open. It planted seeds of uncertainty where confidence ought to have flourished.
As a child, he was bullied and even beaten at school.
So their family had a tough choice: to relinquish the weight of their ancestral Russian name, Senkevich, and take the middle name of him and his father (Alexander) as their new last name.
"The name change took place during my sophomore year Christmas break at Stetson. I departed campus as Steven Alexander Senkevich and reappeared in January as Steven Alexander."
He added that his father's journey and his mother's strength to continue their path and make difficult decisions along the way serve as an inspiration for all of us to challenge prejudice and champion the inherent value within everyone.
"To the new students, I implore you to perceive adversity not as an insurmountable wall, but as a steppingstone towards greatness. Challenges are not always obstacles; they can be conduits to growth and transformation."
The Prestigious McEniry Award Speaker
Provost Skomp then introduced the McEniry Award for Excellence in Teaching 2023 recipient, Cindy Bennington, PhD., professor of Biology, to the podium.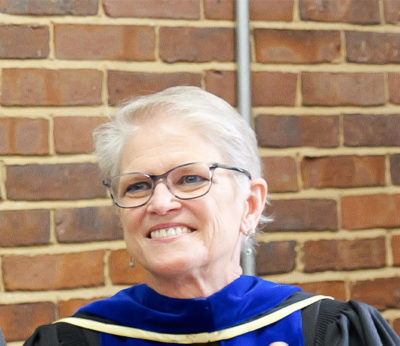 Bennington offered her words of wisdom with two valuable pieces of advice: Embrace your path because it may not be a straight line and find a mentor who can introduce you to new ideas that will change your life.
As an environmental scholar, Bennington added three important life lessons that we can learn from the plant kingdom: one, to persist; two, to continually grow; three, to find your unique niche.
Turning the microphone back over to Provost Skomp, the audience was reminded of the school's mission statement and encouraged by Skomp to "act with integrity."
"Be excellent educators and learners. This integrity is what makes Stetson what it is," she professed.
Honor Pledge, Benediction and Recessional
Celine Jose '25, president of the Honor System Council, noted that students used to physically sign a large book for the Honor Pledge, but now the pledge is sent electronically for their commitment. Jose asked the student body to stand and led them in the verbal honor pledge: "By my actions and my example, I will strive to promote the ideals of honesty, responsibility, trust, fairness and respect, which are at the heart of Stetson University's Honor System."
The alma mater was sung beautifully and powerfully by Griffin Scholarship recipient, Annalycia Franklin '24 before the benediction was offered by Chaplain Campbell and the recessional of the faculty.
A casual luncheon followed the event before students, faculty, staff, Board of Trustee members and visitors were invited to the ribbon cutting of the new Cross Cultural Center at 145 E. Michigan Avenue.
-Trish Wieland