Club Sports and Intramurals: 'Just Not Athletic or Social'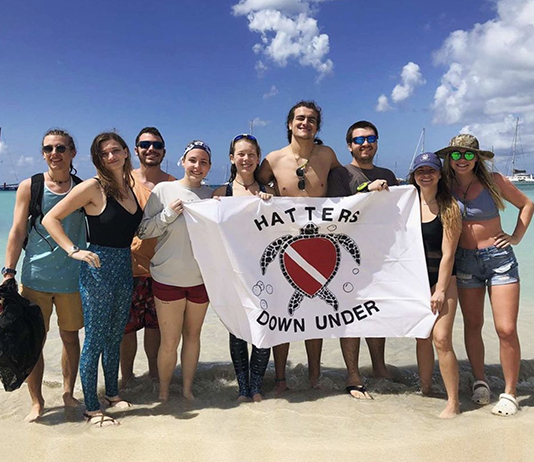 Talk to Travis Potter, and he sounds more like an administrator from one of Stetson University's other departments — perhaps part of Stetson's Residential Living and Learning office or Career and Academic Success or Campus Life and Student Success.
Yet, the fact that Potter is assistant director of Wellness and Recreation — inch charge of club sports and intramural sports — is telling. At Stetson, Wellness and Recreation isn't quite what one might think.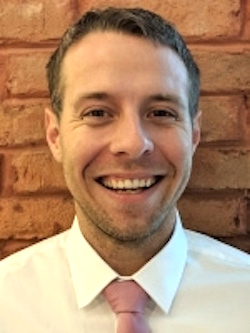 Potter's perspective on club sports: "This is just not athletic or social; there's a lot of personal growth that could happen over your time."
And his thoughts about intramurals: "It's such a great place to build teams and to build comradery, and to develop leadership."
Indeed, with the combined participation of Stetson's 16 club sports and six intramural programs at nearly one-in-four students on campus, the group activities are omnipresent during evenings and weekends. At the same time, for the students, the impacts are also both positive and meaningful.
Just ask seniors Taylor Tantaquidgeon or Spencer Skittenhelm.
Tantaquidgeon, a psychology major with a business law minor, became involved as a first-year student. Now, she is president of the Club Softball team. "I was looking for ways to have fun on campus and meet new people," Tantaquidgeon said. "I wanted to find a club or activity that I already had an interest in, so finding the Club Softball team was a great opportunity for me. I benefit from this involvement by being able to be a leader while meeting new people."
Skittenhelm, who studies biology, is a veteran of intramurals, having played football, basketball, RC racing, soccer, floor hockey, volleyball and spike ball. Transferring from another school two years ago, he started participating that first fall semester on campus. He also joined a fraternity that fall and is now the fraternity's intramural chairman — "benefiting greatly from intramural sports."
"It has allowed me to play the sports I have a strong passion for, and it keeps me active along with helping my fraternity brothers stay active," Skittenhelm said. "It has also granted me the opportunity to meet and gain new relationships."
Club Sports
The Stetson promise for club sports is that if you're "seeking an avenue to showcase your talent, bond with likeminded individuals and forge lifelong memories," this is the place.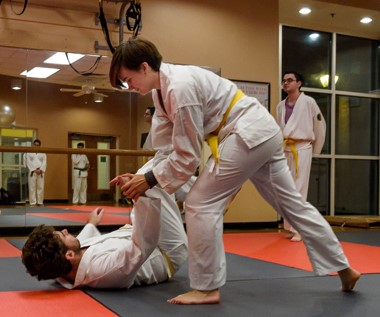 In addition to traditional sports, clubs include the Japanese martial art of Aikido, as well as horseback riding, surfing waves and having paddle in hand for table tennis, among others.
This is also a place where students can take the initiative to organize and lead. Club members are given a blueprint to manage and plan and then they must, in essence, fend for themselves. "How do you deal with membership, and how do you retain members? The student officers [president, vice president, treasury, etc.] and the student members, they all have to put in the work," Potter describes. "Being part of running a club contributes to their experience. The autonomy is great for students to be able to run their club like a business.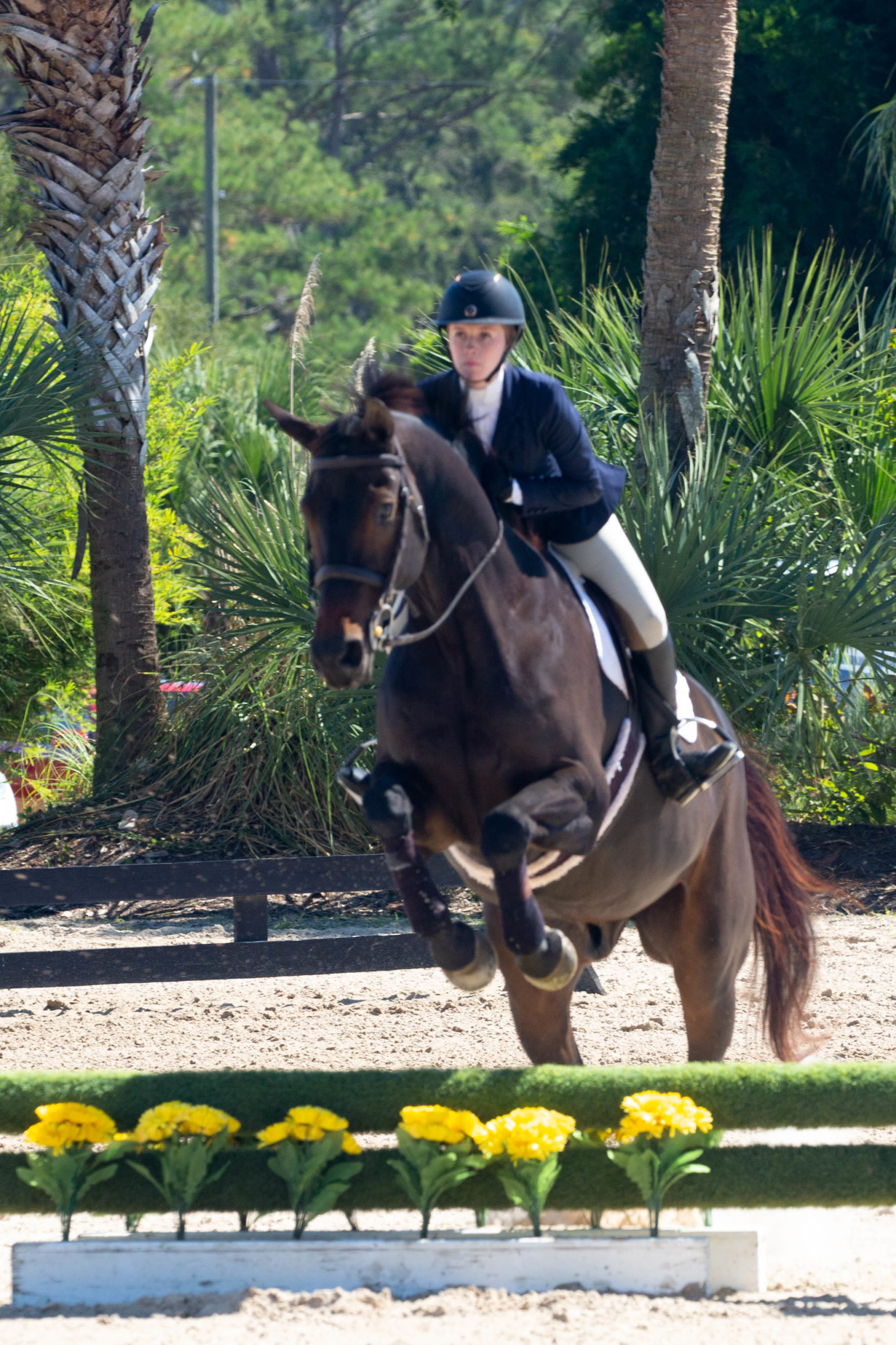 "They also have to collaborate with each other. They have to learn how to utilize each other's strengths, how to balance off each other and how to have conversations across differences."
Further, scores are kept by a Club Sport Council for how each of the clubs operate. At stake is the allocation of budget funding for each club. Potter calls the scoring system a "measuring stick of success," noting that "those who do the best in the score system get more money. Those who don't do as well, they get less money."
Additionally, the clubs are required to do community service work. "That fits right into Stetson's ideal of global relationships," Potter comments.
Similarly, relationship building is viewed as particularly valuable within each club — in growing and retaining memberships — plus across clubs and among club alumni members. Students never know who they might meet.

Consider this comment from Christian Berberich, a senior with majors in biochemistry and molecular/biology who is part of the running club: "I have made great friends from the club with whom I will stay in contact for the rest of my life. So many great memories together have been shared, and I could not imagine my college life without them all."
Says Potter, "You may not see a relationship blossom in your first four years, but what happens after you graduate? There might be somebody along the way who is involved in a business or whatever it may be. And now, you've got another reference; you have another resource to help build that bridge to help get you that job after graduation. … Club sports gives you that opportunity."
Intramural Sports
This is the stated invitation for intramurals at Stetson: "Whether you're a seasoned athlete or just looking to have fun and stay active, our program offers a wide range of sports and activities to suit every interest."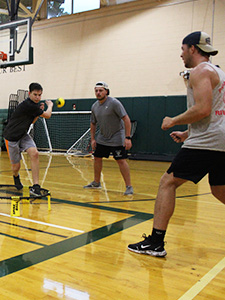 The six intramural programs range from arrow tag (a cross between archery and dodgeball to spikeball (hitting a small rubber ball off a round net). Regardless of sport, the accent is on "scratching the itch" of competition without the intensity of Division I athletics, cites Potter. In other words, even for the most talented players, intramurals could mean less commitment to a sport and more to studying.
"Being involved in intramurals allows [students] to play without having to go to practice every day and without having to take time away to travel to go compete," Potter says. "So, intramurals helps fill that competitive gap."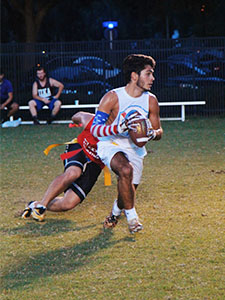 In turn, there are varying levels of competition, which avoids talent mismatches and allows campus organizations to field multiple teams. "I'm very intentional about how I schedule some of our competitive teams and some of our lesser-competitive teams — about having some kind of balance of play," he adds.
Notably, in the past two years the forfeiture rate for intramural games art Stetson has dropped from about 20% to 5%, while the national rate is as high as 18%.
Different from the autonomy of club sports, Potter is especially hands on with intramurals, serving as the de factor commissioner. One result is that student participation also includes refereeing. Potter is a basketball referee on the collegiate level, and he takes pride in nurturing that side of the action among the student refs, who are paid. Training sessions include video analysis of their efforts. He calls such training "making sure the customer service is constantly growing and getting better."

For students, among the outcomes, again, is personal and professional growth.
Another result is that students don't only play the games, they also watch them. Potter now keeps track of spectator counts. And the numbers show that, on average, 60% of game attendance is players; the other 40% watch. The statistics even surprised him.
"There are spectators out there, and that is part of their Stetson Student Experience," says Potter. "Just because [students] don't want to play doesn't mean they shouldn't be counted out."
Clearly, for club sports and intramurals, it's about fun and games, absolutely. Plus, there's also much more, — making them well worth the effort, asserts Alexander Garofalo, treasurer of the Club Clay Target Team and a Club Sports Council Member who majors in American studies and cybersecurity.
"It can be daunting to try something new or to adventure into unknown waters, especially solo," Garofalo asserts. … And don't be discouraged if the first club sport or intramural team you try doesn't work out. You managed to take the first step to trying something new, and that is the hardest part."
In the end, Potter is there to help. "I love helping others, impacting others," he concludes. "I love the vision of Stetson and how we integrate everybody."
-Michael Candelaria