Stetson Law Grad Craig Zyburo Gets Top FL Bar Exam Score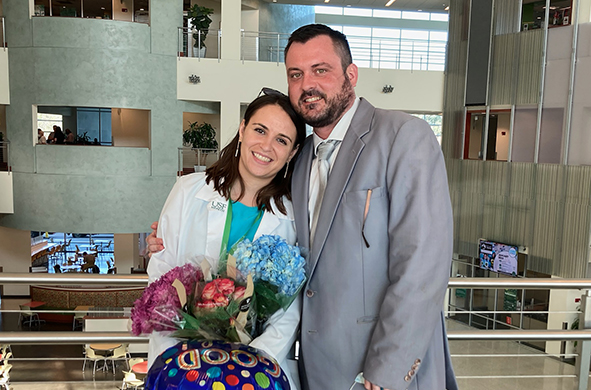 A Stetson Law graduate is among the top-scoring test-takers who took the Florida Bar exam in February 2022. Craig Zyburo, who graduated with his J.D. in December 2021, did so well on the test, he has been invited to speak at the Second District Court of Appeals swearing-in ceremony on May 2 – an honor reserved only for the highest-achieving test-takers.
In all, 443 February 2022 exam-takers were admitted to the Florida Bar. While he worked hard to prepare for the exam, Zyburo said he did not go into it with the expectation that his score would ultimately be among the highest statewide.
​"I just wanted to pass!" he said. "I had no idea what I would score or if I would even pass on my first try."
With a 77.8 percent pass rate, Stetson Law ranked second in the state for February 2022 Florida Bar exam passage, and was about a percentage point away from the top spot. It is the first time since 2014 Stetson Law has had a top statewide pass rate.
Diligent study and preparation were key to Zyburo's success, he said. He employed multiple prep methods, including several resources offered through Stetson Law's Academic Success & Bar Preparation Services office.
"​I definitely put in a ton of work and a lot of hours for bar prep," Zyburo said. "I usually studied eight hours a day, six days a week for about nine weeks."
Born in New York City and raised in Naples, Florida, Zyburo holds a B.A. in Psychology, Cum Laude, from Boston College.
Prior to attending Stetson Law's part-time J.D. program, he spent a decade teaching special education at local public schools. He lives in Dunedin with his wife, Viviana, and their two children.
Now that he has been admitted to the Florida Bar, Zyburo said he will be practicing insurance defense with the firm Andrews Biernacki Davis, where he previously held a summer clerk position. That clerkship, along with an externship with The World Triathlon Corporation (the company that produces IRONMAN events), "really gave me some solid legal experience," he said.
He graduated from Stetson Law December 9, 2021, the same day his wife graduated from nursing school.
---
Post date: April 14

Media contact: Kate Bradshaw
[email protected] | 727-430-1580