Father & Son Duo Earn J.D.s, Pass Bar Together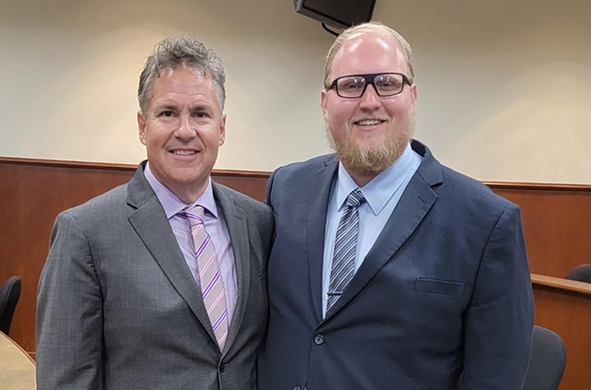 Rick Morrow was at the gym, trying to distract himself from the pending Florida Bar exam results that were supposed to drop in several hours, when his son, Key, called. The results came down earlier than expected; Key had passed.
Rick rushed to see if he passed. After weeks of fretting over the February exam, Rick learned he had also passed. It was an unusual feeling, the culmination of years of study and lessons gained along an unconventional path for the father and son.
"Surreal, I would say," Rick said. "It was an eight-year journey."
Key and Rick Morrow received their J.D.s from Stetson Law in December 2021 through the college's part-time program. They took most of their classes together, carpooled to class prior to the pandemic, studied together, and took the bar together.
"I think we benefitted from each other's presence there," Key said.
How they got here
The father and son duo's journey was far from conventional.
Rick had been an entrepreneur who invested in apartment buildings, laundromats, and eventually an auto dealership, but had never earned a college degree.
As a freshman in high school, Key suffered from cancer – and missed a lot of school as a result. The illness coincided with financial stresses that he was working overtime to overcome. The ordeal affected his morale, and he eventually dropped out.
"High school kind of fizzled out after my junior year," he said.
Over the course of Key's illness, he and his father had grown close – "more like best friends than father and son," as Rick put it. Key became a certified nursing assistant, but it didn't take long for higher education to call. So the two took on postsecondary education side-by-side, first earning associate's degrees from St. Petersburg College, bachelor's degrees from University of South Florida St. Petersburg (Key majored in psychology; Rick majored in political science), and, J.D.s from Stetson Law.
Because St. Petersburg was home for them – they are originally from New Hampshire, but moved there when Key was young enough to have taken some of his first steps on St. Pete Beach – they were set on Stetson Law.
"We didn't apply anywhere else," Rick said. The two enrolled in Stetson Law's part-time program because the full-time program was full. They sold the auto dealership they ran together to they could focus on their studies. Both spent countless hours in the library.
Persevering through a pandemic
The two got involved with student organizations and held leadership positions within the Student Bar Association's part-time-students' division. When COVID-19 hit, they had to take their studies online.
"We lost our library," Key said. "We started doing a lot of Zoom meetings."
Much of their preparation for the Florida Bar exam was also virtual, the Morrows said. Yet they prevailed, as did many of their classmates, despite the challenging circumstances.
Key and Rick were part of the group of Stetson Law bar takers that had a notably high passage rate of 77.8 percent – the second-highest in the state for the February 2022 round. Many were classmates-turned-friends.
"Most of us were cohorts, and we killed it," Rick said.
In the short time since the results came down, both secured full-time employment at Florida firms: Rick was hired at Orlando-based firm Killgore, Pearlman, Semanie & Squires PA, where he'll be doing transactional work. Key will be handling cases involving labor, employment, and general liability at Cole, Scott & Kissane, P.A.
---
Post date: April 29, 2022

Media contact: Kate Bradshaw
[email protected] | 727-430-1580