Stetson Law's Lambda Branches Out With Pride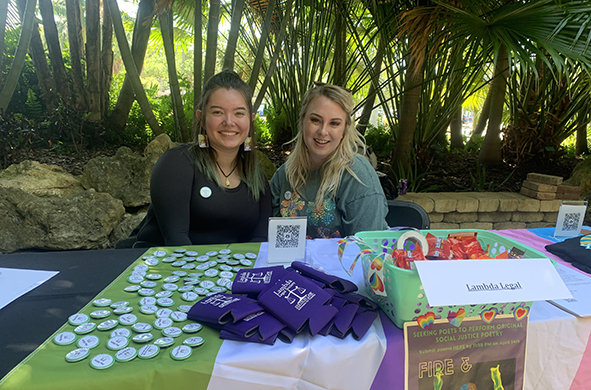 With the spring semester having drawn to a close, it may be quiet around campus, but Lambda Legal Society, Stetson Law's LGBTQ+ student organization, is busy sharing its message with the community.
The group, which became a National LGBTQ+ Bar Association affiliate in 2021, will have a presence at Gulfport Pride on June 4 as well as St. Pete Pride on June 26. Members plan to table at both events. To Lambda president Lei-Lani Rogers, a 2L at Stetson Law, the community involvement is an opportunity to help promote legal protections for the LGBTQ+ community in the Tampa Bay region and beyond. Among LGBTQ and allied communities across Florida, there is concern over what they see as efforts at the state level to reverse decades of progress via legislation like the Parental Rights in Education bill, which critics refer to as the "Don't Say Gay" law.
"Pride Month is a call to action for both the LGBTQ+ community and allies, but it's particularly a time of visibility for our demographic," Rogers said. "Florida is a hot spot currently for LGBTQ rights and representation and June is our time to be loud and proud when we say gay."
Engaging Neighbors in Gulfport
Stetson Law is blocks away from downtown Gulfport, a longtime LGBTQ+ hub for locals and visitors alike. Underscoring this proximity is Lambda's partnership with the Gulfport Public Library's LGBTQ Resource Center for Gulfport Pride, which is currently slated to take place June 4.
The partnership made sense for Lambda due to the resource center's far-reaching efforts. These include offering the BranchOut scholarship to LGBTQ+ students, hosting the SpeakOut series of events to talk about intersectionality, and currently, and hosting ArtOut, an exhibition consisting of 53 works from 35 artists representing 8 different countries, throughout June.
Rogers said the group's board president, Susan Gore, is "a powerhouse" whose passion for promoting representation of the LGBTQ+ community is an inspiration.
"Seeing a direct injection of activism in Gulfport, seconds away from the school, inspires Lambda to do the same, and what better way to do so than partnering with another group?" Rogers said.
More to come from Lambda
Later this month, members of the group will table at the St. Pete Pride celebration on Saturday, June 25 to help engage the community on what Lambda does and why their work is important.
As for the rest of the summer, Rogers said Lambda is planning for a full slate of activity over the 2022-23 academic year, namely events that spark discussion among peers and the Stetson community as a whole.
In 2021-22, the organization tabled at several events on campus, where they offered pronoun pins and other items to promote a welcome environment for LGBTQ+ students and allies.
Last year, Lambda Legal Society created a new endowed scholarship for students who have shown dedication to advocating for the LGBTQ community through academic work, campus activities, or professional endeavors.
Learn more about Lambda Legal Society.
---
Post date: June 3, 2022

Media contact: Kate Bradshaw
[email protected] | 727-430-1580