Professor Lake Highlights Proposed Title IX Changes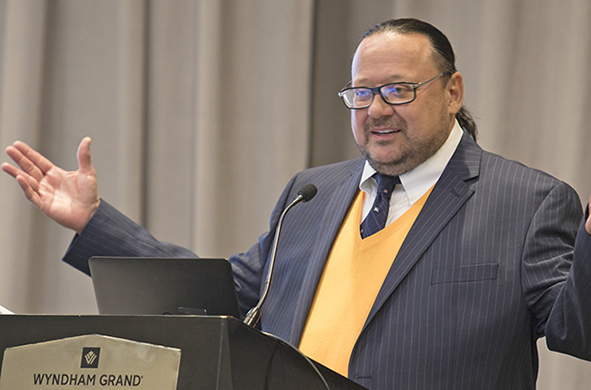 To help higher-education officials better understand the U.S. Department of Education's extensive proposed changes to its Title IX policy, Stetson Law Professor Peter Lake gave an in-depth overview of what may be to come and how the industry may be affected.
At the top of his presentation, Lake, the Charles A. Dana Chair and Director of Stetson Law's Center for Excellence in Higher Education Law & Policy, warned his audience things were about to get intense.
"I basically have a three-hour presentation that I've tried to figure out how to squeeze into an hour and a half," he said.
Signed into law in 1972 by President Richard Nixon, Title IX protects against sex-based discrimination at institutions that receive direct federal funding – namely, educational institutions, including public colleges and universities. It deals with everything from LGBTQIA+ protections to procedural requirements for investigating sexual misconduct allegations.
Inviting stakeholder comments
Now at its half-century mark, the policy has continuously evolved alongside shifting cultural and political landscapes. The latest proposed changes, for which DOE seeks comment, are spelled out over 700 pages in a document Lake called "deliciously difficult to parse through," but worthwhile given what he said appears to be an openness to feedback on the part of DOE.
"This document that you've got is really unique in a lot of ways, because it's a conversation document," Lake said. "It's designed to be iterative. It's designed to trigger comments at many points."
Changing protections & processes
Many aspects of the draft regulations are similar to the current policy, but with adaptations that attempt to solve for complications that arise amid an increasingly intricate and often-contentious regulatory and political climate.
Key changes include:
Greater LGBTQIA+ protections
Stronger pregnant and parenting protections
A new, broader definition of harassment
More adaptability for recipient grievance process
Lake gave an overview of how some of these proposed changes may conflict with ongoing litigation pertaining to the intersection of free speech and LGBTQIA+ protections, the potential influence of recent developments like the overturning of Roe v. Wade, and potential conflicts with states that pass laws that are contrary to Title IX regulations.
"Title IX just took a big pivot, and it's pivoting very clearly toward reproductive rights," Lake said. "I do not need to belabor the fact that the Supreme Court struck a match this summer, and wherever you stand on the panoply of ways of viewing what happened this summer, be prepared for a department that intends to – at least for now – move toward reproductive rights protection in a way that we have not seen previously."
Current events, including the pandemic, may shape the new rules when it comes to resolving challenges where mental health is a factor.
"Mental health intersects with Title IX enforcement in very prominent ways," Lake said. "The emphasis on supportive services suggests to me that we need to be prepared, when this rule-making process concludes, for very strong interest in supportive services, particularly ones that are related to mental health. We'll have to prepare the field now for the services that we'll legally be required to provide that will be connected with a surge in mental health issues."
The deadline to comment on the proposed Title IX changes is September 22, 2022. See all proposed changes here, and make comments here.
The Center for Excellence in Higher Education Law & Policy's next webinar, "Higher Education and the Constitutionalist Court: The Supreme Court Expands Liberty and Promotes Democratic Decision-Making," takes place August 17, 2022 from 1:00 – 2:30 P.M. and will feature William E. Thro, general counsel for the University of Kentucky. Get more details and register.
---
Post date: July 29, 2022

Media contact: Kate Bradshaw
[email protected] | 727-430-1580