Enlightening Summer Study Abroad Programs Return to Stetson Law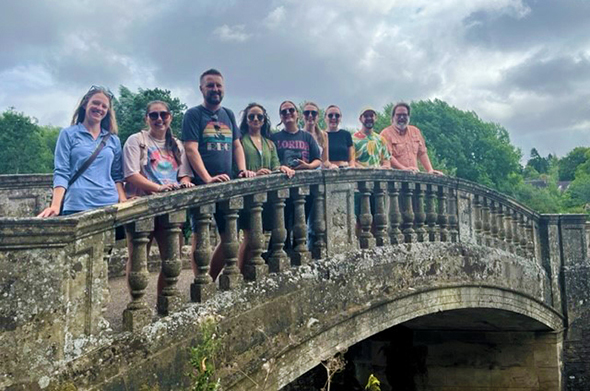 After two years of COVID-19-related travel limitations, two popular summer study abroad programs returned to Stetson Law. The courses brought globe-trotting students and faculty to Oxford, England and The Hague, Netherlands for immersive experiences with a sharp focus on key aspects of international law.
The intensive sessions were complemented by generous amounts of time to explore the surrounding areas, their incredible history, and their vibrant cultures. Students came away from the experience with new perspectives and renewed enthusiasm for their study of the law.
Advocacy in Oxford
For two weeks in July, a group of students from Stetson Law and other institutions gathered in the U.K. to explore advocacy through theory, practice, and collaboration, and examine the similarities and differences between legal systems. Students were also exposed to the fundamental tenets of comprehensive case theory development, advanced witness examination, and persuasive storytelling.
Stetson Law professors Elizabeth Boals, Roberta Flowers, and Stephanie Vaughan were part of the team of instructors that led the course. Boals said one experience that stood out to her was Professor Rafe Foreman's creative storytelling exercise, which involved a student trying to make a case in a language nobody understood, thus having to rely on gestures, vocal tones, and facial expressions to get her point across.
The lesson aimed to show students how understanding and conveying underlying emotions in a particular case is critical to persuasive storytelling – something many students struggled with at first, but eventually began to grasp.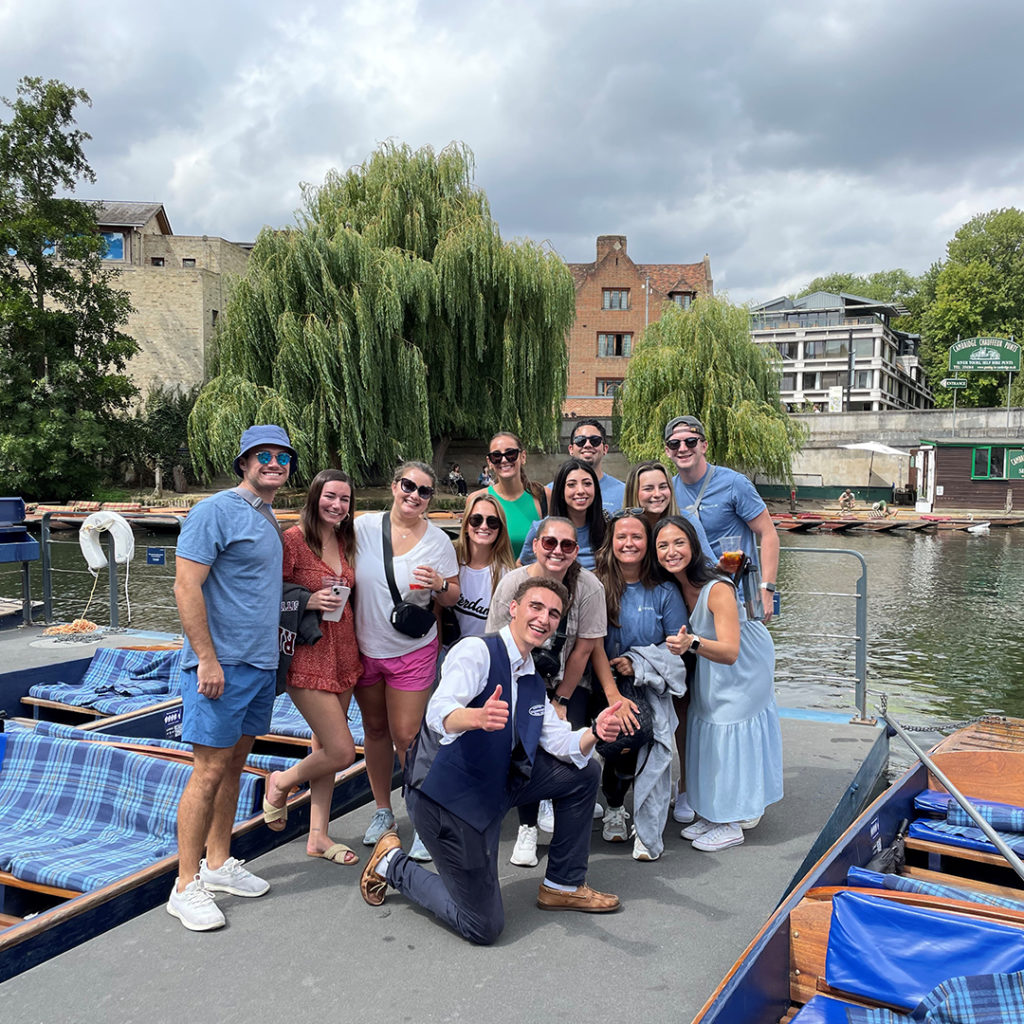 "It was thrilling to see how far they progressed in their storytelling techniques during their closing arguments at the end of the course," Boals said. "Their stories were persuasive, rich, compelling, and steeped in emotion."
When they weren't studying, participants explored the historic campus and surrounding environs, snapping photos of the incredible architecture and other unique sights.
Stetson Law student Greg Mueller, who participated in the program said his favorite part about the Oxford program was connecting with students and faculty from both Stetson Law and their across-the-pond counterparts.
"It was fun to be abroad and to experience so many amazing things that I had only heard or read about, but the best part of the experience for me was being surrounded by teachers and peers that made seeing those things so much fun," he said. "From sightseeing together to just chatting over a pint, we became a close-knit group in a matter of days. I learned so much from my incredibly talented teachers, but what surprised me was how much I learned from my friends."
Part-time Stetson Law student Tyler Vansant said he loved being able to build the experience into an unforgettable summer getaway with his family.
"It was wonderful to bring my wife and sons along for the trip; they got to explore many other parts of the UK and we still had plenty of family time on several evenings and during the weekend," he said. "Also, being able to study in an environment so steeped in rich academic history like Oxford was very intriguing."
To Professor Boals, it was an engaging, collaborative experience that proved invigorating.
"It was amazing to offer this intensive hands-on experience in such a historic and inspiring location," Boals said. "The students and faculty alike were hungry to explore and engage and interact with colleagues. It was a wonderful experience and reminded me why I do this work."
International Justice in The Hague
Also in July, Stetson Law was part of a program that gave students a front-row seat to international courts and tribunals in The Hague, one of the Netherlands' two capitals.
Known as the International City of Peace and Justice, The Hague has played an integral role in diplomacy and international affairs since the late 19th Century. This past March, world leaders convened there to participate in the Nuclear Security Summit on the prevention of nuclear terrorism around the globe.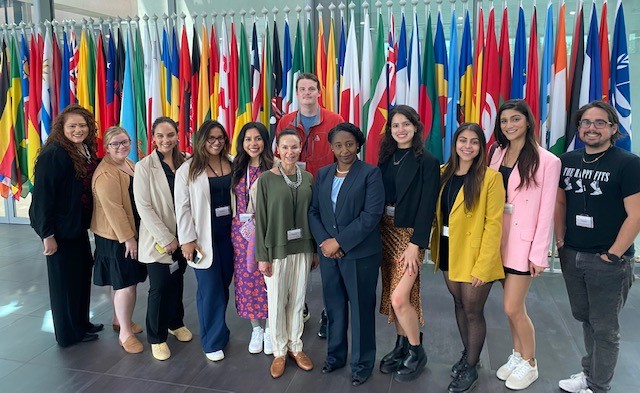 The program consisted of four weeklong courses: Indigenous Peoples in International Courts, Freedom of Expression: Modern Challenges and Comparative Perspectives, Comparative Transnational Criminal Procedure, and Violence Against Women: Armed Conflict, Exploitation and Subjugation. The course covering violence against women was led by Stetson Law Professor Luz Nagle. Law Professor Jim Sheehan served as the program's Residential Director.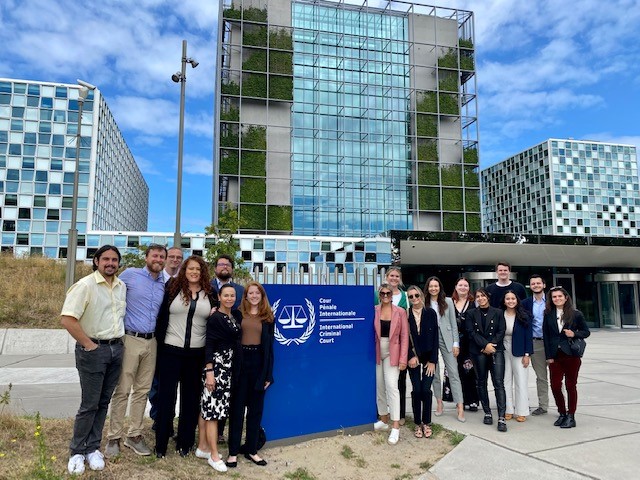 To students, it was an eye-opening experience.
For 2L Sondos Hassan, it was an opportunity to compare legal systems while learning to understand and appreciate the overlapping nature of American law and other legal bodies. It was a great way to stay productive over the summer, she said, adding that her favorite part of the program was visiting the International Criminal Court and the International Court of Justice.
"Seeing the collective attempt to create a center for the enforcement of human rights on an international level was both inspiring and humbling as we got to witness the challenges to those aspirations, such as jurisdictional issues, and also the philosophical ideations of what level human rights should be relative on an international scale," Hassan said.
Professor Nagle said The Hague, a place where crimes against humanity are addressed at the international level, provided the right backdrop to tackle the difficult topic she was teaching on, violence against women, because it took the matter out of the abstract.
"I will like to believe that all the students learned something about violence against women that was previously abstract or remote," Nagle said "By taking such a course, some of the students will remember the topics and know how to look for signs of violence in future clients or understand the root causes and impacts in the civil society in which they will be practicing lawyers."
As for the overall experience, she said it was liberating for everyone.
"It was wonderful to see students engaging in the travel experience, and they took full advantage. Many visited other cities and nearby countries during their weekends and before and after the program," she said. "As for the teaching experience, it felt great to teach "live" somewhere other than on campus. The change of environment was good for my motivation and great for the students."
For more information on summer study abroad programs at Stetson Law, visit the international programs page.
---
Post date: Aug. 19

Media contact: Kate Bradshaw
[email protected] | 727-430-1580