New Award Honors Professor Lake's Contributions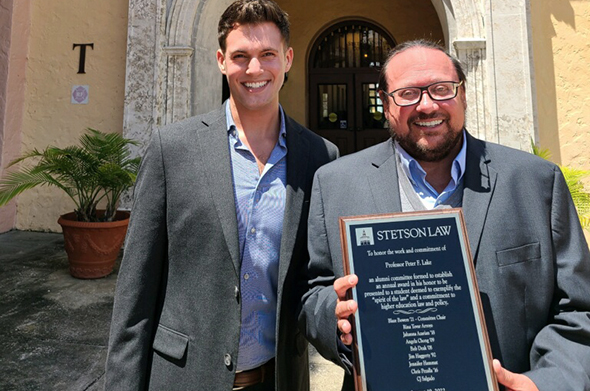 A new annual award named for an influential Stetson Law professor will soon reward students who go above and beyond in the field of higher education law and policy.
On August 22, the Stetson Law community celebrated the full endowment of the award, the Peter F. Lake "Spirit of the Law" Endowed Annual Award, which they announced to Professor Lake, director of the college's Center for Excellence in Higher Education Law & Policy, during a surprise reveal on Stetson Law's Gulfport campus.
About the award
Each year, the award will be given to a graduating Stetson Law student who has dedicated time and service to the advancement of higher education law and policy and who has exemplified the "spirit of the law" by promoting development of character, competence, and access to the law.
The recipient of the award will be announced during Stetson Law's annual Honors and Awards Ceremony, which typically takes place on the eve of spring commencement.
The new scholarship comes at a time of unprecedented challenges for colleges, universities, and other institutions and the legal questions they create for the industry, from political challenges to curriculum to the pandemic's ongoing effects on mental health and learning.
"There has never been a time where the need for Stetson-trained higher education lawyers has been greater," Lake said. "This award rewards students for exceptional commitment and achievement in the nation's leading Center for higher education law and policy."
Reflecting the Stetson Law community
Nearly a dozen alumni and other members of the community helped endow the award.
Among key contributors was alumnus Jim Haggerty, J.D. '92, who has known and worked with Lake for many years. He said naming a scholarship after Lake is the perfect way to recognize his contributions.
"Professor Lake epitomizes everything that is good about Stetson Law – that unique combination of the academic and the practical," Haggerty said of Lake. "He thinks about both what the law is and what it should be. His reputation in higher education circles is well-deserved."
A national higher-ed thought leader
Every spring, Lake and his team host the National Conference on Law and Higher Education, a major event held on Clearwater Beach. It's an event that draws stakeholders and decision-makers from across the country from all aspects of higher education, from campus safety officers to legal counsel to executive leadership. Lake often hosts webinars for national audiences of higher-ed industry members on emerging topics like changes to Title IX, and frequently speaks to local and national media outlets on the many challenges facing the sector, such as how campus health centers in some states will adjust to a post-Roe world.
"He sees the whole playing field when it comes to the issues facing higher education, be they legal, law enforcement or public perception-related," Haggerty, who has collaborated with Lake on the conference over the last several years, said. "He is not just a friend and colleague in these thought-leading exercises, but also a mentor, leading everyone in the process towards asking the right questions before thinking about answers."

Stetson Law alumnus Blaze Bowers, J.D. '21, who helped coordinate the new award, called it "an honor to organize this for one of my closest friends and dearest mentors."
Interested members of the Stetson Law community can contribute a gift to this fund by visiting the Stetson Law donation page and specifying that they'd like to give to the Peter F. Lake Award.
---
Post date: Aug. 26, 2022

Media contact: Kate Bradshaw
[email protected] | 727-430-1580