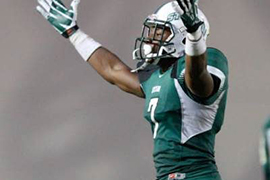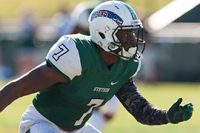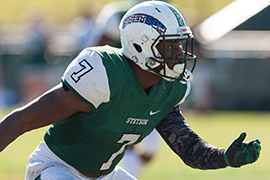 The three-day 2017 NFL Draft had just ended late Saturday afternoon, April 29, and some of Donald Payne's friends already had departed his home in suburban Atlanta. They left him with condolences and well wishes.
Payne, a four-year Stetson star, his conference's three-time Defensive Player of the Year and an All-American, wasn't chosen among 253 players in seven rounds of the National Football League's college player-selection process. The call from an NFL coach he had been waiting for, the one he'd been training for since the Hatters' final game last November, didn't come.
In the following hour, seemingly hours, his cell phone did ring a few times. But they weren't real. Some were from teams asking the standout safety to "try out." The offers were appreciated and discussed, with his mother, Sylvia Payne, sitting at the dining-room table with son and his agent, Josh Apple. But each agreed to decline.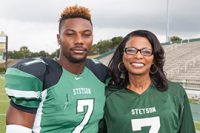 "We just thought with the caliber of player I was that I'm not a tryout guy," Payne explained.
Then, finally, it happened.
"I got a call and said, 'Yes sir, yes sir.' And everybody [remaining at his home] got quiet and started pulling their camera phones out. After my agent and I finalized the deal, I just hung up and yelled out, 'I'm a Baltimore Raven!' That was a pretty amazing feeling."
Payne officially signs his part of an NFL contract on Thursday in Baltimore (and the Ravens website said he had been signed to the team on Friday, May 5).
He's the first Hatter to sign an NFL contract in the league's modern era and could be the first-ever, according to both Stetson head coach Roger Hughes and athletics director Jeff Altier. Neither has found documented confirmation. Stetson rebooted its football program in 2012 after a 57-year hiatus.
"I'm not trying to just be that first contract," said a still-exuberant Payne on Monday, May 1, about the distinction. "I want to be the first one to suit up in a true NFL game."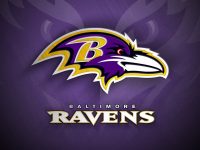 That journey officially begins later this week, when Payne also takes a team physical before participating in a three-day minicamp for all Ravens' rookies. He will be moved to the outside linebacker position. Measuring 6 feet and 225 pounds, Payne must show tenacity and sure tackling – just like he did at Stetson. He will return to Georgia for a week before heading back to Baltimore for Organized Team Activities – OTAs – his first interaction with current team members. He'll remain in Baltimore for about five weeks before having a few weeks to rest. Training camp begins in July.
Payne knows there are no guarantees. In the NFL, players can be cut from team rosters at almost any moment.
"There is no time to waste," he said. "Going to this rookie minicamp, I'm going to show them that they made the right choice in signing me."
Big Sigh of Relief
The excitement in Payne's voice is evident in describing his jubilation and anticipation. It's equally reflective as he details the disappointment of not seeing his name on TV. Well, there was one moment.
Late Saturday afternoon, the NFL Network aired video highlights of Payne just as the Los Angeles Chargers (newly relocated from San Diego) were making a seventh-round selection. Payne's appearance was coincidental, but confusion ensued in his household, as he began to receive congratulatory texts and calls.
"'I was like, c'mon, stop playing!'' he said about those calls. "There were mixed emotions, and I was a little confused. It was just bad timing." Typically, he noted, players receive an official team phone call prior to be selected. The Chargers picked someone else.
As it turned out, in the waning minutes of its telecast, the NFL Network began a contest with its audience of "stump the truck." Announcers asked viewers to tweet names of lower-profile players to see if their show producers had compiled information on them. When Chris Pagratis, a Hatter fan, tweeted the name of Donald Payne, NFL Network analyst Charles Davis immediately began extoling the virtues of player, his coach and the university. Davis, who previously had worked for the Sun Sports Network and was a radio personality in Orlando for a time, knew all about Stetson football and heaped praise on the Hatter program as Payne's highlights were shown.
In retrospect, it was a light moment on a mostly dark Saturday afternoon. As the draft wore on, Payne's nerves frayed. "I was saying, 'I just want to get drafted. I just want to get drafted.' I want to see my name on the screen," he said.
Doubts crept into his mind. "At first, I was getting kind of paranoid and anxious. And I started second guessing," he said. "I was told by my agent I could be drafted in maybe the sixth or seventh round. I was kind of psyching myself out. I looked around at my plaques from football in my house. I was thinking, 'I hope all of these plaques didn't go to waste.' Then I thought, 'Somebody needs to pick me up because I know I can make it to the next level – not only make it but play at that level.'"
Those negative thoughts didn't last.
"My mom is a praying mom, and I'm a pray warrior. So, I just stuck with it," he said.
Now, Payne is a Baltimore Raven.
-Michael Candelaria
In this video, analyst Charles Davis extols the virtues of player, coach and university. Video courtesy Yvette M. Cox of Stetson Sports Medicine.