Justice Yates '23: Singing Sensation Surprise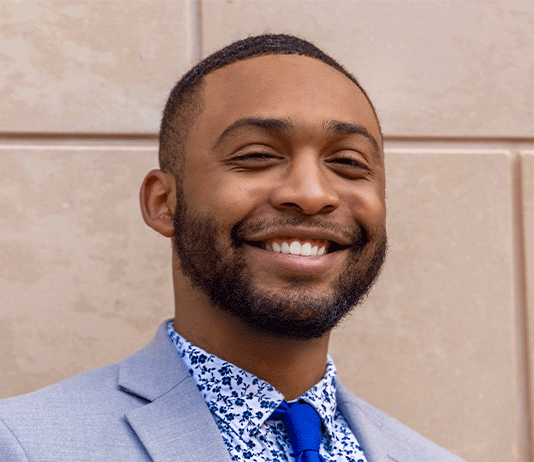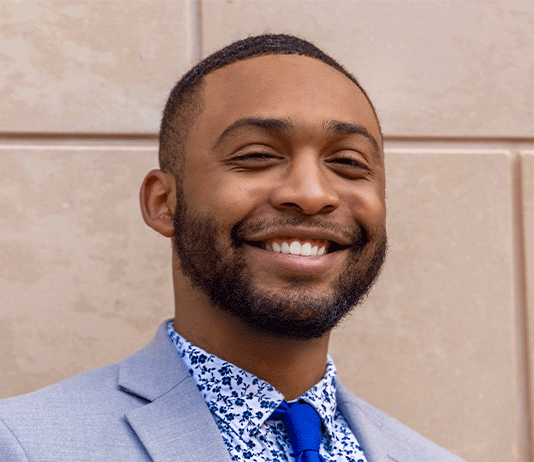 File this story of achievement under the heading "School of Music: Former Tuba Student Turns Into National Award-Winning Singer."
That's exactly what happened to Justice Yates '23.
With instrument in hand and plans to become a band teacher, he arrived at Stetson from Tavares High School, only about 35 miles from the campus. Yates, however, certainly has journeyed far in only two-plus years.
In mid-July, Yates took first prize from the National Association of Teachers of Singing (NATS) in his category — Lower Classical Tenor Baritone Bass Voice.
Yes, he won as a singer.
Founded in 1944, NATS is the largest professional association of teachers of singing worldwide, with more than 7,000 members across the United States, Canada and approximately 35 other countries. Each year, NATS hosts National Student Auditions, a competition and educational experience, where thousands of high school and college students gain instruction and perform through several rounds in multiple categories. This year, in a virtual setting, there were a record-breaking 1,148 applicants throughout the United States and Canada.
And, in the end, Yates was a winner, receiving impressive professional praise along with $1,200 in prize money — even though he still doesn't quite know what to think about it.
"I'm thinking that maybe some people are going to try to contact me in the future and arrange a couple more interviews, which will be great," he said modestly. "I'm really flattered. I think that's amazing that I get to have some exposure."
Throughout the rounds of competition, the comments from judges were consistently good, citing his tone, which they described as "centered and direct."
Still, Yates sounded sheepish about all the attention.
"It's really hard to get that [tone] sometimes when you are trying to understand the mechanism of the voice. To hear all of them say that, it's really, really, really nice of them. It lets me know that I'm doing at least one thing right," he said with a laugh.
Yates didn't begin singing until his senior year at Tavares High, when he joined the choir. A longtime member of the school band, he had sung on occasion with the band and was noticed by the choir director. "He really needed some guys. And I was like, 'Yeah, I have nothing else to do my senior year. So, I might as well just join the choir,'" Yates recalled.
It turned out to be his aha moment.
"After I joined, I just realized there's this whole world of music that I was not even familiar with, that I loved even more than the world of music that I was in before."
Consequently, as a first-year student at Stetson, Yates made an immediate change that, he noted, wasn't a difficult decision. He switched majors from instrumental to voice.
Then, gifted with a booming voice, Yates grew as a singer under the tutelage of faculty at the School of Music, particularly his studio instructor, Jane Christeson, MM, professor of music/voice.
Yates originally had been attracted to Stetson by its small-class environment and promise of one-on-one instruction. He hasn't been disappointed. He has his own words of praise for Christeson, as well as for other members of the music faculty.
"Any time that a new student is thinking of coming into Stetson [School of Music], I always, always tell them that is one of the main things I'm excited for, and I'm most pleased with at Stetson, is the amount of support that you get from every single faculty member.
"Everyone here is always ready to help you and allow you to succeed at the best of your ability. … Without their help, I wouldn't be doing any of this."
Not coincidentally, Yates leaned on the faculty during his preparation for the NATS competition, as well as in the song selection for his winning performance (on YouTube above).
Yates chose a song by an artist he had learned about from Christeson. The song was "For You There is No Song" by Black American composer H. Leslie Adams, known for his moving lyrics and spiritual compositions.
In his performance, Yates, of course, delivered.
While such as story isn't a surprise to new School of Music Dean Washington Garcia, DMA, it is, as the saying goes, music to his ears.
"The level of excellence we have at the school of Music is just huge; it's a very, very high-level," Garcia commented. "This is one more opportunity for us to demonstrate, and to share with the world, the quality of training our students are receiving.
"Obviously, this is a huge accomplishment for Justice, for his dedication and for his work, but this award is not just for Justice. It's an award for our entire voice faculty and School of Music at large, because we're all part of the same team. … This is a testament of what our faculty bring to the table in the process of identifying, training and following up with students."
Quite apparently, that statement rings true, whether the student plays an instrument or sings. Just ask a former tuba player.
-Michael Candelaria