Students learn about investing through Hatter Angels Network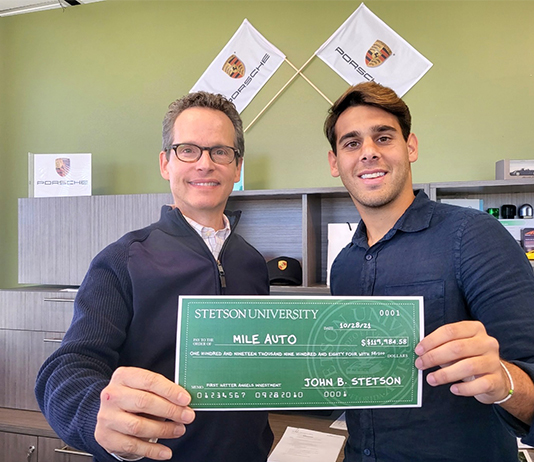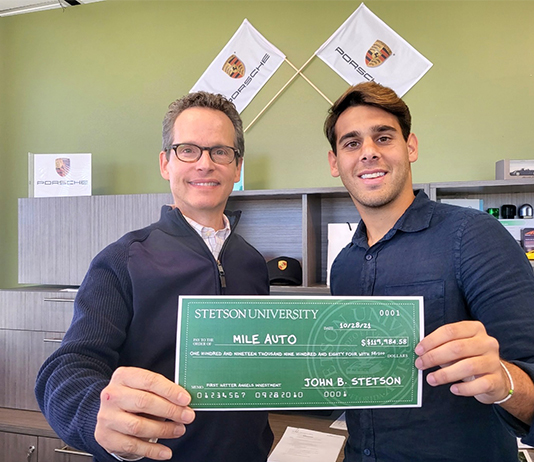 Last April, senior Guilherme Pinheiro was a member of a student team pitching startup companies to a group of investors composed of Stetson University business alumni.
The competition was the debut event of the Hatter Angels Network, a venture capital pilot program of the Joseph C. Prince Entrepreneurship Program. As part of the pilot, students conduct "due diligence" – that is, research – on real-world startup companies for potential "angel investors" from outside the university.
The students' research and recommendations are then used to help investors determine whether to commit funding to a company.
In late October, Pinheiro personally presented Mile Auto, an Atlanta-based, pay-per-mile car insurance company that he had vetted, with a Hatter Angels check for $119,984.58. The funding is the network's first real-world investment. The funds were provided by five of the nine Stetson alumni in the Hatter Angels Network, who decided that an investment in Mile Auto is a good risk. (No university money is used in the program.)
"The industry of venture capitalism is very risky," said Pinheiro, a Brazilian-born, senior Business Administration major with a minor in Finance. "It's definitely nerve-racking for students to analyze and recommend a company for actual investment. Money is on the line. The whole plan for the startup, that's on the line as well. But Mile Auto is a great company and we hope that is the first of many investments."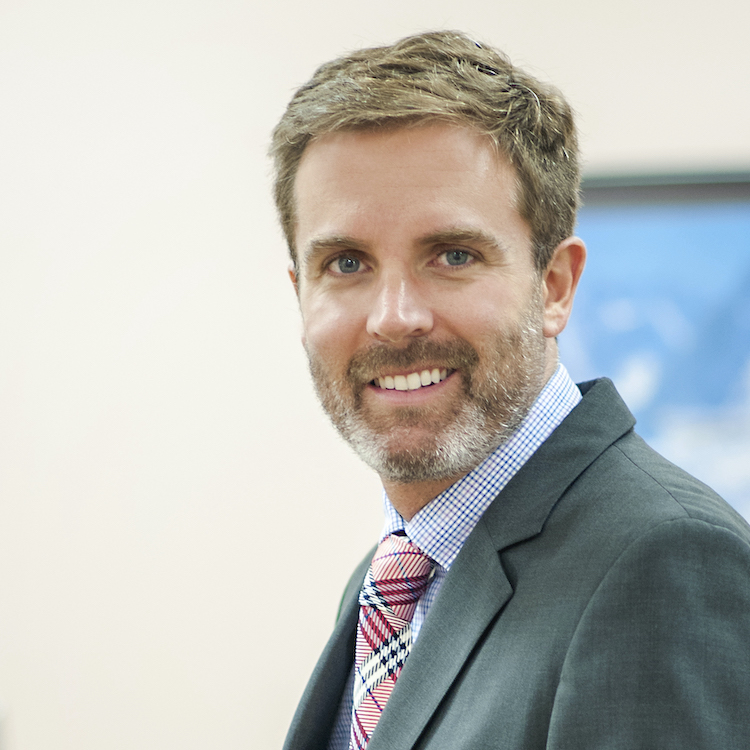 Despite making its first investment, the Hatter Angels Network is still in the pilot phase, said Lou Paris, MBA, director of the Prince Entrepreneurship Program.
"We are now looking at the longevity of the program and to make it happen we are taking baby steps, making sure that the investors are comfortable working with the university, that the university is comfortable working with them, and that we do have a demand for the program," Paris said.
"One of the things we are looking at doing is asking the Hatter Angels to organize as a formal entity, so that every semester we have someone who is committed to taking calls from the students, who is willing to meet with the students on a regular basis," he said.
"Once we are able to clear that, we would transition from calling this a pilot program to calling it a signature program, because that is the goal – the goal is to turn this into a signature program that students specifically enroll for at Stetson."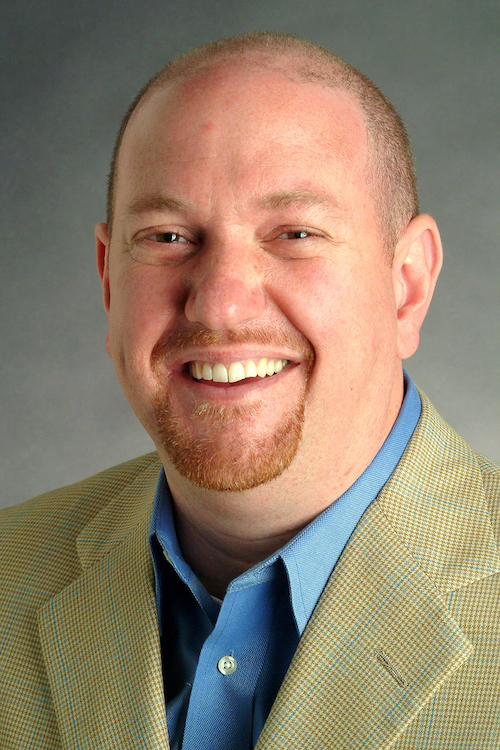 Dan Glunt, a '93 Stetson graduate in Business Administration and a member of the Entrepreneurship Board of Advisors, and Milt Douglass, MBA '83 and a member of the School of Business Administration Board of Advisors, conceived the idea of the Hatter Angels Network "over a couple of beers" several years ago, Glunt said.
They were further motivated to create the program when researching the idea and a Google search turned up a 2009 white paper on venture capital written by Stetson professors Bill Andrews, PhD, associate professor of management, and John Tichenor, PhD, chair of management.
Along with conceiving the program, Glunt and Douglass are both actively involved with students participating in the pilot as well as those taking this semester's new ENTP 452 Venture Capital and High-Growth Entrepreneurship course taught by Andrews.
"Part of what has made the Hatter Angels successful is that we are bringing these outside stakeholders, all of them alumni, who are very successful," Paris said. "Because they are successful, the students naturally gravitate to them."
With Douglass engaged this semester in California, Glunt is visiting Andrews' venture capital class every other Monday, while Douglass will take the lead this spring.
"We rotate it to give perspective, to give color commentary, to give some real-world application to it," said Glunt, a Ponte Vedra Beach resident and entrepreneur whose email tag reads, "investor and mediocre fisherman." "We've also brought in an intellectual property and patent attorney, and other speakers."
The Hatter Angels Network brings benefits for students, the university and the investors, Paris said.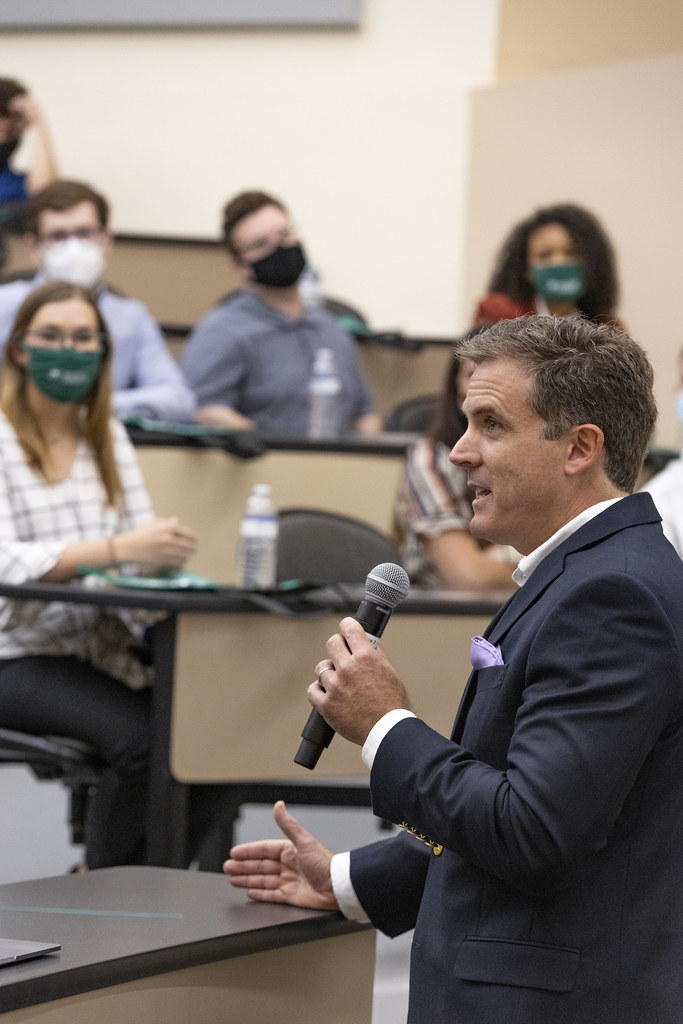 "For students, it's a unique opportunity to get practical experience and theoretical knowledge of the venture capital world — how to detect opportunities within startups, how to conduct due diligence to analyze those businesses and make investments," he said.
"From the perspective of the Hatter Angel investors themselves, this is a great opportunity for them to give back to the school in a couple of ways. The most palpable and immediate way is that they are actually giving their time to the school to work with the students.
"The second way they are giving back to the school is that 50 percent of any profit generated by these investments would go back to the university. They could very well say, 'We are taking on the entire risk here and we are not giving anything to the university,' but they have vowed to give 50 percent back to the school, which I think is awesome and honorable."
For Pinheiro, the senior business major, "getting hands-on experience is definitely one of the benefits" of the Hatter Angels program. That included a recent day-long visit to Mile Auto headquarters in Atlanta, where he presented the Hatter Angels investment check. Pinheiro was chosen for the honor by Paris and Glunt, based on his academic achievement, attendance and "attitude," Glunt said.
"It was an amazing experience to be there and spend the day with executives and employees as well," said Pinheiro, who recently concluded his career as a player on Stetson's men's soccer team. "The culture they have established there is amazing. I was able to observe their professionalism and their expertise as well. I don't think many college students have had the chance to actually attend the board meeting for an amazing startup like Mile Auto."
The program also led to a personal "investment" for Pinheiro — in his future.
"Learning what goes on in a startup, being involved with investors developed a huge passion in me for venture capitalism," he said. "So, I can say the Hatter Angels Network now shapes what I'm going to do in the future, which is to work with venture capital."
— Rick de Yampert