Deputy VA Secretary Tours Stetson's Veterans Law Institute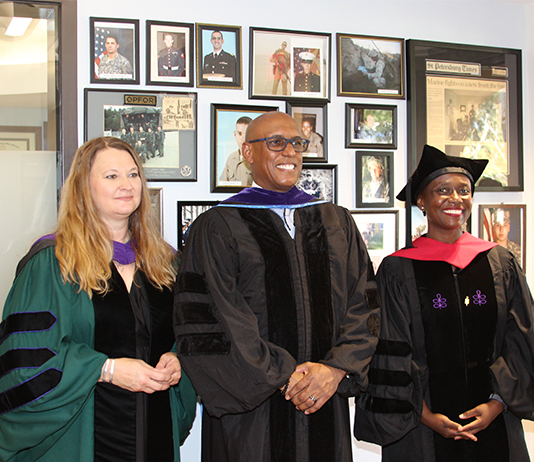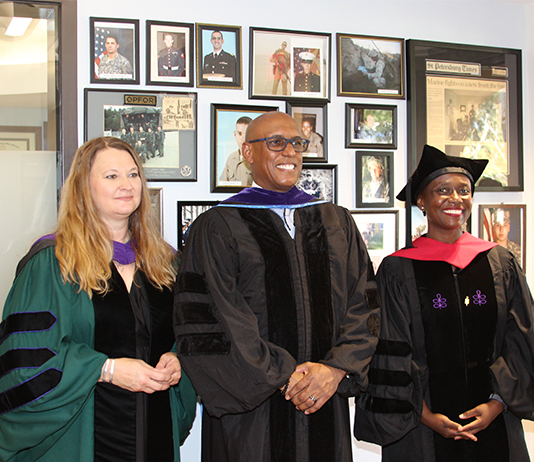 Amid the bustle of graduation-day activities, Deputy Secretary of the U.S. Department of Veterans Affairs Donald Remy carved out some time for a tour of Stetson Law's Veterans Law Institute.
Between the first and second of the three graduation ceremonies that took place Saturday, May 14, Remy, who delivered the Commencement address at all three, joined Professor and VLI Director Stacey-Rae Simcox, Dean Michèle Alexandre, staff members and graduates at the state-of-the-art facility.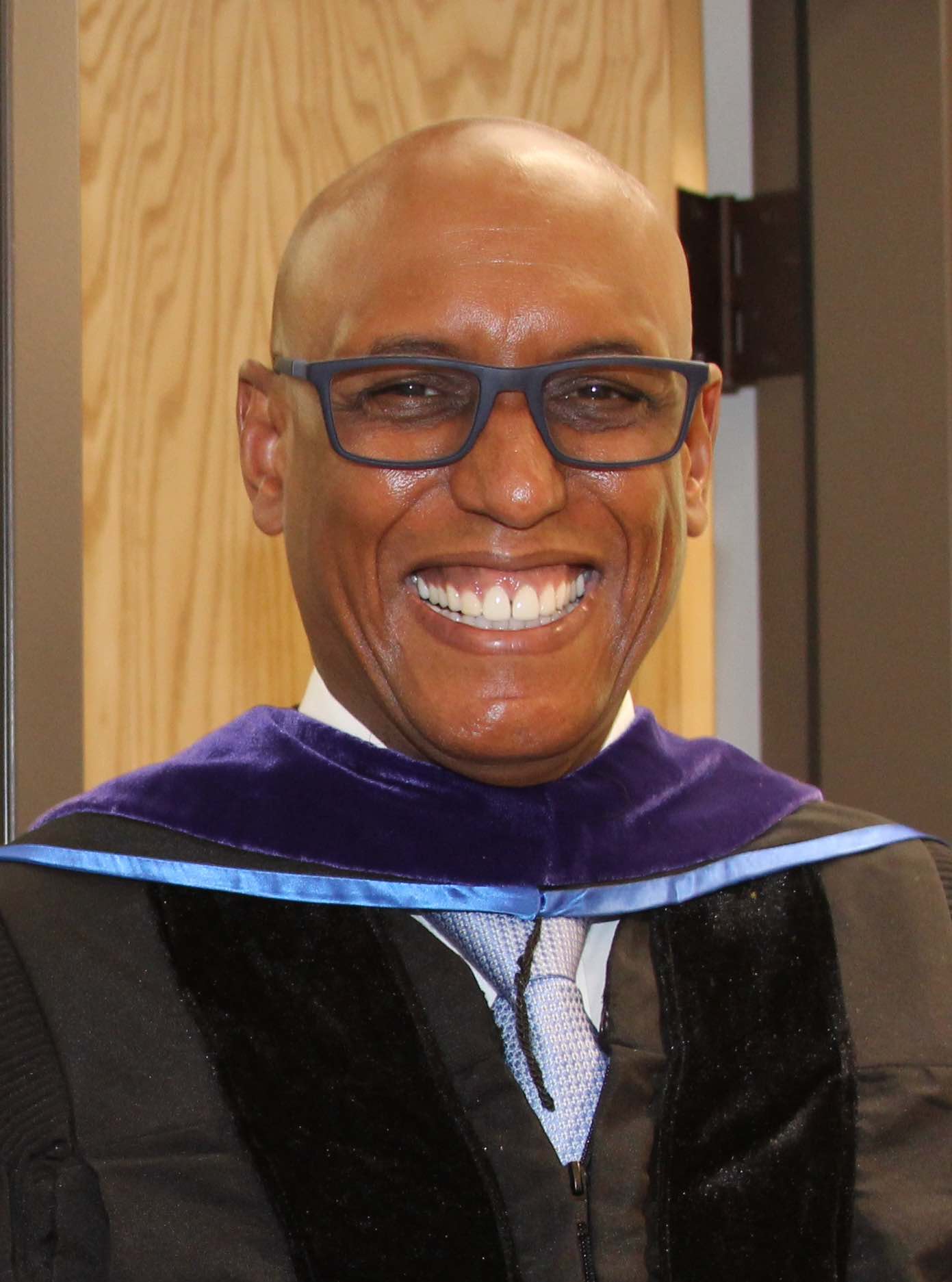 "I wanted to come back and visit here just to see the place and see where you guys congregate, where you study, where you learn and where you build your future. Because it's in your hands – you know that, right? It's all about tomorrow," Remy said.
A space for veterans
A veteran himself, Remy learned about how the building was outfitted with veterans in mind.
"This building is specifically designed for disabled veterans – both students and our clients who come in," Simcox said.
Those affected by post-traumatic stress disorder will find curved ceilings and no hidden corners. The rooms are acoustically soundproofed for the comfort of those with tinnitus or hearing loss and outfitted with variable lighting that can be adjusted for student comfort.
During the tour, Simcox and graduates Barrett Hand, Andrew Zacherl, Richard Harrylal and David Hines explained the types of cases the VLI assists with and the work the students do for veterans to improve their lives.
Remy noted how rare entities like the VLI are, and commended the team for their work on behalf of veterans.
Supporting the VLI mission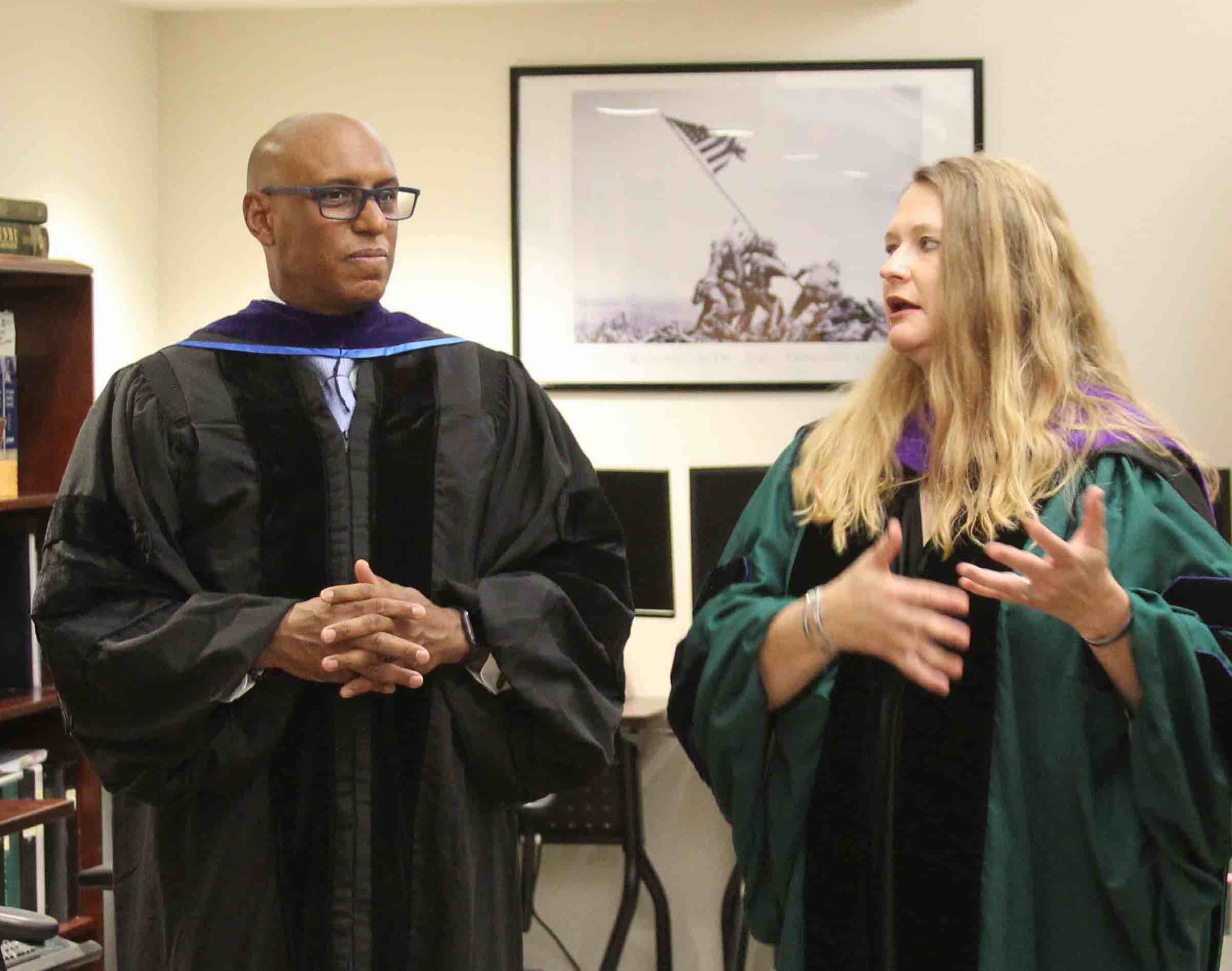 Simcox said Remy's visit to the VLI was important to its students and clients.
"The VA has been very supportive of veterans clinics at law schools across the country," Simcox said. "VA's relationship with these clinics and their students has truly impacted the future of veterans law and encouraged law students to practice veterans law and to help veterans pro bono in the future."
The VA also supported the creation of the National Law School Veterans Clinic Consortium, a nonprofit founded by Stetson's VLI and two other law schools, which currently has members from 35 other law schools. In 2018, the agency appointed the Consortium as a Veterans Service Organization.
With help from volunteer lawyers, partner organizations, students and others, the Veterans Law Institute aims to provide legal services to current and former members of the military throughout the Tampa Bay region who need it. Through the Veterans Advocacy Clinic, Simcox oversees students as they gain experience helping veterans appeal their cases when the U.S. Department of Veterans Affairs denies disability benefits.
See full coverage of Stetson Law's Spring 2022 Commencement events, including video and excerpts from Deputy Secretary Remy's address.
Media contact: Kate Bradshaw
[email protected]