Hatter Angels Network Takes Flight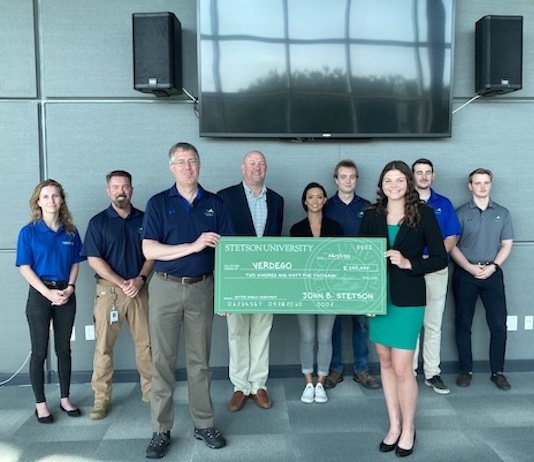 Let's have a little fun and label this a promising program with … wings.
In April, several teams of Stetson entrepreneur students pitched investment opportunities in start-up companies they had vetted to a group of angel investors made up of Stetson alumni. As a result, the group, the Hatter Angels Network, invested in two Florida companies: VerdeGo Aero in Daytona Beach (for $265,000) and Xendoo in Fort Lauderdale (for $135,000).
Formal check presentations were made in mid-June in both Daytona Beach and Fort Lauderdale, and the program shows the potential to really takeoff.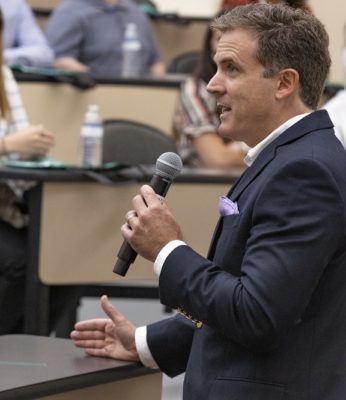 The entrepreneur students are part of a class that was established during Stetson's Spring 2021 semester and is taught by Lou Paris, assistant professor of Practice, Management and assistant director of Stetson's Joseph C. Prince Entrepreneurship Program. In the class, the students research actual companies to present to the Hatter Angels Network, which is comprised of Stetson alumni who are accredited investors.
The network was co-founded by alumni/angel investors Dan Glunt and Milt Douglass. Douglass earned both bachelor's and master's degrees from Stetson in 1982 and 1983, respectively. He's now a Stetson adjunct professor. Glunt graduated from Stetson in 1993.
Learning by Doing
In their research, the students analyze data such as company financials and interview company leadership to assess growth goals. The purpose of the program is twofold: 1) to expose students to real-world examples of the venture capital world, and 2) to impact local start-up companies with local investment dollars. A percentage of the investment gains goes back to Stetson's School of Business Administration.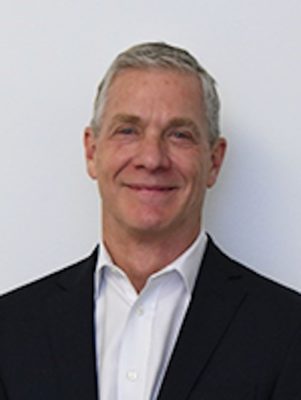 While the student-run initiative is still in its infancy, the class is quickly becoming one the most popular at Stetson. The Spring 2022 class consisted of 15 students, who reviewed 30 companies and made five investment recommendations under the supervision of Paris, Douglass and Glunt. Following each investment selection by the Hatter Angels Network, a student becomes a board adviser at that company.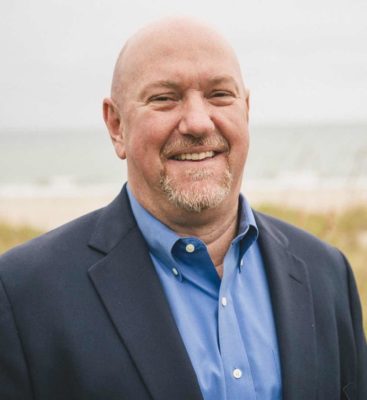 In 2019, Douglass and Glunt first explored the idea of a new signature program focused on investing in private companies. They stumbled on a 2007 white paper written by Stetson associate professors William Andrews, PhD, and John Tichenor, PhD. The idea was analogous to Stetson's acclaimed Roland George Investments Program, which focuses solely on public companies.
'Win-Win-Win'
"This entrepreneurship program is a win-win-win situation for both the students who gain real-world experience in the venture capital space as well as the benefactors and the investors," Paris said. "I continually hear from former students who say, 'I wish that program was available during my time at Stetson.'"
"Dan and I spent a couple of years on the School of Business Administration Advisory Board," explained Douglass. "The school was searching for new signature programs to draw students, such as Roland George and the Centurion Sales Program. Since Dan and I are active investors, we thought, 'Hey, why not teach the students how to conduct due diligence for us, expose them to startups, and give them an experiential learning opportunity by meeting with the CEOs and possibly board seats.' After a few conference calls to broach the idea with the School of Business Administration, Professor Paris ran with it. This program is shaping into the vision Dan and I originally had back in 2019."
"Working with the students and watching their development is the most rewarding part," Glunt commented. "We completed our third semester and have had three students take the class a second time. We even have one taking it again this fall. I don't think that has ever happened in Stetson's history. It is a testament to the level of student engagement — they are excited to learn!"
Investment Recepients
Appropriately, VerdeGo Aero, one of the two companies receiving an investment, is a leader in hybrid-electric propulsion technologies for the next generation of aircraft. Founded in 2017, the company enables its customers to develop electric aircraft that meet demanding mission requirements while also complying with high regulatory and safety standards required for commercial or military flight operations.
The other investment recipient, Xendoo, is a cloud-based fintech company that provides small-to-medium-sized business owners with a wide variety of accounting tools and resources delivered via proprietary technology and speedy service — all with the goal of ensuring real-time data and speedy financial transparency to businesses.
–Michael Candelaria