'The Future Is Before Us': Stetson Dedicates Brown Hall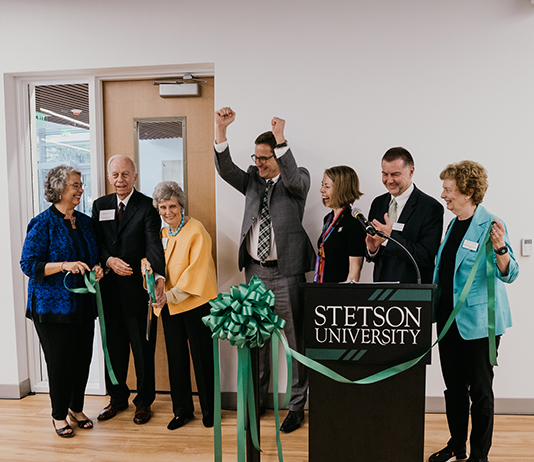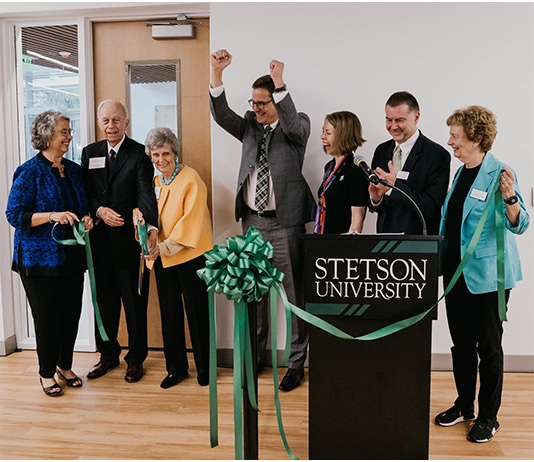 "Brown Hall is more than a building — it is a testament to the spirit of Stetson University, and what we can do together as a community."
With that statement by Stetson President Christopher F. Roellke, PhD, the Cici & Hyatt Brown Hall for Health & Innovation — a two-story 40,000-square-square building for science and synergy on campus — was officially christened as a part of the university's foundation for the future.
The dedication and ribbon-cutting ceremony was held on campus Oct. 28.
Brown Hall is scheduled to open in time for Stetson's Spring 2023 semester. Construction began in June 2021.
Roellke, standing at the podium, explained what Brown Hall — as it's affectionately called — means to Stetson: "It symbolizes Stetson's unwavering dedication to a high-quality academic experience that is relationship rich and highly collaborative across the academic disciplines," he said.
Specifically, Roellke talked about celebrating the Stetson Student Experience by providing ample hands-on opportunities for research with faculty and related endeavors. He noted the new building enables Stetson to meet the demand among prospective and current students interested in the health care industry — with the sciences among the most popular majors on campus. Also, he pointed to a commitment to join hands with both the local community and area health care partners to build healthier communities and ensure that more students are prepared for health care careers.
"Brown Hall brings together an array of academic disciplines in collaboration," Roellke concluded. "That collaboration is essential for the growth and discovery of new ideas, and our ability to problem solve and think critically about the issues that confront us in the world."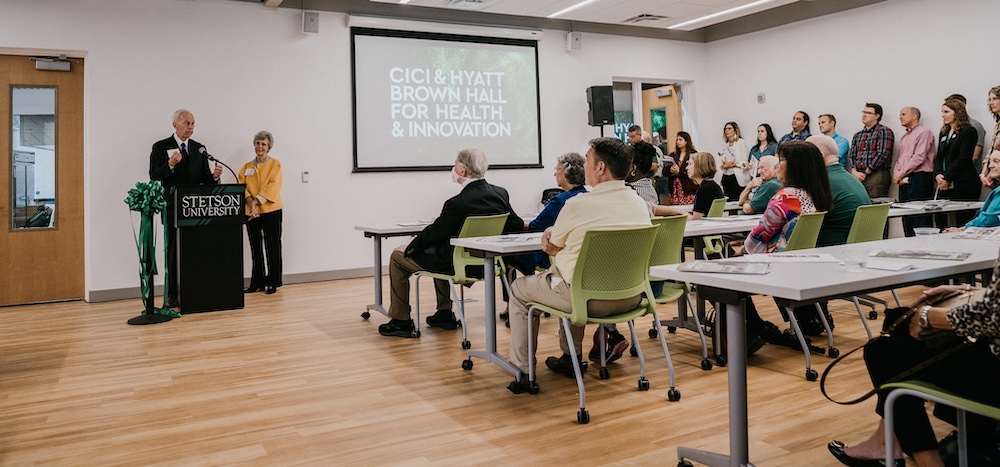 The Friday afternoon ceremony — attended by students, faculty and staff, along with industry partners, local officials and the university's Board of Trustees — was everything one would expect from a milestone moment for a university on the move. Excitement was distinctly in the air. And, while the original setting, just off the Stetson Green, was moved indoors to avoid a chance of rain, appropriately, the event was held in Brown Hall's largest classroom, outfitted in green and with an overflow audience.
Roellke's words were followed by brief comments from Stetson Board of Trustees chair Maureen Breakiron-Evans and Elizabeth Skomp, PhD, dean of the College of Arts and Sciences. Each shared deep gratitude, and Skomp detailed both the extensive visioning process and the promise of a "future-focused" and "science-focused" complex.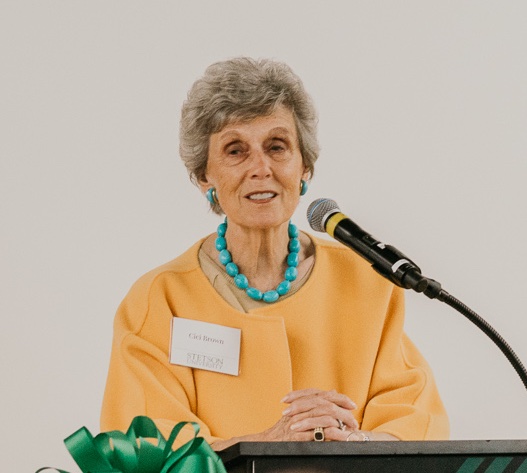 Emblematic of students who will occupy the building, Kaira Thevenin, a junior majoring in health sciences and minoring in chemistry, spoke about her passion for science. Representatives from Harvard Jolley Architecture; and Williams Company, the general contractor, also took to the podium. And Stetson Provost Noel Painter, PhD, called the new building a "launchpad for learning" and cited a "powerful mission." Notably, Painter was central to the visioning process from day one.
Then the attention turned to the guests of honor, Stetson benefactors and longtime university trustees Cici and Hyatt Brown. They were greeted by loud, lengthy applause that were repeated multiple times.
In April 2018, the Browns presented Stetson with an $18 million "investment" to elevate health and science education on campus and throughout the local community. The new building connects with the existing Sage Hall, which was renovated last year, essentially establishing a multidimensional, collaborative science complex.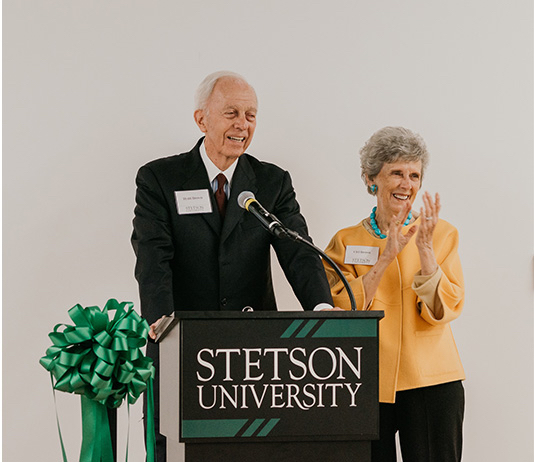 Within the College of Arts and Sciences, Brown Hall will be home to the Center for Optimal Health Across the Lifespan; Environmental Science and Studies; Health Sciences; Public Health; Sustainable Food Systems; and the graduate program in Counselor Education.
Mostly, Brown Hall sets the university on a new trajectory of science and health impact, as well as lasting growth, said Cici Brown at the podium.
"I have a distinct feeling we're going to find some incredible activity coming out of this beautiful facility," she gushed.
"We think this is an open door to a whole new facet of Stetson's existence. We're expecting great things."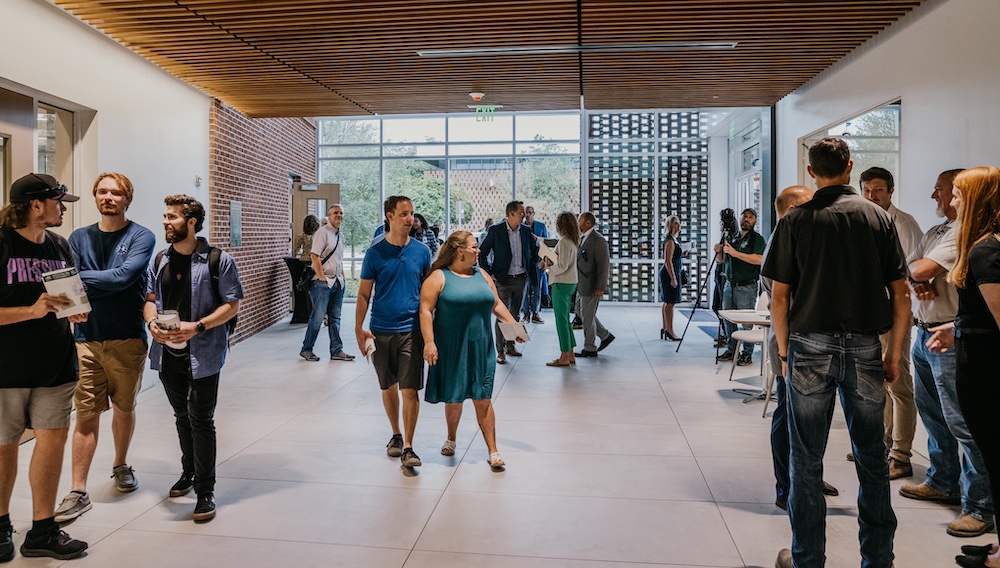 Hyatt Brown's comments centered on the importance of giving back and opportunity going forward.
"Part of what we're doing here at Stetson is we're bringing about the opportunities for people … to attract more and better students, to prepare them for their future," he said. "And that's very important because this university has a great past and a great present, and the future is before us."
Finally, the ceremonial ribbon was cut to conclude the formalities, but not without Cici Brown having one parting comment: "Now, let's make this work!"
-Michael Candelaria