Stetson Law's Lambda Chapter Hoists Flags for Pride 2022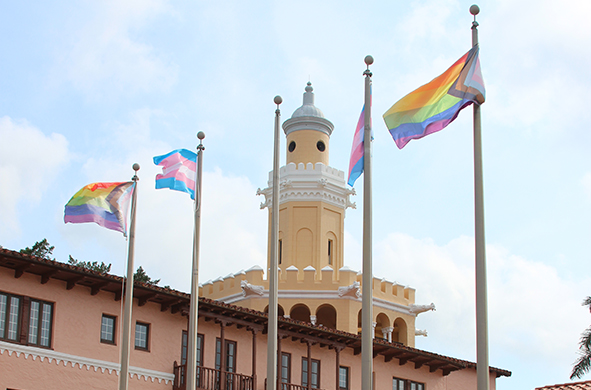 Ahead of a busy weekend full of Pride festivities in St. Petersburg, Stetson's chapter of Lambda Legal Society, a student organization for LGBTQ+ students, raised two Progress Pride flags and two Trans Pride flags on a poles in the Sebring Horseshoe Courtyard. The event took place Friday afternoon with members of campus leadership and staff gathered to celebrate with students.
It's the second year the flag has flown on Stetson Law's grounds. Lambda Legal Society officials say the flag signifies the LGBTQ+ community's enduring legacy in the community and beyond.
"Raising the Pride flag for the final days of Pride Month is a personal reminder that our community will keep rising even when the glitter and beads are swept up," said Lei-Lani Rogers, president of Lambda. "The Pride we infuse in our actions and our identities is more than just a month. It's who we are, and I'm always overjoyed when we can share that with others."
Lambda Legal's campus activities throughout the year have also included extensive participation in Diversity Week events earlier in the year, tabling on campus, distributing pronoun pins to help normalize the use of preferred pronouns, and participating in local Pride events. On Sunday, June 26, Lambda Legal members will have an outreach booth at St. Pete Pride's street party event in the city's Grand Central District.
Just like these efforts, flying Pride flags in such a prominent place on campus signifies the College of Law's commitment to diversity and inclusion, particularly through advocacy.
"We are here as passionate advocates of justice for all in support of Lambda Legal Society," said Stetson Law Interim Dean Theresa Pulley Radwan. "We celebrate the LGBTQ community today and every day."
The flag also sends a signal that to members of the LGBTQ community who might be considering a career in law that there is a place for them at Stetson Law.
"Raising the flag is on campus is a message to any aspiring law student that our community is alive and thriving in the legal sphere," Rogers said. "Even more important, our foundation, our school, is standing with us."
The Progress Pride flag will be on display through June 30.
Learn more about Lambda Legal Society.
---
Post date: June 24, 2022

Media contact: Kate Bradshaw
[email protected] | 727-430-1580