Stetson Law Alums Honored at '22 Florida Bar Convention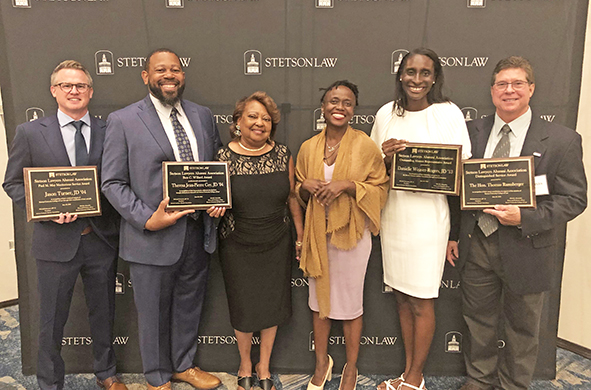 Amid the buzz of the Florida Bar Association's annual convention in Orlando, the Stetson Lawyers Alumni Association (SLAA) honored five Stetson Law community members with prestigious awards recognizing their selfless service. Given out during a reception Thursday, June 23, the awards highlighted the diverse ways these alumni and friends have helped Stetson Law flourish as an institution.
The first in-person SLAA awards ceremony since the Covid-19 pandemic began, it was a chance to reconnect with friends and colleagues from the Stetson Law community.
"After a multi-year hiatus, it is refreshing to gather together as a community here at the Bar Convention," said Stetson Law Dean Michèle Alexandre. "I am overjoyed to see so many familiar faces in the crowd tonight – many of whom I have not seen in-person for quite some time."
After the dean updated attendees on recent developments at the College of Law, including the construction of the new Advocacy Institute, SLAA president Mitch Schermer took to the podium, where he handed out five awards to individuals who, through their deeds and actions, personify what it means to be a Stetson Lawyer.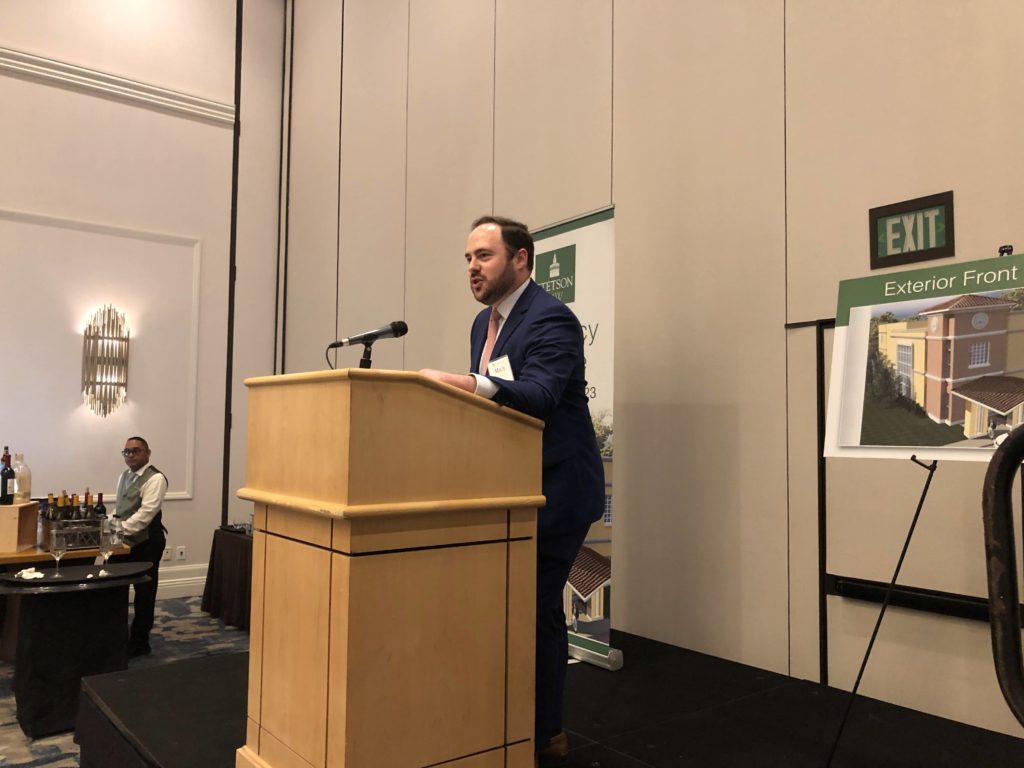 The awards were: Outstanding Alumni Representative, Distinguished Service, Distinguished Alumnus, the Paul M. May Meritorious Service Award, and the Ben C. Willard Award.
Outstanding Alumni Representative Award: Danielle Wever-Rogers '13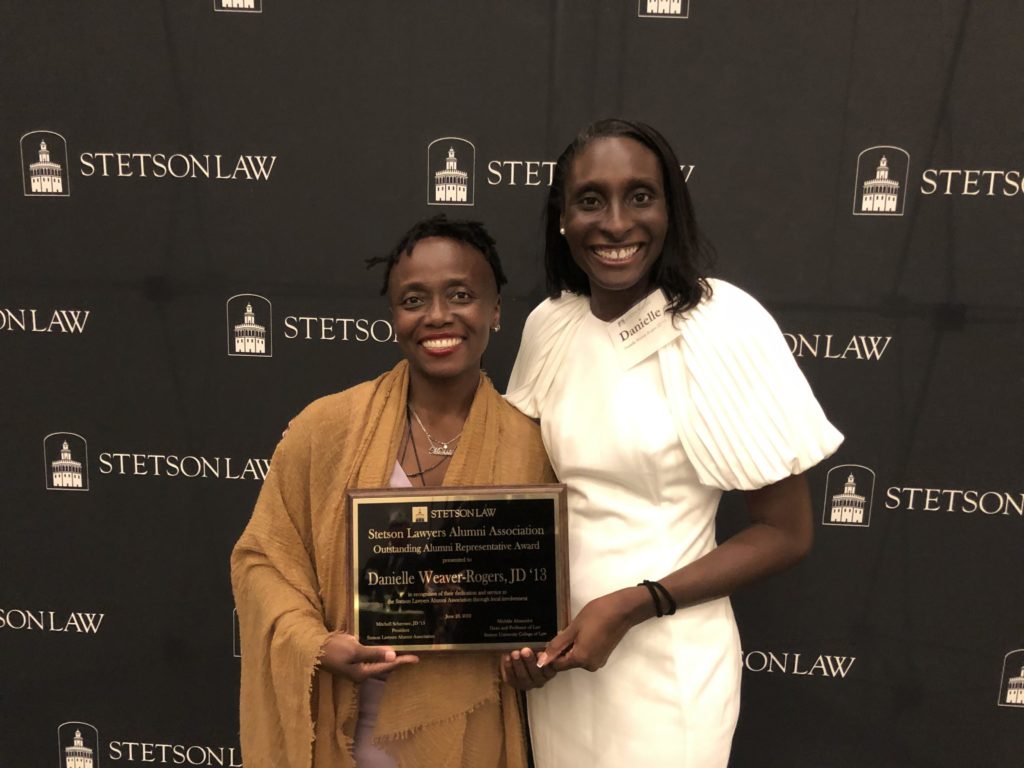 Every year, this award is given to someone whose involvement with SLAA through local activities goes above and beyond. Wever-Rogers, a 2013 Stetson Law Graduate, is a member of the College's SLAA Advisory Council and worked closely with the Black Law Students Association (BLSA) to help plan and raise money for their Spring Gala. She is an assistant city attorney with the City of St. Petersburg and is also an adjunct professor at Stetson Law.
Distinguished Service Award: The Honorable Thomas Ramsberger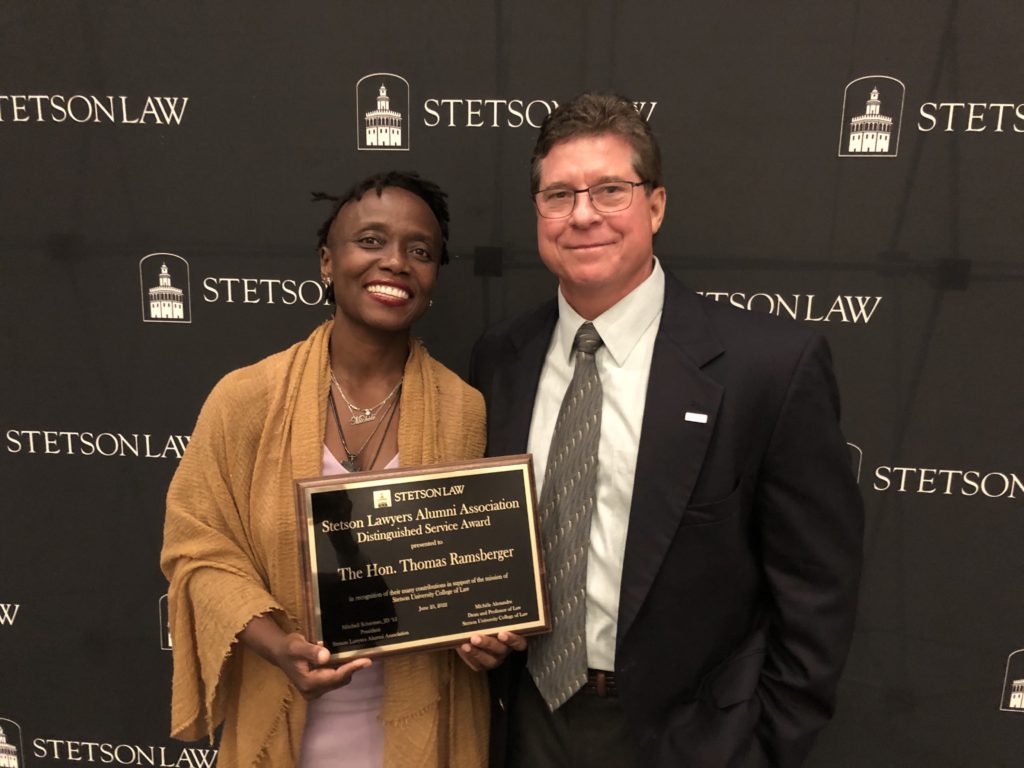 This award is reserved for non-alumni whose contributions to Stetson Law have been significant, meritorious, and continuing. As a beloved adjunct professor with over 20 years of dedicated service to the college of law, The Hon. Thomas Ramsberger has impacted hundreds, if not thousands, of alumni.
Distinguished Alumnus: Christopher Dougherty '85
Recognizing alumni who have brought honor to themselves and the College of Law through outstanding service in their chosen profession, this award was given to Dougherty for his extensive legal career and military service. Dougherty is Chairman Emeritus at Marshall Dennehey Warner Coleman & Goggin, where he practiced for more than 31 years. He also served 26 years of active and reserve service as a Marine colonel, having served as a General Courts-Martial certified Military Judge. Currently, he serves as a member of the Veterans Law Institute Advisory Board and has endowed the Colonel William R. Eleazer USMC and Brigadier General James P. King USMC Veterans Scholarship to help veterans who attend Stetson Law.
The Paul M. May Meritorious Service Award: Jason Turner '04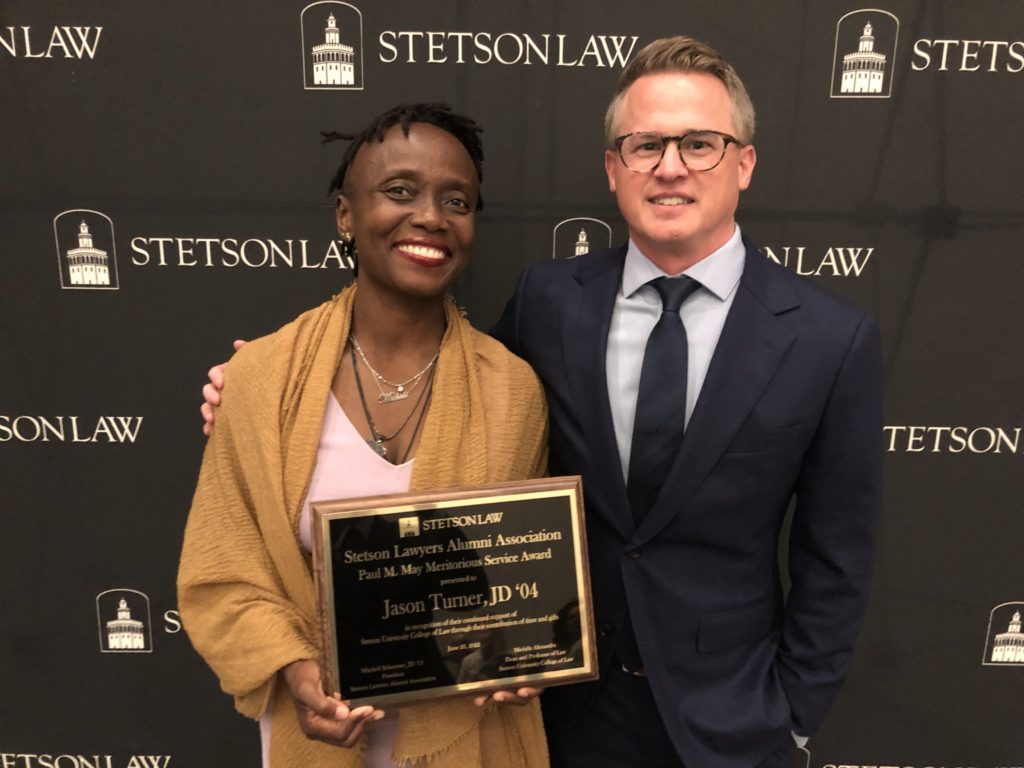 Named for 2021 Stetson Law Hall of Fame Inductee Paul Marshall May, known for his extraordinary efforts to evolve SLAA into the robust group it is today, this award recognizes alumni who have offered sustained support of Stetson Law through contribution of both time and gifts. Honoree Jason Turner is a Partner with Keller, Turner, Andrews & Ghanem in Nashville, Tennessee, where he practices entertainment and sports law. He is a member of the Stetson Law Board of Overseers, serving as Secretary of the Board and Chair of the Finance Committee. He has been extremely generous in his financial support of Stetson Law, where he endowed the LeRoy Y. Hooks Elder Law Scholarship and provided a significant matching gift to support the 2022 spring giving campaign.
The Ben C. Willard Award: Theresa Jean-Pierre Coy '04 (posthumous)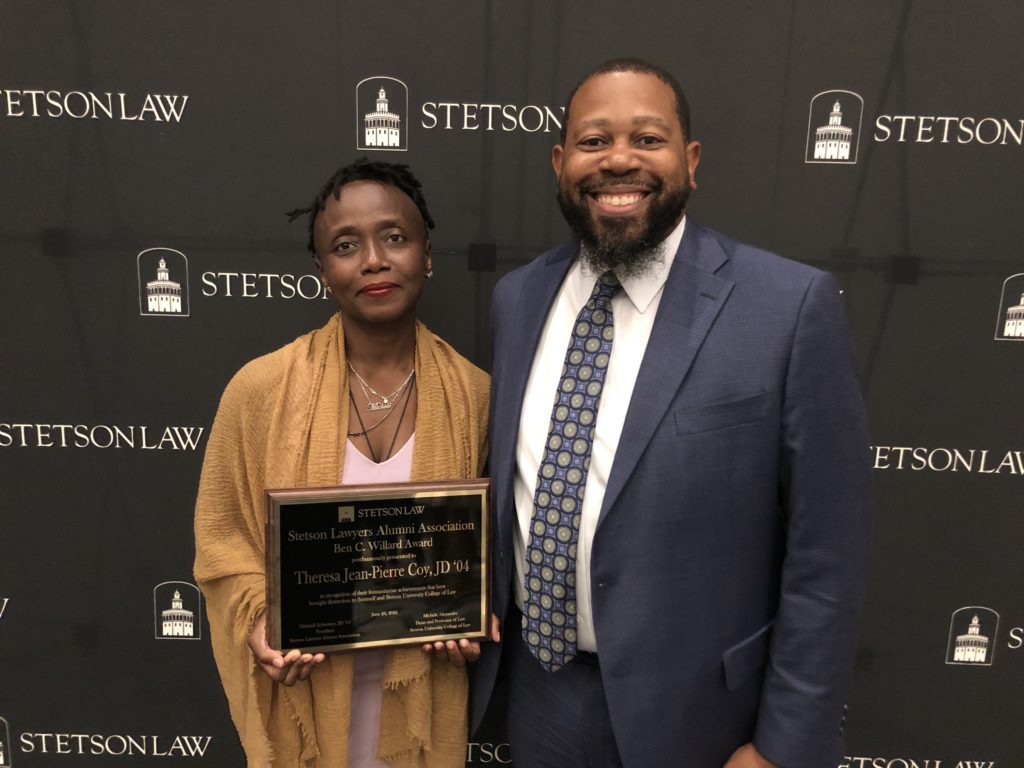 Stetson Law alum Ben C. Willard graduated in 1914 ahead of his dedicated career in service to his state and nation. This year, the award posthumously honors an alumna whose passion for and commitment to the Stetson Law community had an immeasurable impact – especially for the Black female students she inspired.
Jean-Pierre Coy was a powerful, prominent force within the Tampa Bay area's legal community, but she was never too busy to return to campus to help students either as an adjunct professor or as a mentor.
"Theresa was an amazing person: A wife, mother, lawyer, professor, friend, community leader, and staunch advocate for justice," Schermer said. "We lost a titan far too early." Her husband, Travis Coy, also a Stetson Law alum, accepted the award on her behalf.

---
Post date: June 24, 2022

Media contact: Kate Bradshaw
[email protected] | 727-430-1580